Easter Carrot Cupcakes with Maple Cream Cheese Frosting
Cute decorated carrot cupcakes seem to be an Easter dessert staple, and these are my version with egg nests and candy carrots on top.
Easter desserts seem to always come in pastel colors and often have eggs and bunnies as part of the decor. These cupcakes are no exception. I love carrot cake and cupcakes, another great vessel for a copious amount od tasty cream cheese frosting. I love the addition of tropical coconut for flavor and texture.
I do love a one bowl cake or cupcake recipe, less cleanup, but I usually use two bowls. One for dry ingredients, one for the wet. This one has three bowls with one for the shredded carrots. This recipe is worth the extra bowls.
How do you make carrot cupcakes?
These carrot cupcakes have a TON of cinnamon, ginger, freshly ground nutmeg and a pinch of cardamom. I love cardamom and its typically known as one of the spices in Chai blends, but I think it adds a nice touch to any spice cake or carrot cupcakes.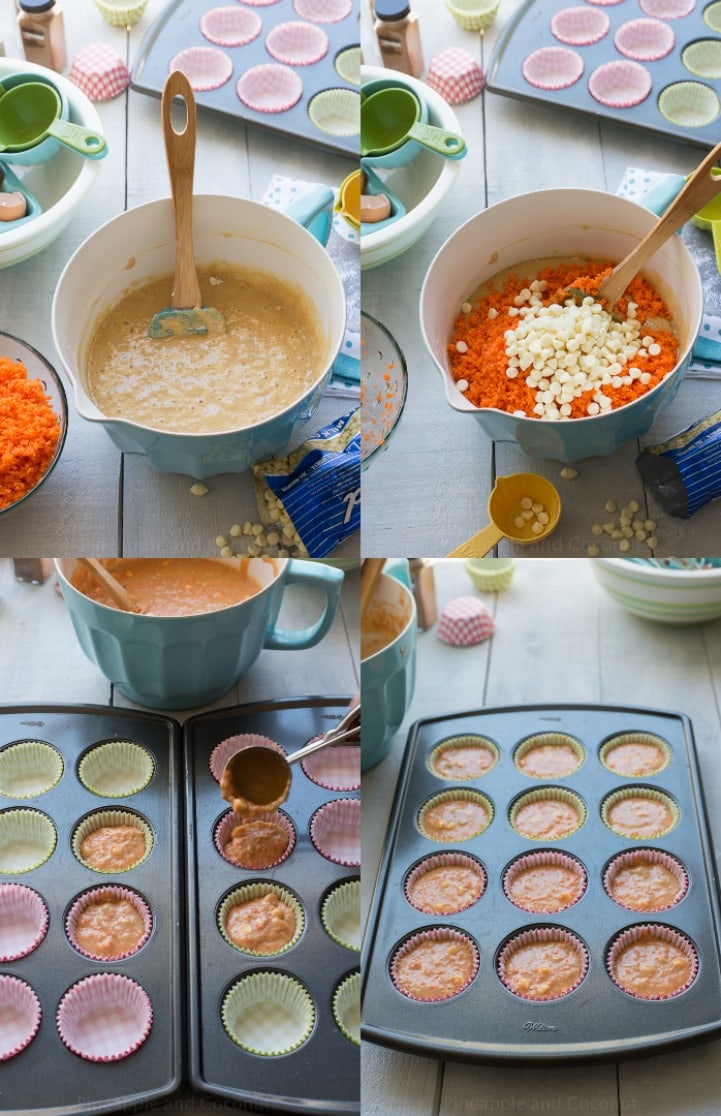 There are so many ways to make carrot cupcakes. Some use pineapple (Yum!), some add nuts like walnuts, some have raisins. Really the possibilities are endless. I love to shred the carrots extra fine and add in white chocolate chips.
Carrot cupcakes are best with cream cheese frosting and I love to add maple syrup into my frosting. It just adds a little something extra. I really go " all out" with these.
My kids were LOVING watching me decorate the carrot cupcakes. I had them help with the eggs in a nest. They were telling me that the candies that were cracking were baby chicks about to hatch. And that they needed to eat the cracked ones since they were broken and that I shouldn't have cracked candies in my photos. Any excuse to try to get me to let them eat some. Nice try kids.
These cupcakes really are super easy to make and fun for the whole family to decorate. The "carrots" are chocolate covered sunflower seeds and the stems are Haribo gummy "pasta" that I cut up. I was going to originally use a different candy but when my husband brought these home for me ( I had sent him to World Market for me to find some more candy to decorate the cupcakes) and he thought the gummy pasta would be perfect. So glad he picked them up. Because they cut way easier than licorice!
"Recipe"
Easter Carrot Cupcakes with Maple Cream Cheese Frosting
Easter Carrot Cupcakes with Maple Cream Cheese Frosting Makes 2 dozen
Ingredients
For the cupcakes
2

Cups

all purpose flour

1 ½

teaspoon

baking soda

½

teaspoon

baking powder

2

teaspoon

cinnamon

½

teaspoon

nutmeg

1

teaspoon

ginger

¼

teaspoon

cardamom

½

teaspoon

sea salt

1 ½

c

sugar

¾

c

sour cream

room temp

½

c

grapeseed oil

1

teaspoon

vanilla extract

4

large eggs

room temp

2 ½

c

finely shredded carrots

1

cup

white chocolate chips
For the Frosting
2

sticks butter

4

ounces

cream cheese

3

cups

powdered sugar

2

tablespoon

maple syrup
For decoration:
1

cup

finely shredded coconut

toasted

Pastel chocolate covered almonds

Orange chocolate covered sunflower seeds

Haribo green apple gummy candy

cut into strips
Instructions
Prepare two muffin pans with paper cupcake liners and preheat oven to 350 Deg. F

In a bowl combine the flour, baking soda and powder, spices and salt. Set aside.

In a separate bowl mix together the sugar, sour cream and oil and mix well. Add in each egg one at a time and mix well after each addition. Fold in the shredded carrots and chocolate chips.

Scoop batter into each cupcake well, filling about ⅔ of the way full. Bake for 15-16 minutes or until tops bounce back when lightly pressed. Let cool in pan for 3 minutes and then carefully remove to wire rack to cool completely.
make the frosting and assembly:
Combine all the frosting ingredients in a bowl and mix until well combined.

Using a pastry bag fitted with an open start tip pipe a large swirl of frosting around the tops of each cupcake and either carefully roll the edges in the toasted coconut or sprinkle the coconut on top. Place 2 pastel chocolate almonds in the middle for "eggs in a nest" or arrange chocolate covered sunflower seeds in the shape of a carrot and arrange a few gummy candy strips for the carrot leaves. Keep refrigerated in an airtight container until ready to serve. Serve at room temperature.
Fun for anytime during the spring, not just Easter.