Chocolate avocado muffins recipe. Rich, moist and chocolatey studded with mini and regular sized chocolate chips.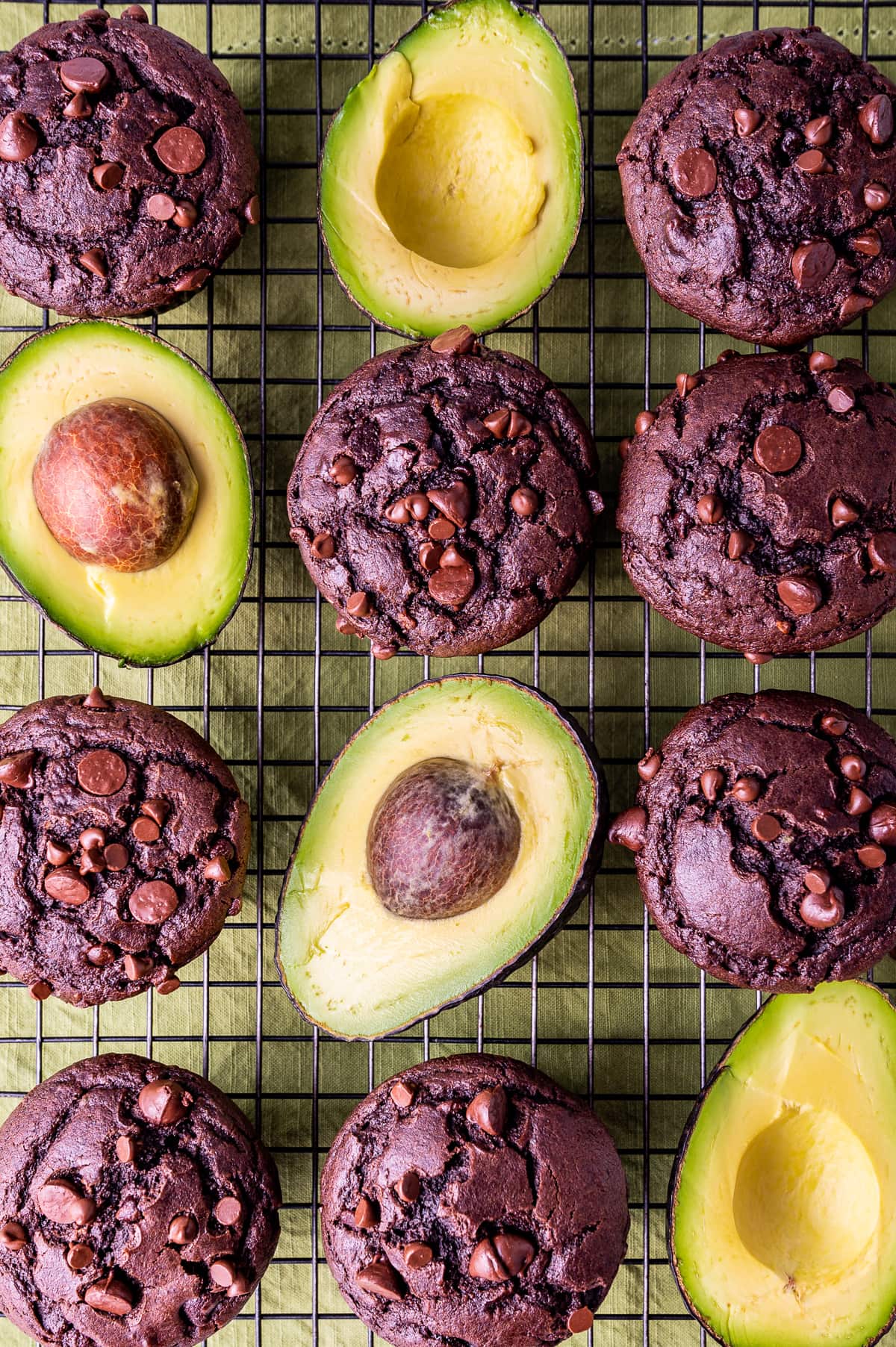 This page contains affiliate links. Affiliate links support Pineapple and Coconut at no additional cost to you. If you choose to make a purchase via these links, I earn a small commission to help keep this blog running and it is much appreciated. I am an Amazon and Adorama affiliate.
Jump to:
Why these chocolate avocado muffins are so good:
You know I love using avocado in baked goods, the add a richness as well as moisture and a dose of healthy fats. These muffins are so dang good and the avocado makes them taste super rich.
There is no butter in these muffins just the avocado and a teeny bit of avocado oil. I keep a little oil in for moisture, my original recipe used both avocados as well as oil.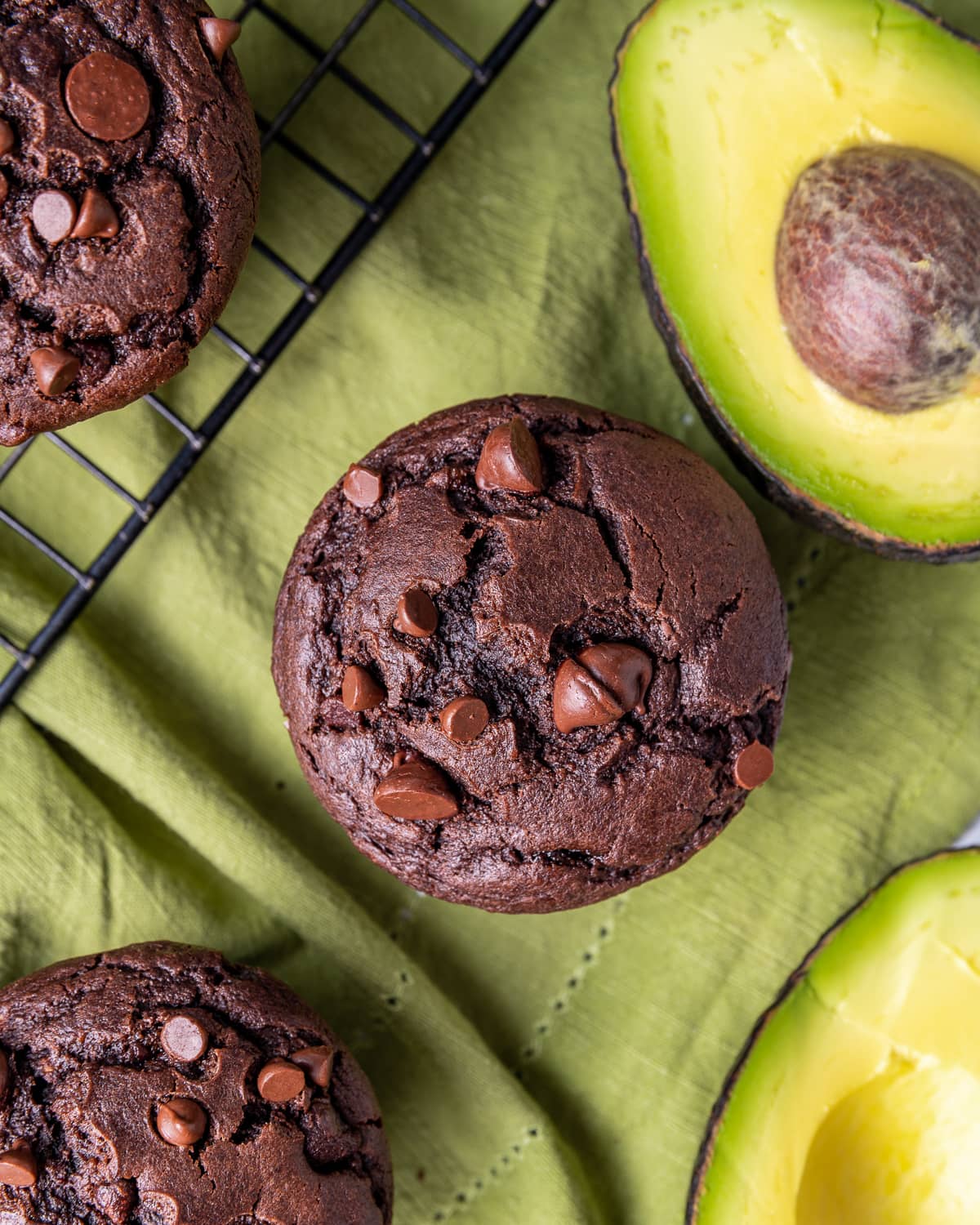 Ingredients needed for Chocolate Avocado Muffins:
All purpose flour - I use a variety of brands here, I have tested these with Bob's Redmill, Gold medal and Big J Milling co. All come out pretty close to the same. Weigh the flour with a

food scale

for the most accurate amount. 
Cocoa powder - I love

Cacao Berry Extra Brute

. I bought a big bag of it and it is my  go-to high quality cocoa powder. Use a higher fat cocoa powder, not fat free.
White granulated sugar - I use C&H
Light brown sugar - I use C&H or Trader Joe's light brown sugar. Either work fine. 
Baking powder -

Rumford

is my go-to brand from Clabber Girl.
Baking soda - I have a generic from Sprouts. I am more particular to baking powder brands than soda. 
Salt - Diamond kosher always. If you use Morton use a little less since it is saltier, please don't use idoized table salt. 
Avocado - I use about one and a half medium Haas avocados. I weigh out 170 grams. You want to use very ripe, soft avocados, easy to mash. 
Eggs - two large, room temperature
Coconut milk - I use canned full fat. I love Chaokoh and Thai Kitchen brands. 
Avocado oil - I use

Chosen Foods

. 
Vanilla- a must in baked goods
Chocolate chips - you can use whatever you like here, I use both mini and regular sized semi-sweet. Dark chips or even chopped chunks of chocolate would be good.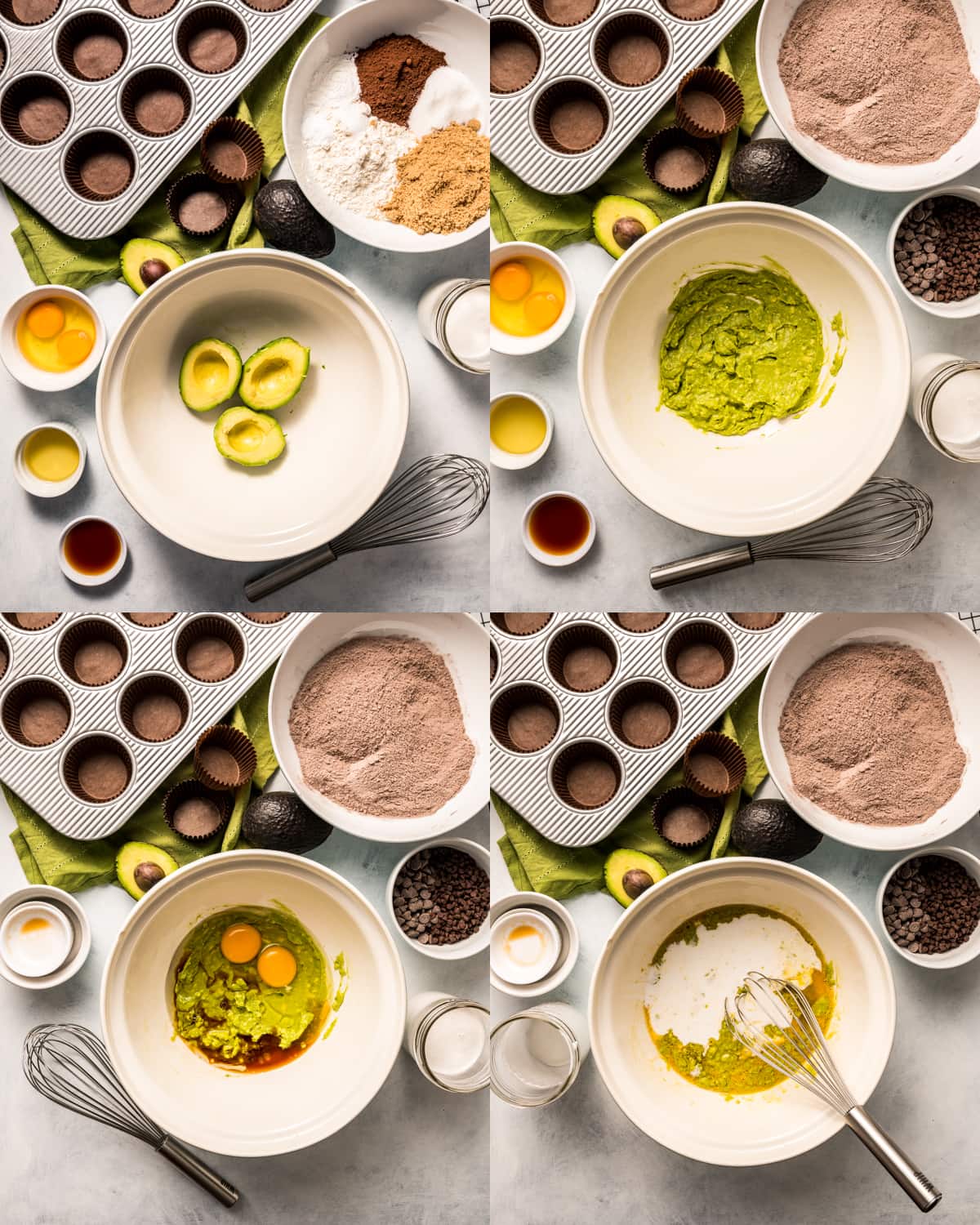 How to make these muffins:
I start off with all the dry ingredients in one bowl. I use both white and light brown sugars. The avocado gets mashed in a larger mixing bowl. Muffin tin with paper liners. 
I mash the avocado with a whisk first until pretty smooth, I am not worried about getting in perfectly smooth here. If you want zero avocado lumps mix all the wet ingredients in a blender or food processor.
Once the coconut milk is added in the avocado gets pretty smooth and any small lumps get baked in.
I like to keep this recipe using as few bowls as possible. Obviously I have more here to show the ingredients but you can go ahead and add everything to the big mixing bowl instead of separate bowls first. If you are worried about egg shells, go ahead and crack those into a separate bowl or cup first. I live dangerously and just crack them into the mixing bowl.
Room temperature eggshells are more fragile so definitely watch for little shell pieces this way.
Do whisk all the dry ingredients together in a separate bowl first since those need to be fully whisked or sifted together first. Even distribution.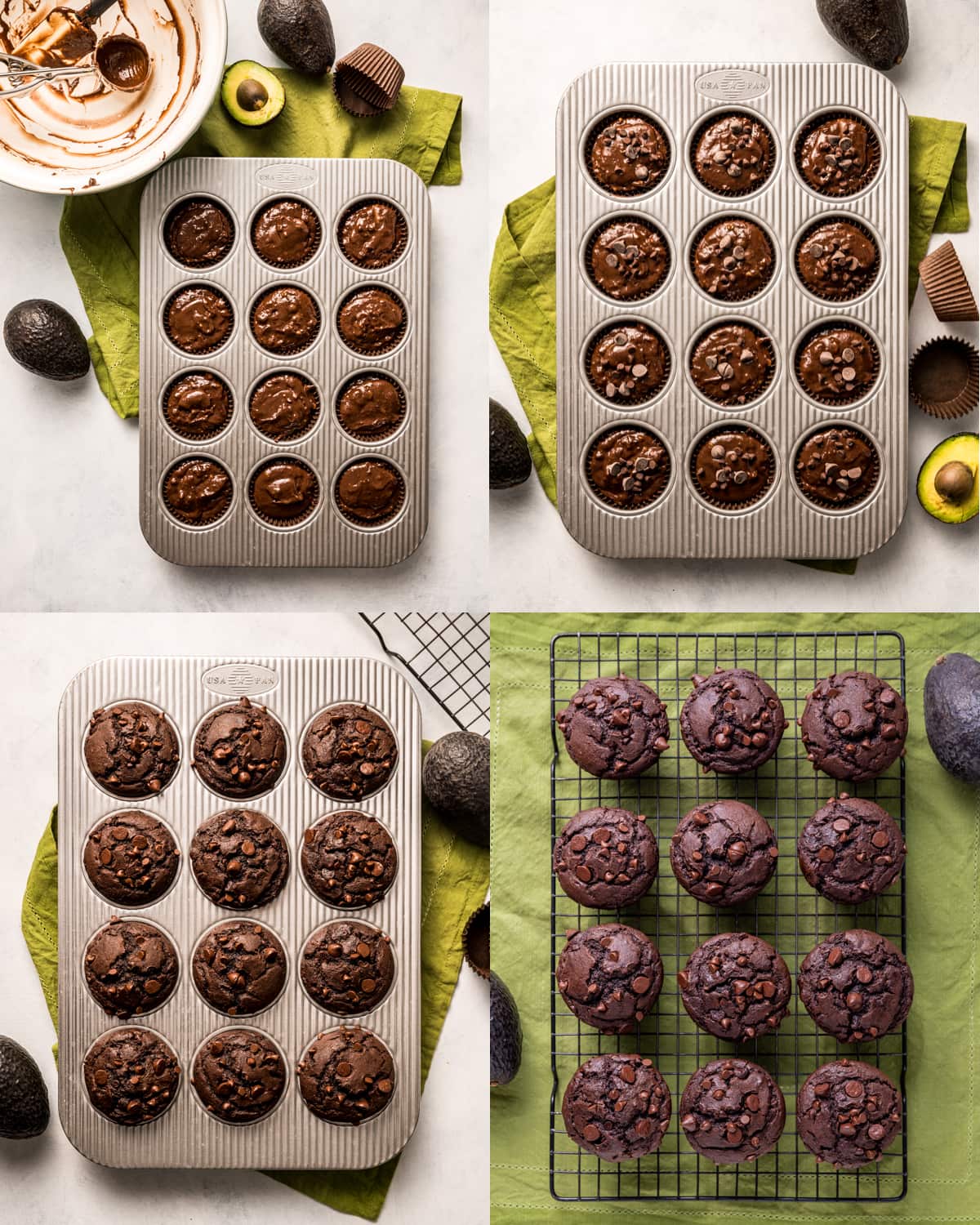 More recipe instructions:
I mix the wet and dry ingredients together almost all the way before adding in the chocolate chips. I like to use both mini and regular sized semi-sweet chips. Feel free to use whatever you like. Save some for sprinkling over the tops of the muffins.
FILL the liners almost all the way to the top. This recipe makes 12 muffins. You will think that there is too much batter for 12 but then if you make more than 12 you will have small muffins. These are BIG muffins so fill them up!
Bake at 400 deg Fahrenheit (204 deg Celsius), no fan or convection since I didn't test them with that method. At 20 minutes they are done.
Can I substitute something else for the avocado?
I am goin to say no here. These muffins get their density and moisture from the avocado. I have not tested these with any other sub, since the main ingredients of these muffins is avocado. If you don't like avocado at all but really want a chocolate muffin, You could try a butter or oil sub, maybe some sour cream too but I suggest using a different recipe from this one.
Can I substitute gluten free or other flour for the all purpose flour?
You can, but again I have only tested this recipe as stated so any substitutions are at your own risk. You could use half whole wheat flour, half AP, or whatever gluten free flour blend that you are familiar baking with. 
Can I substitute another milk for the coconut milk?
You can use a different milk for the coconut milk if you like, I suggest whole milk for the fat content, but if you do go with any other non-dairy sub that is lower in fat your results will vary.
Weighing ingredients Vs using cups:
I use my food scale and weigh out ingredients in grams because this is the most accurate way to get the best quality baked goods. Cups aren't accurate because not only are all cups not the same the sizes vary from brand to brand as well as from different countries. I have done tests with different brands of measuring cups and they all came out with different weights after I did the spoon and level as well as scoop method and then weighed in grams.
Baking is a science and science needs accuracy. Weighing is accurate and precise. Not to mention a lot easier. Another issue with cups is that I have no control over how people use measuring cups to measure dry ingredients especially flour. You could pack in way too much which would result in a sub-par baked good. Too much flour could throw everything off. Same with not enough. Not to mention also some ingredients are difficult to measure in cups such as nuts, dried fruit, chocolate etc. This is why weighing in grams is the most accurate.
I also use grams for most liquid measure since 100 grams equals 100 ml of water. Smaller amounts of items measured in teaspoons I usually leave as teaspoons, tablespoons are sometimes listed in grams as well but for the most part the different tablespoons I have used have all resulted in the same amount. Aside from cute, decorative ceramic tablespoons and teaspoons are never accurate. Those are better as decoration than for being used for baking.
Baking items used for these chocolate avocado muffins:
Mixing bowls. I splurged earlier this year (hello pandemic purchases) on a

Mason Cash Cane mixing bowl.

The kind used on the Great British Bake Off. I love it but any mixing bowl will work - ceramic, glass or stainless steel.
I LOVE these

USA baking pans

. I was using Wilton muffin/cupcake pans but the metal was darker and I found that muffins and cupcakes were burning on the bottoms before baking in the middles. I have had amazing, even results with these pans. I also have jelly roll/cookie sheets from USA bakeware. Great products.

Size 12 scoop

. Also known as a disher, is the perfect size for cupcakes and muffin. About a ⅓ cup of batter fits, even though these muffins are more than ⅓ cup batter each. This is still my go-to scoop for muffins, cupcakes, waffles, pancakes etc.
Baking papers/muffin papers/ cupcake papers/wrappers/bake cups. Whatever you want to call them. I prefer to use them so I don't have to take hours to scrub out the muffin tins, I get grease-resistant from

Surfas

. Fantastic baking supply store.
Cooling rack. Basic wire cooling racks that can be found at any baking store in person or online.
More avocado recipes you may also enjoy:
Chocolate Avocado Muffins Recipe
A rich, moist chocolate muffin made with creamy avocados and studded with chocolate chips.
Ingredients
1 ⅔

cups

All Purpose flour

7.3ounces/209 grams

½

cup

good quality cocoa powder

1.5 ounces/43grams (not non-fat)

½

cup

light brown sugar

3.6 ounces/104 grams

⅓

cup

granulated sugar

2.3 ounces/66 grams

2

teaspoons

baking powder

¾

teaspoon

baking soda

½

teaspoon

diamond kosher salt

1 ½

medium Haas avocados

6 ounces/170grams very soft, ripe easy to mash avocados

2

large eggs

room temperature

1

cup

full fat canned coconut milk

240 ml

2

teaspoon

vanilla extract

1 ¼

cups

semi sweet chocolate chips

can be a mix of mini and regular sized, divided
Instructions
Ingredients are listed in cups/ounces/grams. Pick one not all three. Grams will be the most accurate measurement. I always suggest using gram measurements with a food scale.

Preheat oven to 400 Deg F. Line a 12 cup muffin tin with paper muffin liners. 

Combine flour, cocoa powder, sugars, baking soda, baking powder and salt in a large mixing bowl and whisk together, set aside.

Cut avocado in half, remove pit, scoop out and mash in a large mixing bowl with a whisk. Add in eggs, coconut milk and vanilla and mix well until smooth. 

Add in the flour mixture and mix with a spatula until just a few streaks of flour are seen, being careful not to over mix. Add in a cup of the chocolate chips and mix until combined. 

Divide mixture into the 12 cups of the prepared muffin pan, filling almost all the way to the top of each well. Sprinkle the remaining ¼ cup of chocolate chips over the tops.

Bake18-22 minutes or until the tops of the muffins bounce back when pressed lightly. I bake these for 20 minutes. Remove from oven and cool in pan for 5 min, then remove muffins to a wire cooling rack too cool completely. 

Serve or keep in an airtight bag or container for a few days at room temperature. These muffins can also be frozen up to a month. Thaw at room temperature before eating. 
Notes
If it's your first time making this recipe then make sure you read all of the information in the main post as it includes lots of additional tips, as well as the answers to some common questions.
If you have any further questions then do let me know in the comments and or email me

[email protected]

and I'll do my best to help.
If you choose to make substitutions to the recipe that I have not tested yet please do so at your own risk, if they are successful I would love to hear about it and will add to my recipe notes for other readers to try as well. 
You can substitute gluten free flour, but be warned I haven't tested this recipe with anything other than what is stated in the recipe. This also goes for any other milk, sugar or egg substitute.
Other avocado recipes you will love:
Tropical Pineapple Avocado Smoothie
Savory Hash Brown Waffles with Avocado