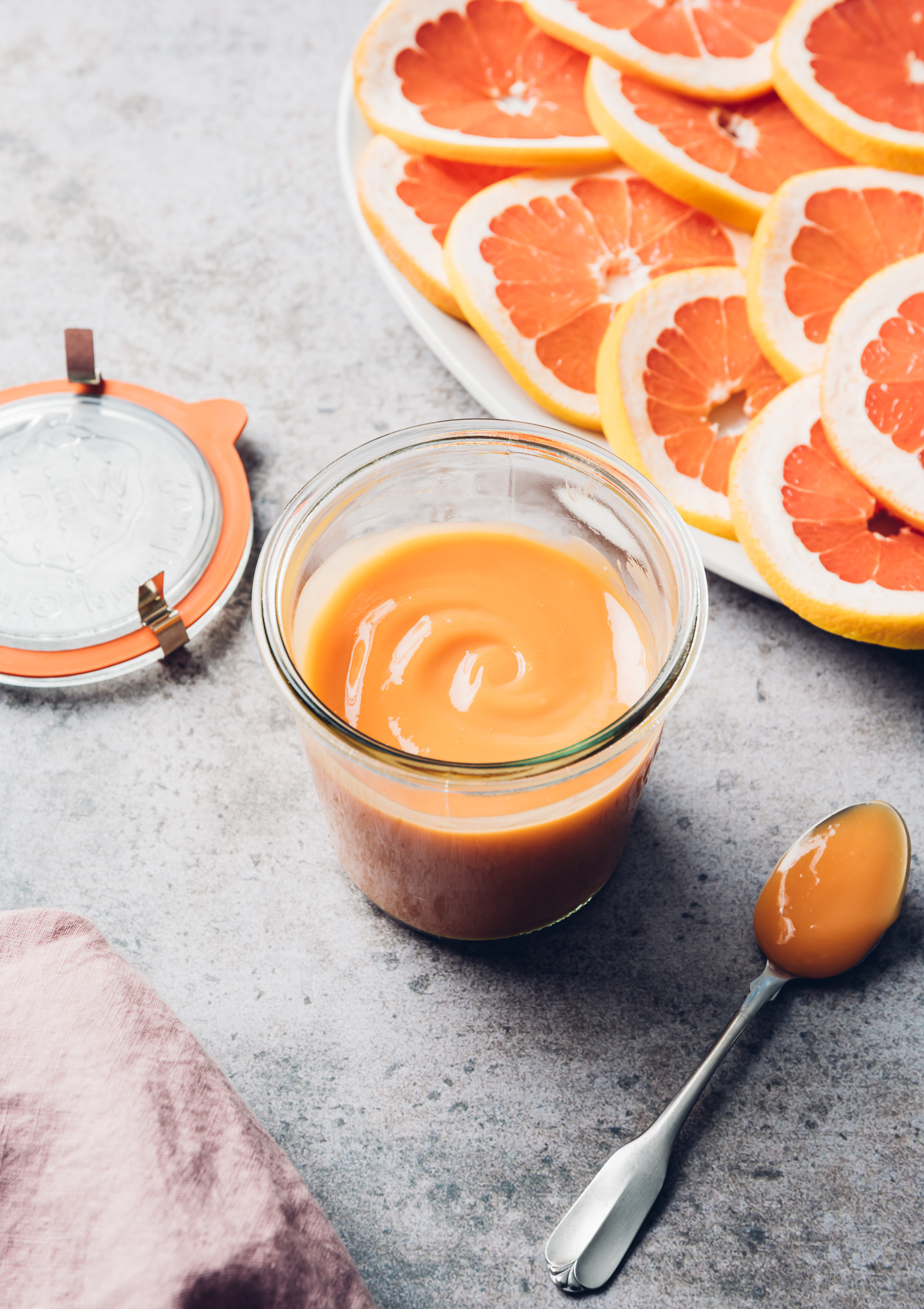 This page contains affiliate links. Affiliate links support Pineapple and Coconut at no additional cost to you. If you choose to make a purchase via these links, I earn a small commission to help keep this blog running and it is much appreciated. I am an Amazon and Adorama affiliate.
I love making homemade curd, and this grapefruit curd is the latest on my list. It is sweet-tart, tangy and just a teeny bit bitter. A perfect curd for filling cookies, tarts, cakes, pavlova and more.
Curds are a great way to use up leftover egg yolks and citrus that might be a little past its prime. I will often find limes, lemons or oranges in my refrigerator that are a little too hard for zesting but they are perfect for juicing.
Or I will grab some gorgeous fresh fruit from the store for curd like I did with these pink grapefruit also known as ruby red grapefruit. You can also make curd with other fruit juices and purees, curd isn't just for citrus.
Jump to:
I originally made this grapefruit curd for a filling for some cookies I made - will post that recipe soon. And I decided to make again because it was so good. I love swirling a few teaspoons into ice cream, spreading on toast instead of jam etc.
Lets make some grapefruit curd:
I start out this curd a little differently from my other recipes. Since grapefruit juice tends to be very mild in flavor as well as little on the bitter side, I reduce it to concentrate the flavor. I also add it a little sugar during this step to take the edge off the bitterness.
The color of the curd will depend on a few things: color of your grapefruit, if you use pink or yellow. Color of the egg yolks - free range organic eggs tend to have more orangey yolks as well as color of butter used. You can add in a little pink food coloring IF you want it to stay more pink, I don't do that.
I freshly squeeze the grapefruit juice, then I strain out the pulp. I prefer no pulp in curd for a smoother texture.
The grapefruit juice is reduced to half along with some sugar to take the edge off the bitterness. Concentrated grapefruit juice tends to have a bit of bitterness to it, more than non concentrated. But you need to reduce the juice to get a stronger grapefruit flavor.
Ingredients needed for grapefruit curd:
Freshly squeezed grapefruit juice ( can used canned or bottled but make sure it is 100% and nothing else added such as other juices or sugars).
granulated white sugar (regular sugar, doesn't need to be superfine)
grapefruit zest
egg yolks ( save those whites for meringues, pavlovas, macarons etc).
lemon juice ( grapefruit doesn't have enough naturally occurring citric acid in it to set the curd so a little lemon juice is added to help).
pinch of salt.
Ways to make curd:
There are a few ways to make curd - in a saucepan, in a double boiler, creaming the butter, sugar and eggs together first a mixer, add in the butter in first, adding the butter in last. Some recipes use just egg yolks, some use a combination of both whole eggs and yolks.
I have used all the techniques depending on the main ingredient used such as citrus like meyer lemon, passionfruit juice ( with the seeds) or mango or pineapple even. They all work great, really depends on what you want for the final result. I tend to use the mixer method when I want to keep in the zest or passion fruit seeds in the final result instead of straining them out.
Pro tip:
When using a non-lemon juice for the main liquid you always need to add in some lemon juice to help it set.
How to make this curd recipe:
I start with reducing the juice for a more concentrated flavor
Combine the sugar, salt, concentrated grapefruit juice and zest
Stir until sugar is dissolved and mixture is hot.
Whisk the egg yolks then add a little of the heated juice mixture at a time to the yolks to heat them up so they don't curdle or cook into little egg bits.
Stir it all together until thickened and coats the back of a spoon.
Remove from heat and add butter pieces one at a time and stir until curd is smooth.
Transfer to a bowl or jar, press plastic wrap over the top and chill until set, at least four hours.
FAQ's about curd:
What is curd used for?
Curd is used for anything from filling tart shells, swirling into whipped cream, as a topping for a pavlova, cake and cookie fillings, swirling into ice cream or yogurt, spreading on toast. So many ways to use curd
How to store curd:
I store curd in an airtight jar - either a mason jar or a
Weck jar
is best. I don't do a heated sealed canning process with it like jams. Just in the jar and in the refrigerator or freezer is fine. Don't keep at room temperature.
How long does curd last?
Curd will keep in the refrigerator up to a month or freezer for up to a year Thaw in refrigerator before using.
Other curd recipes you might like:
Weighing ingredients Vs using cups:
I use my food scale and weigh out ingredients in grams because this is the most accurate way to get the best quality baked goods. Cups aren't accurate because not only are all cups not the same the sizes vary from brand to brand as well as from different countries. I have done tests with different brands of measuring cups and they all came out with different weights after I did the spoon and level as well as scoop method and then weighed in grams.
Baking is a science and science needs accuracy. Weighing is accurate and precise. Not to mention a lot easier. Another issue with cups is that I have no control over how people use measuring cups to measure dry ingredients especially flour. You could pack in way too much which would result in a sub-par baked good. Too much flour could throw everything off. Same with not enough. Not to mention also some ingredients are difficult to measure in cups such as nuts, dried fruit, chocolate etc. This is why weighing in grams is the most accurate.
I also use grams for most liquid measure since 100 grams equals 100 ml of water. Smaller amounts of items measured in teaspoons I usually leave as teaspoons, tablespoons are sometimes listed in grams as well but for the most part the different tablespoons I have used have all resulted in the same amount. Aside from cute, decorative ceramic tablespoons and teaspoons are never accurate. Those are better as decoration than for being used for baking.
Tangy grapefruit curd recipe
Tangy Grapefruit Curd Recipe
Tangy grapefruit curd made with fresh squeezed grapefruit juice. This curd is perfect for cookies, cakes, pavlova, tarts, swirling into ice cream and more.
Ingredients
360

ml

grapefruit juice

about 1 ½ cups ( preferably fresh squeeze, pulp strained out

160

g

granulated white sugar

1

Tablespoon

grapefruit zest

zest the grapefruits before cutting in half to juice

Pinch

salt

90

g

egg yolks

from 5 large eggs, save the whites for later

2

Tablespoons

lemon juice

113

grams

butter

cut into pieces
Instructions
n a medium sauce pan add the grapefruit juice and ten grams of the sugar. Bring to a boil then lower to a simmer and reduce until you have 180 ml (about ¾ cup) remaining. Pour into a measuring cup or glass and set aside.

Clean the pan then add the rest of the sugar with the zest. Rub the sugar and zest together with your fingers. Add in the salt and the concentrated juice and lemon juice then turn heat on to medium. Stir until sugar is dissolved and the mixture is hot.

Separate the eggs if you haven't done so yet saving the whites in an airtight container in your refrigerator for another use and whisk the egg yolks together in a glass or other non-reactive bowl. Once the juice mixture is hot, slowly add in in a thin stream to the yolks while whisking the yolks not stop to temper them.

Add in about half the juice mixture to the eggs while whisking then pour that mixture back into the pan, scraping up any extra egg yolk with a rubber or silicon spatula.

Still over medium heat, stir the curd, scraping the spatula along the bottom and sides of the pan, until it has started to thicken.

Remove from the heat and stir in the butter one piece at a time until fully incorporated.

Transfer to a bowl and cover with plastic wrap, pressing the wrap against the top of the curd then place a lid on the bowl. Chill completely before using. At least 4 hours in the refrigerator. It will thicken more as it cools.
Notes
You can use store bought grapefruit juice from a jar or can if you like, but make sure it is 100% juice and no other added juices or sugars