Easy Meyer Lemon Curd Recipe. Sunshine in a jar.
I am still very much enjoying citrus season this year with all things Meyer lemon. Mostly because my tree is bursting with lemons again this year, and I am still waiting on all the clementines on our tree to ripen. First year we have had more than one clementine tangerine to grow. So very exciting. Citrus grows really well here in Las Vegas.
My cara cara orange, blood orange and navel orange trees are still lagging, only producing one orange each this year. Same as last. So until they start producing more fruit, it's all about these gorgeous Meyer lemons.
I had been testing some recipes using more lemon zest than juice lately so I figured why not make some lemon curd with some of the juice. I love curd, it's so easy to make and very versatile. You can use it for cake fillings, swirled into ice cream or yogurt, a topping for Pavlova or even fill thumbprint cookies.
I had a cupcake blog a gazillion years ago before this blog and I had a recipe for a Meyer lemon curd filled cupcake. I decided to take the curd recipe from that cupcake recipe and share it as a stand alone recipe.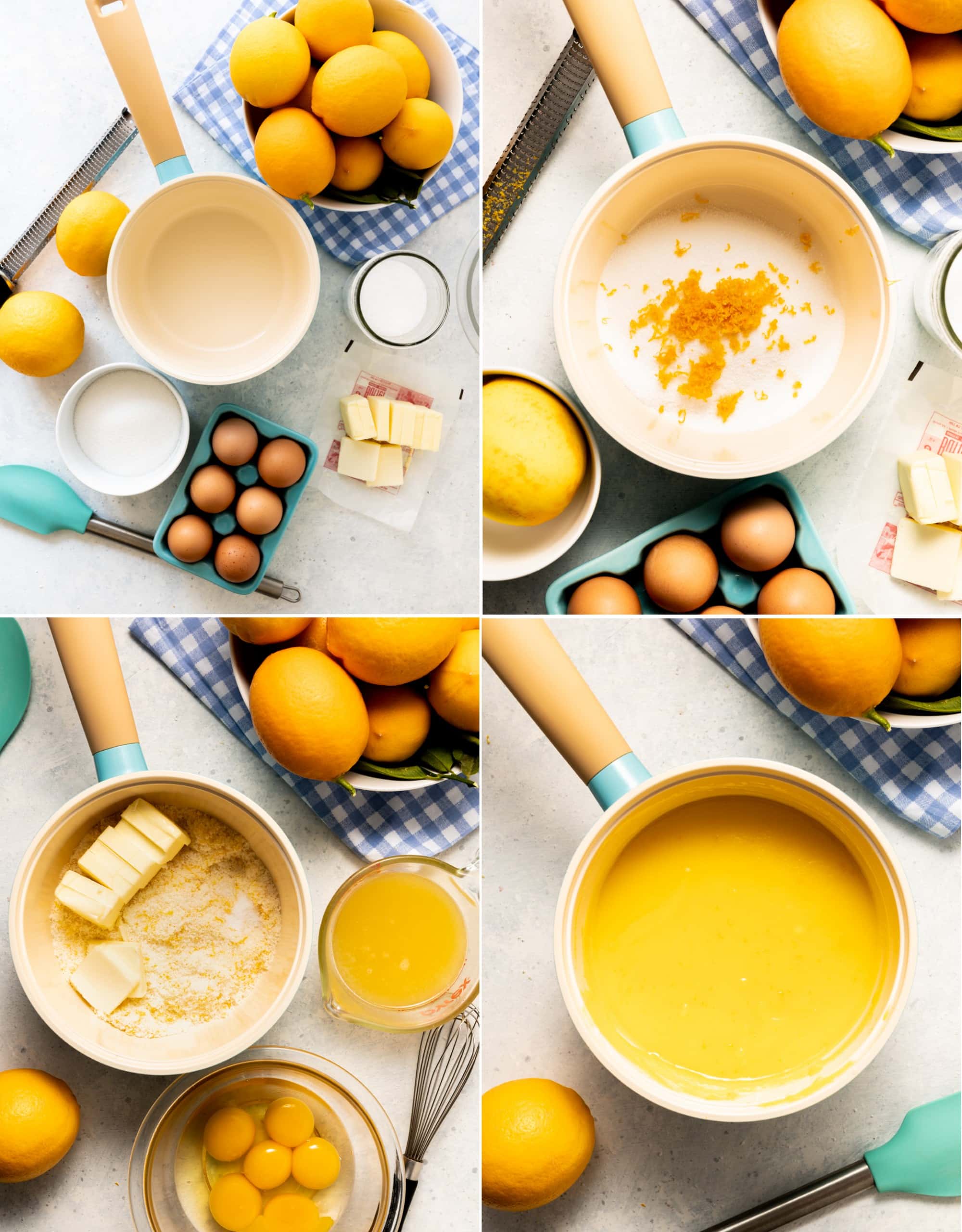 I make citrus curd a little differently than some recipes, I add in the butter to the sugar and melt that together instead of adding in the butter cubes last. I have found that the curd comes out the same way wether you add in the butter at the beginning or the end.
The one step that stays the same is whisking the eggs in a separate bowl then adding in the hot butter/sugar/juice mixture to temper the eggs. Bringing the eggs to the same temperature as the rest of the curd mixture is important so it incorporates fully and doesn't separate.
You will end up with a few specks of cooked egg separate from the curd as it is, but tempering the eggs keeps it from all the egg scrambling. This is why the next step is important. Straining the curd.
Once the lemon curd is super thick, take off the heat and strain into a bowl. This removes any bits of cooked egg that separated from the mixture as well as the zest. If you want you can add zest back in, I leave it out. Personal preference.
Once all the curd is strained into the bowl, press a piece of plastic wrap over the top so it doesn't form a tough film, then refrigerate. If you bowl has a lid, like ones I have do, place the lid on the bowl as well. Chill completely before using.
I usually pop it into the fridge overnight before using the curd.
You can keep the lemon curd in the bowl or transfer to jars and give as gifts. I will fill clean, canning jars and use within a week or two. I don't heat seal them, but you can if you want to keep the curd for longer.
Meyer lemon curd freezes really well and will last for a few months that way too.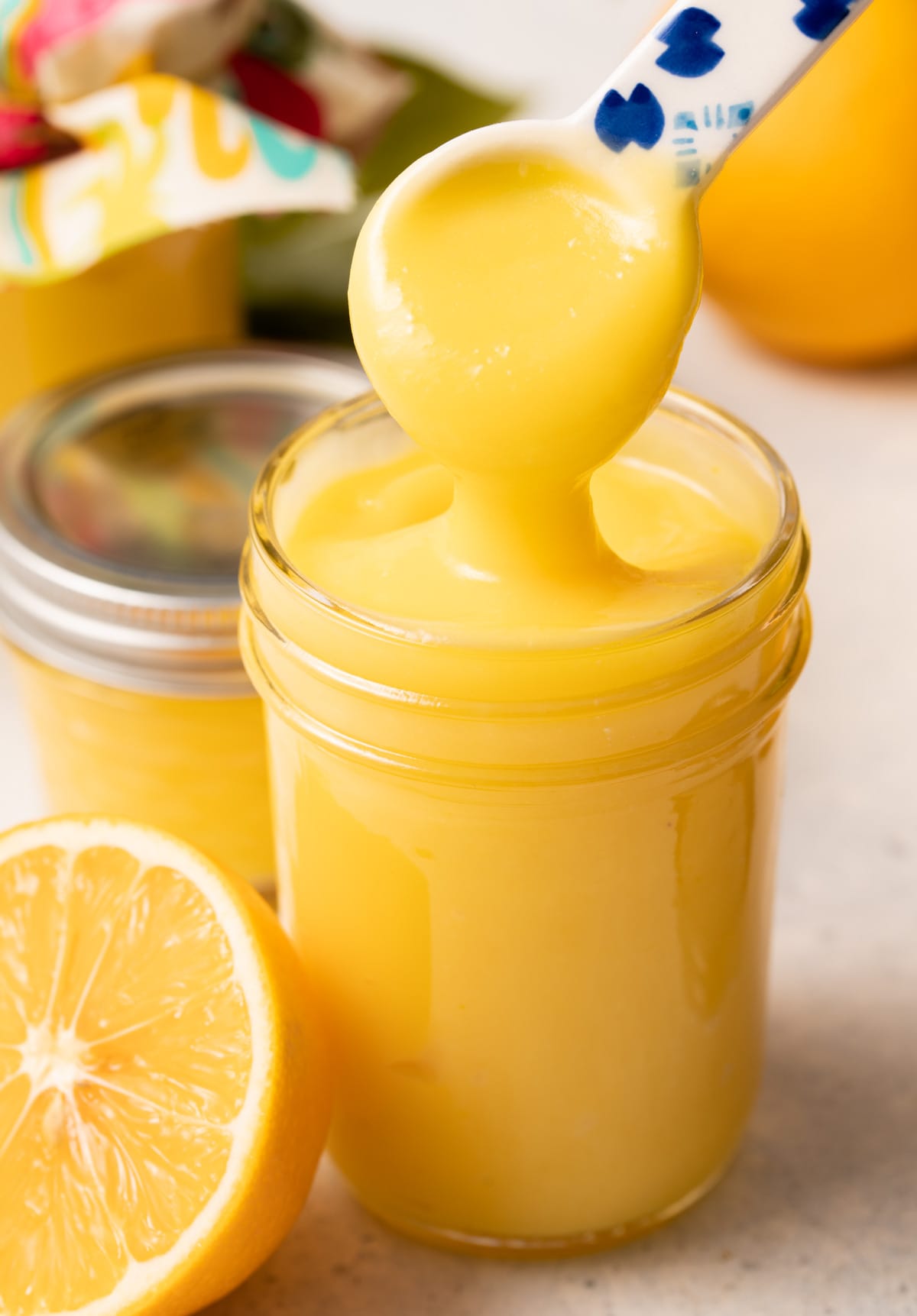 Like I said, Sunshine in a jar
A few notes about this easy Meyer Lemon Curd Recipe first:
Meyer Lemons

are a little sweeter than regular lemons but not so much that you need to use less sugar. The ratios are the same. You can use regular lemons if you can't find Meyers, and if you do add in a little more sugar, maybe just a tablespoon or so. I like curd on the tarter side so I opt for less sugar.
This recipe calls for whole eggs as well as egg yolks. Save those egg whites for

meringue

cookies,

pavlova

, egg white omelet.
Tempering the eggs is a must. Whisk quickly with one hand while you ladle in hot butter/juice/sugar mixture with the other, I usually use a one fourth or one third measuring cup to pour into the eggs while I whisk. Scrape the heated eggs back into the pan and then switch to a rubber or silicon spatula to stir.
A rubber, or silicon, spatula is best for stirring the curd until thick so you can scrape along the bottom of the pan to keep everything from sticking
Use a non-metal pan and bowls if you can. Using metal or stainless steel can give your curd a metallic taste. If you don't have any non-metal pots or pans, make a double boiler with a glass bowl set over a pan of simmering water ( make sure the bowl isn't touching the water). This will take longer to get the curd to thicken but then you won't have that metallic taste.
"Recipe"
Easy Meyer Lemon Curd Recipe
A bright, sunny Meyer lemon curd that is super easy to make. Great for using in cakes, swirling into ice cream, for pavlova or cookies.
Ingredients
2

tablespoon

Meyer lemon zest

¾

cup

granulated sugar

can use up to one cup if using regular lemons (5.3 oz/150g)

1

cup

Meyer lemon juice

8 oz/250ml

10

tablespoon

Unsalted butter

cut into tablespoons (1 stick plus 2 tbsp/141 g)

¼

teaspoon

Kosher salt

2

whole large eggs

4

large egg yolks
Instructions
In a medium saucepan ( preferably not stainless steel) rub together the lemon zest and sugar with your fingers, add in the lemon juice, butter and salt, set over medium heat and stir until the butter is melted and the mixture is warm,

In a separate bowl (preferably not stainless steel, glass works well) whisk together the whole eggs and egg yolks. While continuously whisking the eggs add in some of the heated lemon butter mixture a quarter of a cup at a time until the eggs are incorporated well and heated through. Scrape the egg mixture back into the pot and stir the curd continuously with a spatula until thick. It's ok if it bubbles a little, you want it to get thick. 

Strain the curd into a glass bowl that has a lid, this helps get rid of any cooked egg solids, and yes it will remove the zest as well but that is ok

Press a piece of plastic wrap over the top of the curd then place the lid on the bowl. Chill completely in your refrigerator until it has set, a few hours up to overnight ( overnight/12 hours is best). The curd is now ready to use once fully chilled and set.
Notes
You can keep the curd in jars in your refrigerator for a few weeks or a few months in your freezer. If you want to give the curd as gifts, you can keep it in sterilized jars and use the heat method to can and seal. Follow manufacturers instructions for canning from whatever brand you use, this isn't jam so pectin isn't needed. But the same method is used to keep it stable longer in jars.