Spicy Roasted Red Pepper and Italian Sausage Pizza
Its Pizza Friday!! Its supposedly national pie day, and people call pizza "pie" and since I am not the biggest fan of the dessert pie, I am going with this instead for pie day - Spicy Roasted Red Pepper and Italian Sausage Pizza.
We are huge fans of pizza in this house. I always make it homemade too. I will make a batch of dough that is enough for 4 big pizzas and freeze to let it thaw and rise while it comes to room temperature before making it. This saves so much time. Well almost as much time as buying store bought dough and probably not as fast as ordering, but homemade always tastes so much better. Plus I let my kids each have a little ball of dough to roll out for their own mini pizzas. Pizza night is a family affair.
I am all for homemade pizza dough. Its so easy to make, I think since its relatively hands off, and the taste and texture is so much better. I feel like sound like Ina garten here " If you can't grow your own organic wheat, mill it yourself to make homemade artisan pizza dough, store bought is fine". I always make the pizza dough from the America's Test Kitchen baking book, its never failed. Sometimes it comes out thinner crust, sometimes thicker, but its always tasty.
I am pretty sure most of you know how to make pizza, probably all of you do. But I felt like taking a few step by step pics for the fun of it the other day so here they are:


The pizza dough ready to rise.


I brush the edges with a little olive oil to help make it crispy


I love sprinkling the edges of the crust with a little salt


The key to a good spicy tomato sauce is LOTS of crushed red pepper flakes.

Carmelized onions, lots of roasted bell peppers and a mountain of mozzarella cheese


Sliced Italian sausage from Ag Local. This was in our last Ag Local shipment and we have made this pizza three times now with this sausage. The sausage is Pizza covered in cheese and sausage - Diet food? Nope. Absolutely delicious? YES. The Italian Sausage is very mild and comes from a small farm in Chico, Ca - Llano Seco. The quality and flavor is so good. Perfect for pizza.

I can't roll a pizza dough in a perfect circle, or even close to a circle to save my life. I will call this free form pizza. I made this pizza for the first time few months ago for the first time when my husband was working late and I had made homemade mini pizza's with my daughters for dinner. Normally I will just make two pizzas and he gets to come home to have to re-heat it, or just if I only make one he eats whatever is left over. One night I decided to wait until he was home and have a late night date night at home. Normally for the kids we will make a chicken pizza and that is always good but I wanted to make something special for my husband. He is a huge fan of peppers and onions so I knew I wanted to use those and we had just gotten the Italian sausage fro Ag Local so those were a must too. Italian sausage pizza is one of his faves. He also loves super spicy foods and since the sausages are very mild I decided to go crazy with the red pepper flakes and make the sauce a little more spicy than normal. He loved the pizza. You know the old saying "The way to a man's heart is through his stomach" . I feed my husband well so I know he loves me. But hey, he is an amazing cook and I know how lucky I am. We are well loved and well fed.


Look at all that melty cheesy goodness.
"Recipe"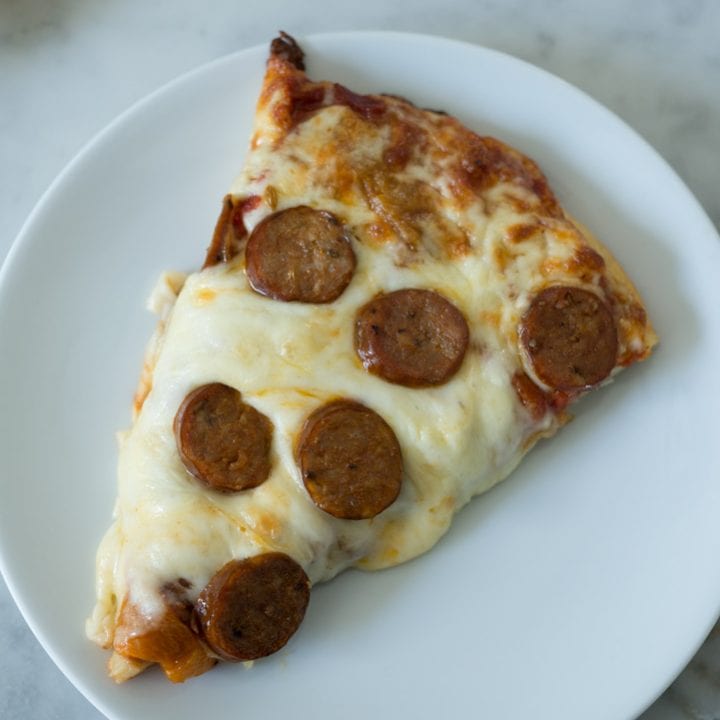 Spicy Roasted Red Pepper and Italian Sausage Pizza
Spicy Roasted Red Pepper and Italian Sausage Pizza
Ingredients
Pizza Dough for a 12" Pizza

I use the recipe from America's Test Kitchen Family Baking Book

2

medium sweet yellow onions

3

medium bell peppers

red, yellow, orange

½

lbs

Italian Sausage

pre-cooked sliced

1

lb

mozzarella cheese

shredded

1

tablespoon

olive oil

1

teaspoon

sea or kosher salt
For the Sauce:
1

tablespoon

butter

4

cloves

garlic

minced

1

teaspoon

dried basil

1

teaspoon

dried oregano

1

teaspoon

sea or kosher salt

1

teaspoon

ground black pepper

2

tablespoon

red pepper flakes

1

C

tomato puree
Instructions
Peel and cut the onions in half then slice into thin half circles. Cook over medium heat in a stainless or cast iron pan until caramelized stirring occasionally. If the onions appear to be sticking to the pan then add a little olive oil or butter.

While the onions are caramelizing char the peppers on each side over open flame over the stovetop or under the broiler in the oven. Once charred on all sides, remove to a bowl and cover with a towel to help steam the charred peels off. Rinse under cool water and rub the charred parts off, remove the stem and seeds. Pat dry then slice thin. Once the onions are caramelized transfer to a bowl and set aside.
Make the sauce:
In a small saucepan over medium heat melt the butter then add in the garlic and stir for one minute. Add in the remaining ingredients and simmer until slightly thickened. This can be made ahead of time, kept in refrigerator in an airtight container and reheated over the stove before making the pizza.
Pizza assembly and baking:
Preheat oven to 500 Deg F. If you have a pizza stone place in oven while preheating and heat the stone for about 30 min before baking the pizza. This ensures a nice crispy crust. You can also use a baking sheet.

Roll out the dough onto a lightly floured surface then transfer to a large piece of parchment paper.

Brush the edges with olive oil, sprinkle with sea salt. Spread the tomato sauce over the top then add the onions, peppers cheese then top with the sausage. Bake for 10 minutes. Let cool for one minute before slicing. Goes great with beer!!
Notes
If making homemade dough add 3 hours to prep time to allow for kneading and rising. I will often make the dough the day before to let it slowly rise in the refrigerator the day before then bring to room temperature before baking.
I think someone was ready for me to be done taking pics.