I love grilling pizzas and this grilled peach pizza with prosciutto, arugula, fresh mozzarella and a balsamic glaze is my new favorite pizza on the grill recipe.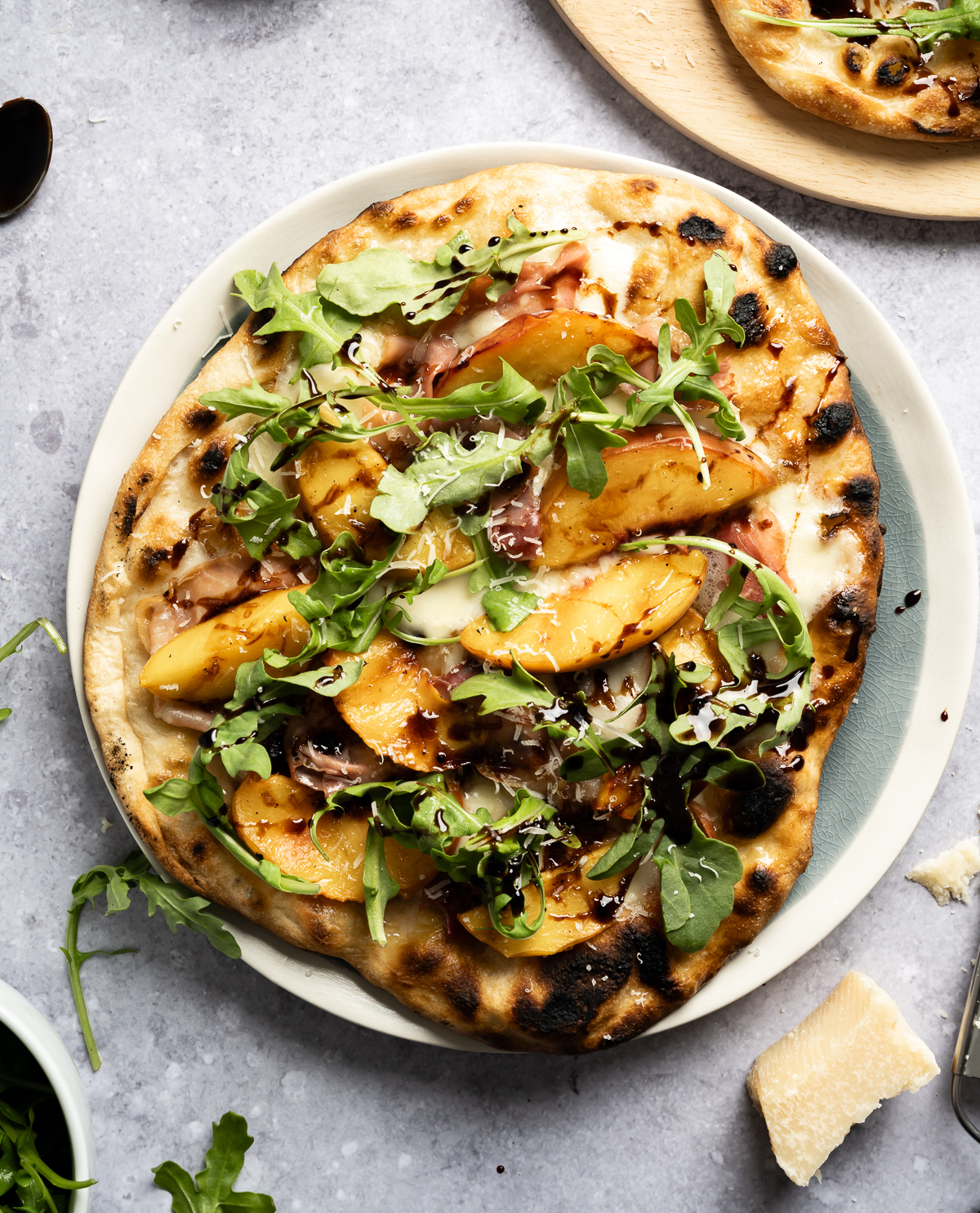 This page contains affiliate links. Affiliate links support Pineapple and Coconut at no additional cost to you. If you choose to make a purchase via these links, I earn a small commission to help keep this blog running and it is much appreciated. I am an Amazon and Adorama affiliate.
What a better way to celebrate peaches? I love all summer stone fruit, but grilled peaches are next level, especially on pizza.
This was inspired by the grilled peach pizza I recently had at The Bully Ranch restaurant in Vail, Co., and by my Grilled Pineapple and Pork belly Pizza (yes I am fully team pineapple on pizza).
The Bully Ranch has amazing food and was one of our regular places to dine at, and drink at (their aprés ski frozen mudslides are the best!) when we lived in Vail, and when I recently had their peach pizza with Palisade peaches, I knew I wanted to recreate it when we got home.
Jump to:
Ingredients for the pizzas:
Pizza dough - homemade (in the recipe) or storebought
Olive oil
Garlic
Salt, pepper, chile flakes
Fresh mozzarella (not burrata)
Prosciutto
Arugula
Balsamic Glaze (quick homemade version in recipe)
Parmesan cheese
See recipe for exact amounts.
Ingredients for homemade pizza dough:
I am a big fan of homemade dough and once I discovered an online pizza dough calculator, I use it all the time depending on how much pizza dough I want to make. And the best part is that it is just 4 ingredients!
Type 00 flour - Italian flour for making neapolitan stule pizza dough
Yeast - I always use SAF instant yeast
Kosher salt
Water
See recipe card for quantities.
Instructions:
We are going to start with making homemade dough as seen here.
Bubbly yeasty pizza dough after 24 hours of fermentation.
Form into ball shape with your hands, let rise for an hour.
Roll out the dough on an oiled surface to keep from sticking. Oil the side that will be placed onto the grill
Grill on a 450 Deg grill, oiled side down. Brush oil on the top side before flipping to finish grilling
Hint: Let the grill run for 4-5 minutes to burn off any remnants, then clean it. I like to use this bristle-free barbecue brush for cleaning the grill.
Assemble the pizzas:
Brush the grilled doughs with oil, season with salt and pepper, add the garlic slices, mozzarella and then the prosciutto.
Grill the peaches:
I grilled the first two pizza doughs, then grilled the peaches while the other two were grilling.
Grill the pizza to melt the cheese and crisp up the prosciutto. Have the pizza on the side of the grill with the heat turned off so the bottom wont char.
Finish the pizzas:
Peaches- I add the grilled peaches once the pizzas are off the grill.
Arugula - I love arugula on pizza for that zesty peppery bite. You can also use fresh basil
Balsamic glaze - the sweet vinegary glaze adds another element of flavor
Parmesan cheese - you can omit this but I always love a sprinkling of fresh parmesan on pizza
Equipment needed:
If making homemade pizza dough, I love these bread dough containers for rising dough. I use them all the time for pizza, focaccia and more.
Rolling pin -
Grill - I use an electric grill, I am sure a charcoal or pellet grill would work as well.
Pizza peel - the paddle shaped board that helps slide the pizza on and off the grill easily. You can also use tongs and a cutting board.
Storage:
Keep the pizza in an airtight container for up to a few days. If the pizza lasts that long. You can reheat the pizza on the grill or in the oven.
Top tips:
You can make the dough and grill it ahead of time and keep frozen. Frozen, grilled dough is great to have on hand for quick pizza nights.
You can also freeze pizza dough balls in individual containers or wrapped up in a bag to thaw and rise before grilling.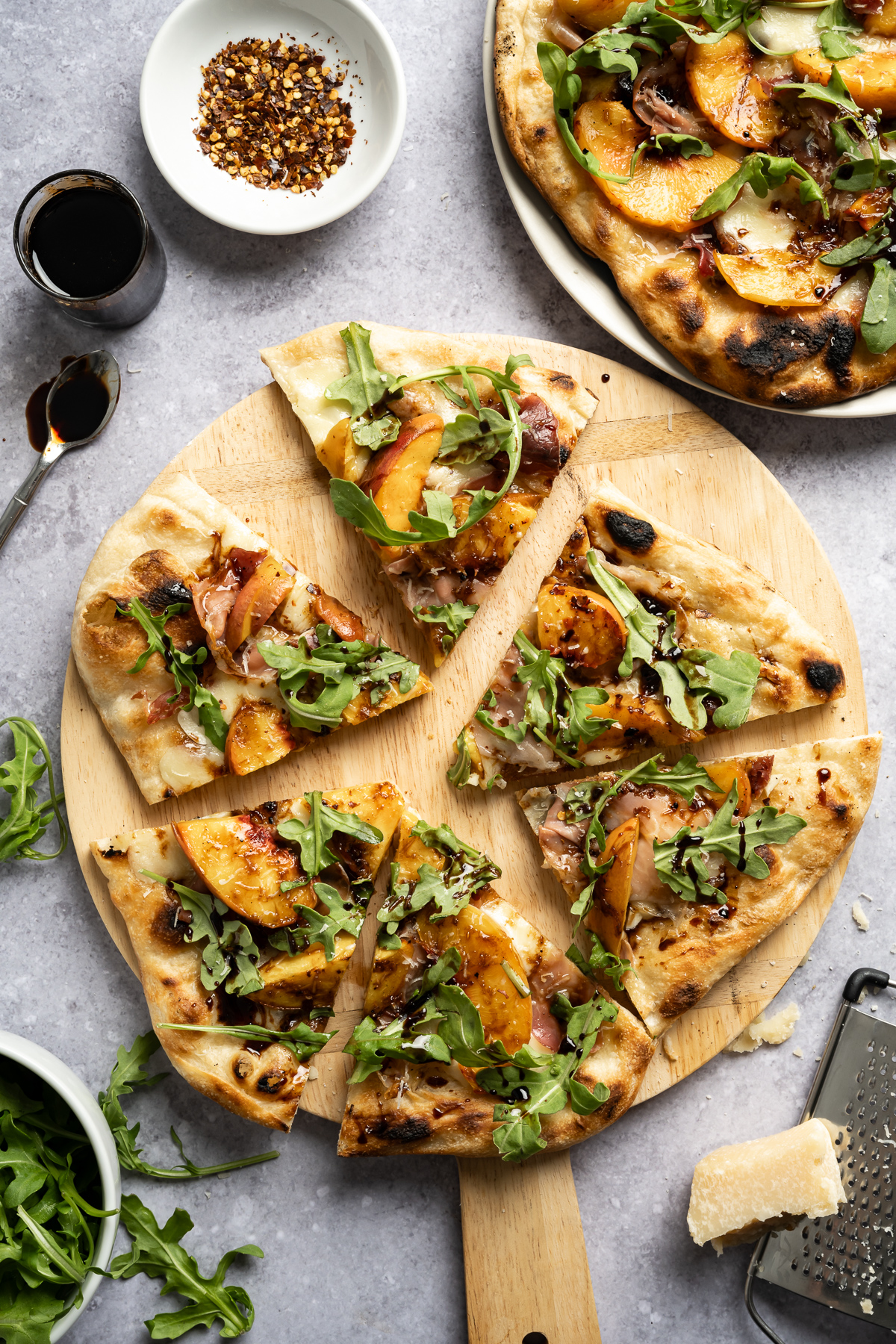 FAQ:
Can you grill pizza without burning the bottom?
Yes. The pizza dough is initially grilled over the heat to cook the rough all the way through which just takes a few minutes. When the pizza is placed back on the grill to melt the cheese it is on the side of the grill where the heat has been turned off so indirect heat melts the cheese without burning the bottom.
Other peach recipes:
Looking for other recipes using peaches like this? Try these:
Make it a whole meal:
These are my favorite dishes to serve with this grilled peach pizza: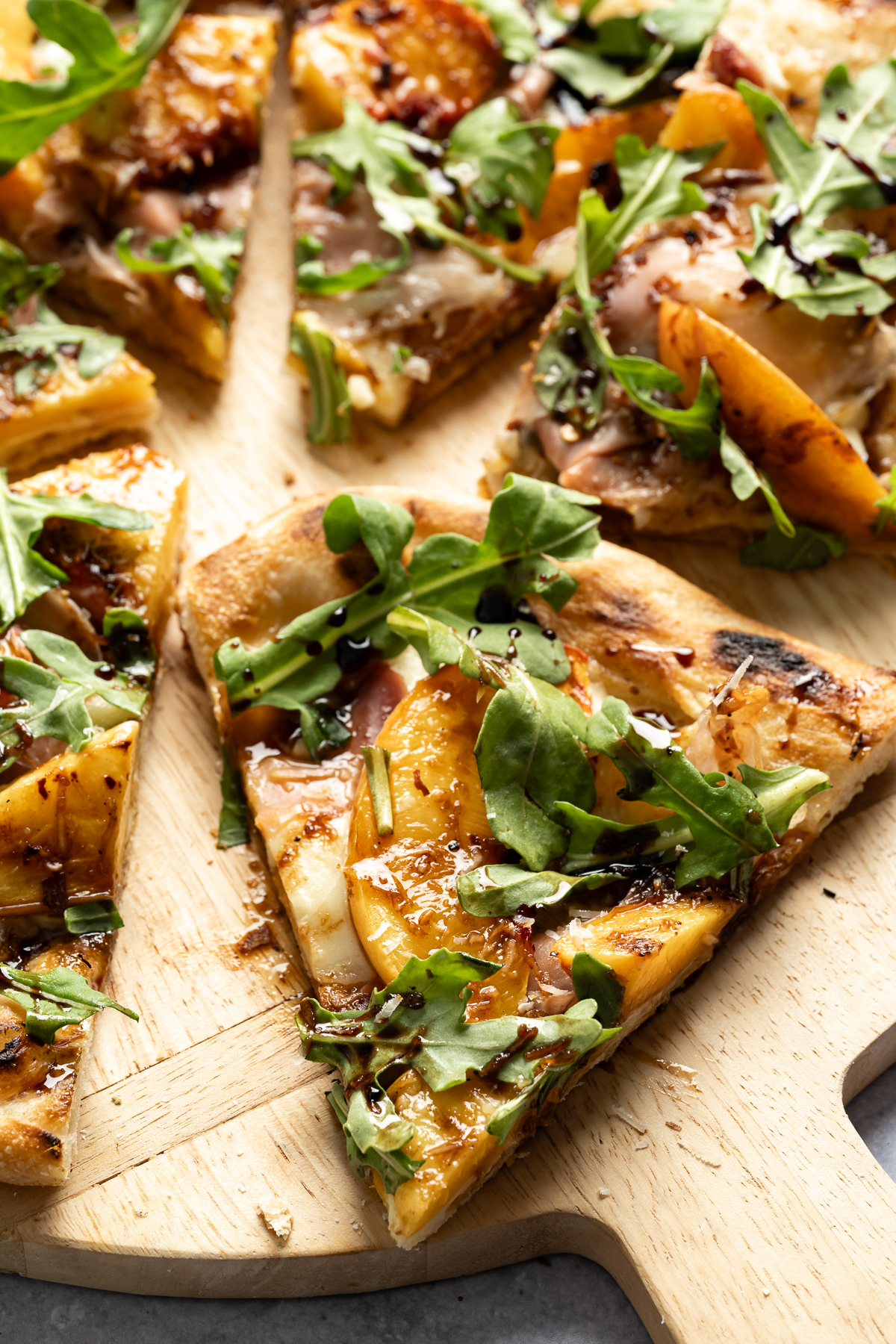 Grilled peach pizza recipe:
Grilled Peach Pizza with Prosciutto
Delicious and easy to make grilled peach pizza with prosciutto, arugula, fresh mozzarella and a sweet tangy balsamic glaze.
Ingredients
Makes 4 pizzas (24 hours is prep time for homemade dough only)
For the Pizza:
960

g

Pizza dough for 4 pizzas,

homemade or store-bought (240 g each ball of dough)

2-4

Tablespoons

Olive oil,

basil oil if possible

1

teasoon

Kosher salt,

or to taste

1

teaspoon

Ground black pepper,

or to taste

464

g

Fresh mozzarella,

torn into pieces

4-6

Garlic cloves,

thinly sliced

12

slices

of Prosciutto,

or more if you want more on each pizza

2-3

Peaches,

thinly sliced (grilled - optional)

1

teaspoon

Red Chile flakes

20

g

Arugula,

about 1 cup

4

Tablespoons

Balsamic glaze,

recipe below

4

Tablespoons

Parmesan cheese,

freshly grated
If making homemade pizza dough:
600

g

Type 00 flour

1

g

instant yeast

14

g

Kosher salt

350

g

Lukewarm water

100-110 deg f
Balsamic glaze:
115

g

balsamic vinegar

3

tablespoons

brown sugar
Instructions
Make the pizza dough:
If making homemade pizza dough, start the dough a day or two before making the pizzas. If not, skip to step 1 of grilling the pizza.

For the pizza dough combine the flour and yeast together in a large bowl.

Mix together the salt and water and stir until salt is dissolved

Combine the salt water with the flour and stir until a shaggy dough ball forms.

Turn the dough out onto your counter and knead for 3-4 minutes until a smooth ball forms.

Put the dough back in the bowl (or a plastic dough container) and cover with plastic wrap (or a lid if using a container).

Let the dough sit out at room temperature for 24 hours. It is now ready to divide into four dough balls (240 g each)
Make the balsamic glaze:
Do this while the pizza dough balls are rising. Combine the balsamic vinegar and brown sugar in a small saucepan. Bring to a boil then lower to a simmer, stirring to dissolve the sugar. Let simmer for 10 minutes until thickened. Remove from heat. The glaze will thicken further as it cools.
Grilling the pizza and assembly:
Divide your pizza dough into 4 balls ( homemade or storebought) and shape into smooth balls. Set on a lightly oiled pan and cover to rise for one hour.

Preheat your grill to 450 Deg F. Clean the grates and brush with oil.

Roll out each dough ball to about 10-12 inches round. Brush one side with oil.

Place the oiled side down on your grill, then oil the top side of the pizza dough. Grill each side for 3-4 minutes, flipping once until the dough is cooked and puffy.

Let the pizza doughs rest for few minutes while grilling the peaches. Spray the peaches lightly with oil then grill for 1-2 minutes a side. Remove from the grill. Leave the heat on one side of the grill, turn it off on the other side.

Brush the top sides of the pizza doughs with olive oil ( or basil oil if you have it), season wit a little salt and pepper, sprinkle with the sliced garlic, pieces of fresh mozzarella and place the torn pieces of prosciutto on top of the cheese. Place back on the grill on the side with the heat turned off, until the cheese is melted and the prosciutto is getting crispy. Add the peaches and grill for one minute more.

Remove the pizzas from the grill then add the red chili flakes, arugula, drizzle the balsamic glaze and sprinkle some freshly grated parmesan. Serve hot!