White Peach, Basil, Blueberry Mojito is a delicious twist on the classic mojito using my favorite summertime stone fruit, the white peach.
The first time I tried a Mojito I didn't like it. Like at all. Way too much mint. Tasted like toothpaste. I really wanted to love it. I was barely 21 at the time though so I figured maybe my tastes will mature as I get older. I kept seeing so many variations of a mojito on menus years later that sounded so good so I decided to give them a try again. And they soon became one of my fave cocktails. I do order them easy on the mint though.
Out for brunch with friends years ago, I ordered a strawberry basil mojito. I absolutely loved the swap of basil for the mint. Basil pairs so well with fruit and berries. This is how I came up with my White Peach Basil and Blueberry Mojito. The mint gets swapped out for fresh basil. This is recipe number 2 for my White Peach/Basil/Blueberry week ( which I think will be extending into next week since I decided to make a 4th recipe to share) which I hope you are all liking so far. I know I am.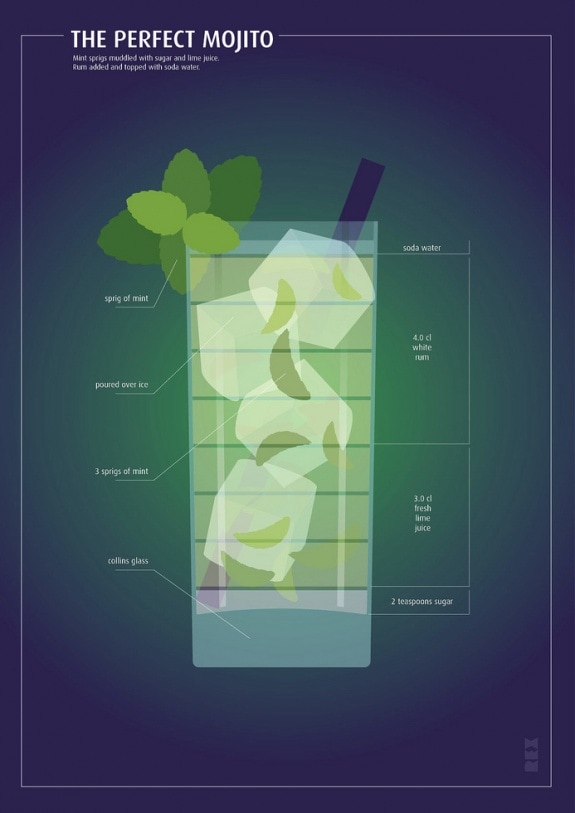 I pinned this neat graphic about the mojito to my "Cheers" Pinterest board the other day because I thought it was a cool how to for making the perfect mojito. The Collins glass is the classic mojito glass. I decided to go with a simple syrup instead of using granulated sugar, and of course I swapped out the mint with basil from my garden. Oh how I love basil.
There are several components making this white peach blueberry basil Mojito quite possibly one of the best cocktails I have ever had, and the part that really makes it amazing? Farmers market fresh white peaches infused into rum. So good. Like amazingly good. Like I am ready to infuse all the alcohols with fruits and veggies and herbs. And maybe even bacon. Yes, bacon infused...vodka? Bourbon? I will have to experiment. Edited to add - we now have a white nectarine tree and a white doughnut peach tree in our yards and I make this cocktail and infused rum with them.
I just can't get over the flavor combination of these three. WAIT til you see what I have planned next for them. But back to this cocktail.
I tested these the first time without my infused rum because it wasn't ready yet. I added in a little extra peach simple syrup. The drinks were really good that way, but I knew they would be even better with it. Definitely plan ahead for making these drinks since the peach infused rum does make it that much better. I prefer infusing alcohol with real fruit rather than buying flavored rums. I don't care for the fake flavor of certain flavored rums. Peach and Banana come to mind as the ones I don't care for.
The first time I had basil in a cocktail I LOVED it. I love when people get creative with herbs in their cocktail creations. When I was thinking about this mojito I knew basil was the right choice. Especially since my garden is always overflowing with it in the summertime. We plant a ton of it since we make our own pesto and add it to salads.
Make the infused rum for this drink. It's easy to do and just, so good. And if this mojito was on a brunch menu you know I would order it!
White Peach, Basil, Blueberry Mojito
White Peach, Basil, Blueberry Mojito
Ingredients
4

Collins glasses

White Peach Infused light rum

White Peach simple Syrup

⅔

cup

Blueberries

3-4

tablespoon

Basil

chiffonade

½

white peach

diced

Club soda or sparkling water

cold

Ice
For the Infused Rum
3

semi firm white peaches

3

mason jars pint sized

with lids

White rum

I use Koloa rum
For the Simple Syrup
1

white peach

1

cup

sugar

1

cup

water
Instructions
For the Infused Rum
Peel and cut the peaches in half and remove the pit. If they are hard to peel, blanch in simmering water for 30 seconds, then place immediately into an ice bath. The skin should remove easily then. Dice into 1" chunks and place one peach in each mason jar. Fill with white to the top. Screw on the lid and lightly swirl the jar around. Keep in refrigerator for at least a week to infuse with peach flavor. Shake the jars gently once a day. Keep chilled until ready to use.
For the white peach simple syrup
Peel and slice the peach in half, remove the pit. Dice into 1" chunks. Place the peach chunks in a saucepan with the sugar and water and bring to a boil, stirring to dissolve the sugar. Lower the temperature and simmer for 10-15 min until the mixture starts to thicken, stirring occasionally and mashing the peaches against the side of the pan. Turn off the heat and let cool for1-2 hours. Strain into a jar, such as a mason jar and keep refrigerated until use. Will keep 2 weeks in refrigerator
For the drinks
Strain the peach infused rum into a measuring cup. In the Collins glasses divide the basil and blueberries. Add in 2 tablespoon of the white peach simple syrup to each glass and gently muddle the blueberries and basil. Don't smash too much.. Add ice, and 2-3 ounces of the peach infused rum and top with club soda or sparkling water. Top with a few pieces of diced peach and serve immediately.
Notes
The simple syrup makes more than what the drinks call for. So just make more drinks! You can infuse the rum in any container you want just as long as it has an airtight lid. I used 1 peach for each pint jar and I didn't measure exactly how much rum it was. The peaches do soak up a little of it. So if you use a larger container maybe err on the side of 1 peach for 2 cups of rum. The peaches have such a mild flavor so the longer you let them infuse the rum the better. I say one week minimum is best.
Also my word of advice on photographing drinks with ice in them on 100+ degrees days like in Las Vegas. Have LOTS of ice, be ready to swap it out as it does melt very quickly as you can see here, and have the air conditioning cranked to as low as you can afford/tolerate. I was HOT while taking these pics and couldn't figure out why my ice was melting faster than I could take pics. I realized our AC was on energy saver and assumed we wanted out house HOT. So definitely lower the AC. I thought photographing ice cream was challenging in summer here. Adding cocktails to my list.
This was before my ice started rapidly melting. Melted ice or not, this is a really tasty mojito!