Lobster Scrambled Eggs with Wasabi Hollandaise and Crispy Leek and Potato Cakes
"I gotta lot of problems with you people and you're gonna hear about it!! - Frank Costanza, "The Strike", Seinfeld.
A Festivus for the rest of us.
I can't even begin to tell you how excited I am for this post. And this recipe. Lobster Scrambled Eggs with Wasabi Hollandaise and Crispy Leek and Potato Cakes. Festivus is awesome.
The idea came about for doing a Festivus post when the bloggers for the Holiday Food Party were trying to decide if we wanted to do a post for Christmas or New Years. December is a crazy time for everyone, and we all wanted something we could manage. I suggested " Why not post a recipe for Festivus?" And the thread got totally hijacked by ideas for Festivus to the point where we decided to form a separate group just for the people wanting to participate. I am so glad this happened because we have an amazing group participating.
So, today we're taking a break from all the Christmas celebrations to discuss an odd group of friends, a strange pole and a 'show about nothing.' And by now, all you Seinfeld fans are smiling. It's been 15 years since the TV series left the air but it's still very much around in syndication, popular culture and a little made-up holiday called Festivus. Celebrated with a bare pole and an airing of grievances, it's a time to come together and say "I got a lot of problems with you people!" It's all in good fun, of course, and in its 9 seasons, quite a lot of delicious food came up on the show. So some of my blogger friends and I decided to cook the foods best associated with the Seinfeld years and give away some great holiday gifts.
http://en.wikipedia.org/wiki/Seinfeld
http://en.wikipedia.org/wiki/Festivus
Festivus has become such a cult thing in our country. People have Festivus celebrations all over and take it very seriously with the festivus pole, the airings of grievances, feats of strength and the food. Not all the recipes made here are from the episode of Seinfeld that Festivus occurred ( The Strike) but many are from other episodes. Many of Seinfeld's episodes were centered around a food, such as the famous Marble Rye episode where George steals one from an elderly woman ( The Rye) To Soup such as Mulligatawny from The Soup Nazi episode. Seinfeld was such a great show. And here are all the great recipes made for this Festivus post: (Please visit them all to see the amazingness of them all)
Amazing recipes.
The episode that my recipe is inspired by was The Hamptons. I had forgotten it was one of the more, shall we say , risque episodes of Seinfeld. I just remember Kramer pulling up lobster traps that belonged to commercial fishermen and he cooked them up for everyone in the house and Jerry's girlfriend didn't eat lobster since it wasn't Kosher. Kramer caught her in the middle of the night about to eat some and she thanked him for saving her from making a mistake. The next morning George had made everyone breakfast and Jerry's girlfriend loved how great the eggs were and it was because he added lobster to it to get back at her for walking in on him changing clothes and Kramer ends up getting arrested for poaching the lobsters. So ridiculous and so funny.
I knew I wanted to make a lobster recipe for Festivus. But knowing ME I couldn't just make lobster scrambled eggs. While those two ingredients on their own are really so very very good, I had to " step it up" and make it extra fancy. You know, its the holidays and all and this would make an amazing brunch meal for Festivus or any holiday you celebrate. The crispy potato cakes are made with leftover mashed potatoes ( I actually didn't have any on hand so I whipped up a batch using this recipe HERE, but I used red potatoes and more milk since they were a bit dry) and I wanted to make a hollandaise sauce and wasabi just sounded like a perfect addition to it. The only grievance I can air about this recipe is that its all gone.
One thing I love about Lobster.com is the fact that they ship their lobsters live. Not frozen. So they arrive at your door packed in a cooler as fresh as can be. My kids loved that they could hear the lobsters scratching inside of the box they came in and thought it was neat I let the lobsters scoot around my counter ( before their " bath" ha ha). You can check out the selection of live lobsters here - Live Maine Lobsters - and see what all they have to choose from. All lobsters are packed on ice and shipped next day. Next best thing to catching them yourself!!
"Recipe"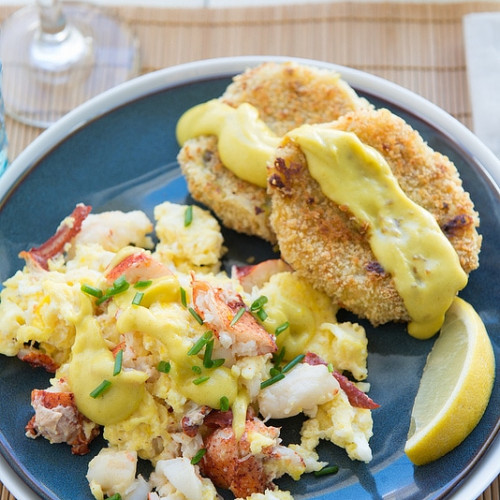 Lobster Scrambled Eggs with Wasabi Hollandaise and Crispy Leek and Potato Cakes #Festivus
Lobster Scrambled Eggs with Crispy Leek and Potato cakes with Wasabi Hollandaise inspired by the lobster scrambled eggs from " The Hamptons" Episode of Seinfeld. Serves 4
Ingredients
For the Scrambled eggs
Two 1 ½ lb live lobsters

2

tablespoon

butter

unsalted

8-12

whole eggs

6

ounces

mascarpone cheese

Sea salt

Ground black pepper

Chives

diced, for garnish
For the potato cakes
2 ½

cups

mashed potatoes

leftover from another recipe or freshly made

2

medium leeks

white and light green part only, cleaned and diced

3

cloves

garlic

minced

⅓

cup

shredded cheddar cheese

½

teaspoon

ground black pepper

½

teaspoon

sea salt

1

egg

1

– 1 ½ c panko
For the Hollandaise Sauce:
4

Egg Yolks

3

TBS.

Lemon Juice

½

cup

Unsalted Butter

cold and cut into tablespoon sized pieces

½

tsp.

Salt

1-3

teaspoon

Wasabi Powder

2-3

tablespoon

boiling water
Instructions
Prepare the Potato Cakes first.
Preheat the oven to 425 Deg F . Prepare baking sheets with parchment or silicone bake mats

In a bowl combine the mashed potatoes, shredded cheese and ground black pepper , set aside.

In a sauté pan over medium heat add in 1 tablespoon butter and melt until foamy. Add in the diced leek and sauté until starting to caramelize and get crispy, about 8 minutes. Add in the Stirring often so they don't burn. Add in the garlic and sauté another 30 seconds then once done add to the bowl with the mashed potatoes. Mix well and then scoop out about 2 ½ tablespoon sized amounts of potato mixtyre and flatten into a patty, about 2" across.

In a small bowl whisk the egg and in another bowl place the panko. Dip one patty in the egg and then into the panko and cover well with panko. Repeat with remaining patties. You should have 10-12 patties.

Bake for 12 minutes and then carefully flip and bake for another 12. Keep warm until ready to serve.
For the Scrambled Eggs
Steam the lobsters. Bring salted water to a boil in a large pot with a steamer basket and add the lobsters. Let them steam for 11 minutes.

Remove from the pot and let cool slightly. Twist the tails off gently and rinse the lobsters out. Remove the claws and legs. Using kitchen scissors cut the lobster tail on the underside down the middle. Carefully remove the tail meat. Remove the meat from the claws and attached legs. Remove shells from body/head of lobster and remove any meat inside. Chop all the lobster meat into a large dice and set aside

Crack the eggs into a bowl and lightly whisk. Heat the butter in a large pan and add the eggs. Cook on low heat to slowly scramble them. You want softly scrambled eggs. Once the eggs are starting to look more firm add in the mascarpone cheese and stir and gently flip sections of the eggs. Add in the diced lobster and cook another 1-2 minutes. Taste and season with salt and pepper. Keep warm until ready to serve
To make the Hollandaise
Set a pan of water on the stove over medium heat and bring to a simmer

Combine egg yolks, lemon juice and salt in a bowl that fits over the pan of water without touching the water. Whisk the mixture over the simmering water until thick. If it starts to cook the egg, lower the heat but keep whisking. Once thickened add in the butter one tablespoon at a time and whisk until its fully incorporated and repeat with remaining butter , whisking after each addition. Have a kettle of boiling water nearby and add in the wasabi to the hollandaise sauce starting with 1 teaspoon and whisk well. Taste and add more if desired. If the mixture starts to curdle add in boiling water one tablespoon at a time and whisk until smooth. Transfer to a bowl and serve immediately.
Assembly:
Divide the eggs amongst 4 plates and a few of the potato cakes and top with chives and hollandaise.
Lobster in eggs is a total game changer. SO good!