This easy to make smoked salmon spread is made with just a few simple ingredients, can be made ahead and chilled ready to spread on a hot toasted bagel for breakfast or any meal.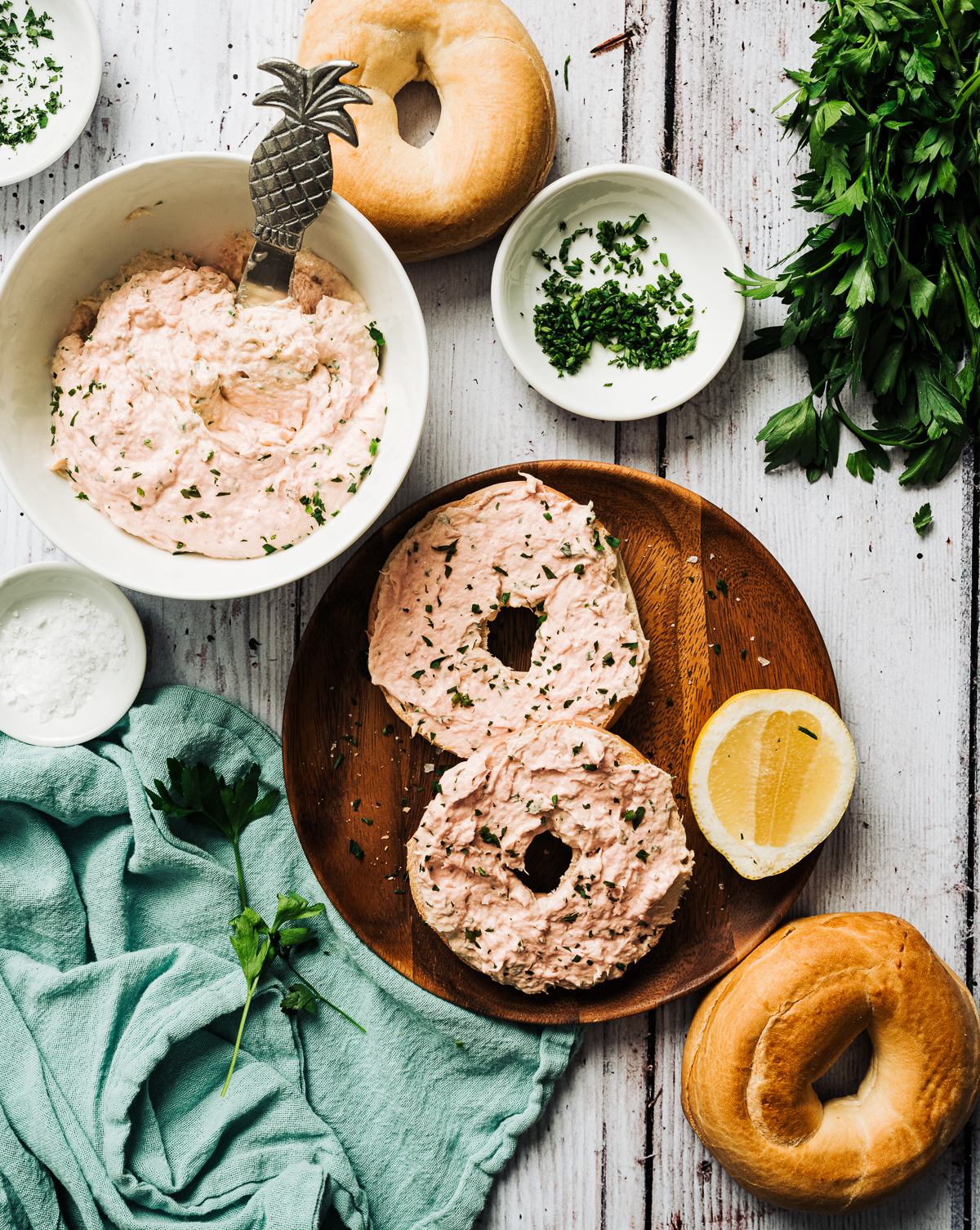 This smoked salmon bagel spread is inspired by my recent trip to Cordova, Alaska with Copper River Salmon. A new recipe for my growing list of salmon recipes on my blog. This recipe is more of a spread than a salmon dip, however you could use it as a dip similar to my Salmon Mousse Dip.
Jump to:
We were fortunate enough to stay at the amazing Orca Adventure Lodge for our press trip, which had a main dining hall and a coffee shop, The Whale's Tale, for our breakfast and lunch options. Dining hall for dinner. My room was a 30 second walk to the coffee shop so I would get up early and head over for a coffee and their amazing smoked salmon bagels.
My kids asked me if I was eating salmon three meals a day and my reply was "Yes. Yes I am."
Smoked salmon:
The main star of this recipe is wild Alaskan smoked copper river sockeye salmon. We visited biologist and fisherman, David Saiget, on his boat the Liberty, to see how he does everything from catching to cleaning salmon, learned how he processes the salmon for his ready to eat products, and got to take home samples of his Liberty Brand smoked salmon. I knew I wanted to use it in this smoked salmon spread.
Any tinned smoked Alaskan salmon will work for this recipe. I tested this recipe with smoked pink alaskan salmon that I got from Sprouts, Wild Alaskan smoked sockeye that I had from Wildfish Cannery and my final recipe used the Liberty Brand.
Smoked Salmon vs Lox:
Smoked salmon is cured and smoked while lox is usually just cured in a brine. Lox is then cut unto thinner slices where smoked is either tinned or jarred.
I am a much bigger fan of smoked salmon than lox in a recipe such as this one. Lox is usually used as is - not pureed into a spread or dip.
Smoked salmon spread ingredients:
Wild Alaskan smoked salmon ( I used 170-190g/6-7 ounces - you can use more)
Cream Cheese ( can also use Neufchatel)
Icelandic Provisions Skyr ( Can also use plain Greek Yogurt or sour cream). I love the thickness and tanginess of skyr.
Lemon zest and juice
Fresh Italian Parsley
Chives
Salt - only to taste since the salmon already lends a lot of salt to the recipe
Ground black pepper
Hot sauce - optional
Bagels - plain or everything
Avocado - optional
Everything bagel seasoning or flaky finishing salt ( I used Alaska Pure Sea Salt Sitka Flakes)
Additional lemons, parsley and chives
See recipe card for quantities.
Instructions:
This recipe takes just minutes to put together in a food processor. Prep all your ingredients while the cream cheese and skyr ( or yogurt) is coming to room temp. vfd
Puree the room temp cream cheese and skyr ( or yogurt) until smooth.
Add in ⅔ of the smoked salmon, lemon zest and juice, salt and pepper. Process until smooth again.
Add in the remaining smoked salmon, parsley, chives and a few dashes of optional hot sauce
Pulse just to combine. You could even scrape the mixture out first, add in the salmon, parsley and chives and stir this by hand if you want.
I always divide the salmon so two thirds of it is blended in smooth and one third is just pulsed or hand stirred in so there are larger pieces. You can puree it all smooth if you like, but I love the texture of both the smooth and the chunkier pieces of smoked salmon in the spread
Hint: Make sure the cream cheese and skyr, or yogurt, is room temperature before processing. This will make it a lot easier to blend smooth.
Substitutions:
I have only tested the recipe with what I used in the ingredient list.
Dairy free - feel free to substitute a non-dairy choice for the cream cheese and skyr that you are used to working with. I cannot guarantee the same results since I have not tested with anything but what is listed in the ingredients.
Type of salmon - Since this is a smoked salmon spread I would only use smoked salmon. If you can only find tinned salmon you could use that instead but it wouldn't have the smoky salty flavor that smoked salmon lends to the dish.
Equipment:
Food Processor - I love my little 8 cup Cuisinart food processor. Easy to use and clean. I haven't personally made this recipe in a blender, I don't suggest using one for this recipe.
Storage:
Store in an airtight container with a lid or covered tightly with plastic wrap up to 5 days in the refrigerator.
Salmon spread or salmon dip does not freeze well at all.
Other options:
I love avocado toast and bagels, what can I say, I grew up in Southern California with avocado trees in my backyard. I love to get the bagel extra toasty, spread on some avocado first, squeeze a little lemon juice and a sprinkle a little flaky salt over the top then add the smoked salmon spread over the top.
Garnish with some more chives, parsley, maybe a sprinkling of everything bagel seasoning too.
FAQ
How much smoked salmon do I need to use?
You can really use as much as you like. If you want it more on the salmon side - double the salmon but leave the same amounts of cream cheese and skyr.
How long will salmon spread last in refrigerator:
Up to five days in an airtight container with a lid or tightly wrapped plastic wrap over the container.
Smoke your own salmon:
If you are into, or want to try, smoking salmon you can see my recipe for Hot Smoked Salmon Tacos which includes a how to for hot smoking salmon.
More salmon recipes:
Looking for other salmon recipe ideas? Try these:
Wild Alaskan Smoked Salmon Spread Recipe
This easy to make smoked salmon spread is made in minutes with just a few simple ingredients, chilled then spread on a toasty bagel. Yum!
Servings depend on how much you spread on the bagel. 6-8 bagels worth.
Ingredients
170-200

g

smoked salmon

(6-7 ounces, divided) can use more if desired.

170

g

cream cheese

(6 ounces)

113

g

Icelandic Provisions plain Skyr

(can also use plain Greek Yogurt or sour cream)

½

teaspoon

ground black pepper

¼

teaspoon

sea salt

2

teaspoons

lemon zest

1

Tablespoon

lemon juice

1-2

Tablespoons

each - minced fresh Italian flat leaf parsley and chives

Hot sauce - optional. I use either Tapatio or Cholula

6-8

Bagels - plain or everything

1-2

avocados - optional

½

teaspoon

everything bagel seasoning or flaky finishing salt

Additional lemon slices,

minced parsley and chives
Instructions
Instructions:

Bring cream cheese and skyr ( or yogurt) to room temperature. It will mix easier than when cold.

Separate the salmon into ⅔ and ⅓ amounts, discarding skin and any pin bones you find, leaving ⅓ of it to add in later. (114-134 g or 4-4 ½ ounces with 57-67 g or 2- 2 ¼ ounces saved.)

Process the cream cheese and skyr until smooth. Add in ⅔s of the smoked salmon, lemon zest, lemon juice, sea salt and ground black pepper. Process again until smooth. Taste and add more salt, pepper or lemon if desired.

Next add in the remaining salmon, parsley, chives and hot sauce. Pulse until just combined. You don't want to puree all the salmon smooth, you want to have some larger pieces in the spread.

Transfer the spread to a bowl, cover with a lid or plastic wrap then chill until firmer, at least 2 hours.

When ready to eat, toast bagels to your desired level of toastiness, spread on the smoked salmon spread. Sprinkle over some flaky finishing salt, a squeeze of lemon and a sprinkling of parsley and chives.

Another tasty option is to spread some avocado on the bagel, squeeze of lemon and some salt, spread the smoked salmon spread on top of that, another squeeze of lemon, everything bagel seasoning and some of the parsley and chives. Either way is so good.

The salmon spread keeps well up to 5 days in the refrigerator.