Jumbo Bakery Style Meyer Lemon Crumb Muffins with Meyer Lemon Curd. All the Meyer lemony goodness in one, giant muffin. Six jumbo lemon muffins.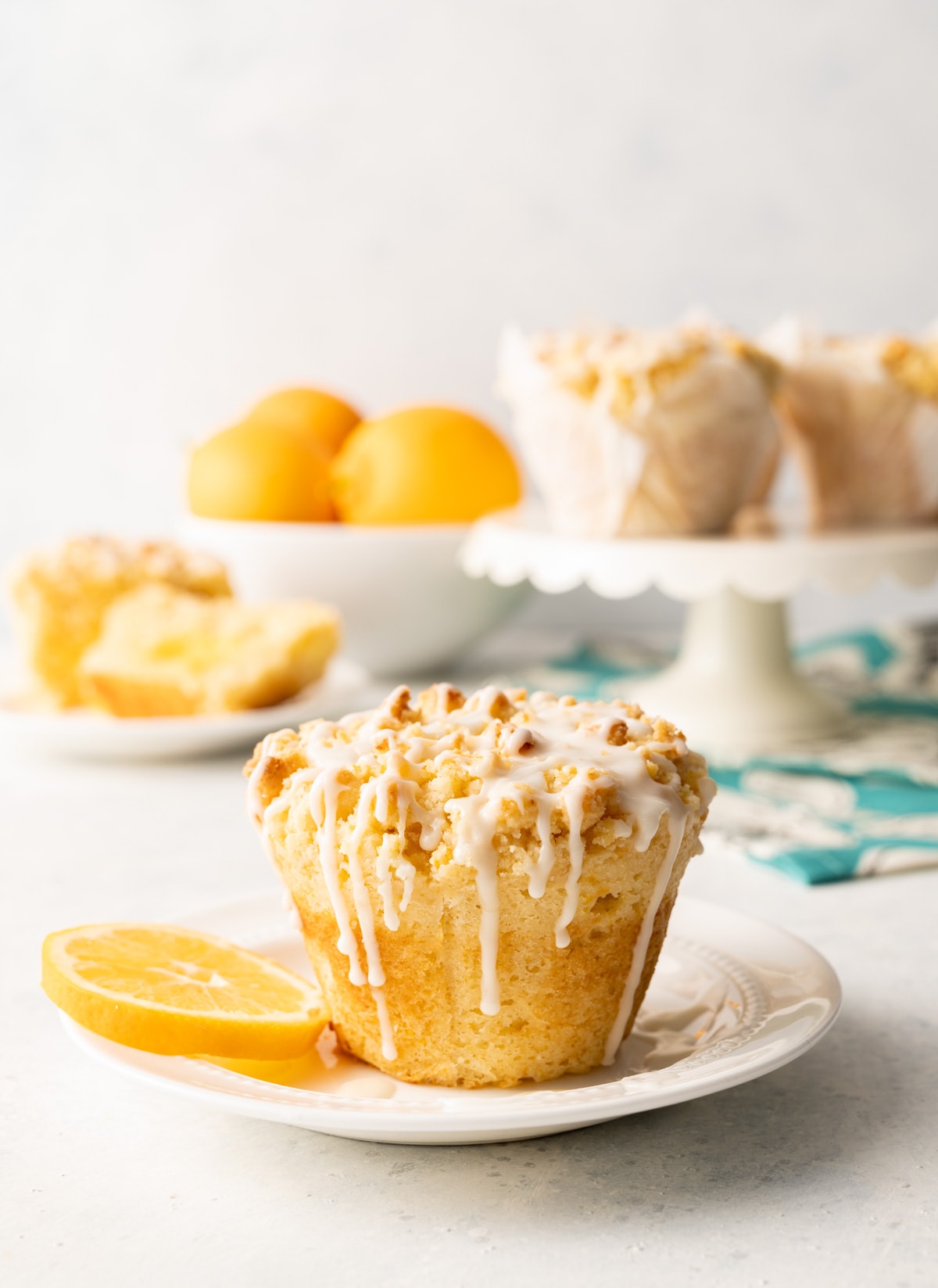 This page contains affiliate links. Affiliate links support Pineapple and Coconut at no additional cost to you. If you choose to make a purchase via these links, I earn a small commission to help keep this blog running and it is much appreciated. I am an Amazon and Adorama affiliate.
Its been a while since I have made muffins for my blog. I make muffins once in a while at home, they usually get eaten up before I get a chance to photo them. Since I am still knee-deep in Meyer lemons over here I figured why not make lemon crumb muffins. Jumbo bakery style ones at that.
When I was a kid we would go to a market and deli called Pierre Lafond to get giant muffins for an after school treat. I would either get black bottom cupcakes ( so retro!) or these giant lemon curd filled crumb muffins. They tasted like lemon meringue pie in muffin form.
It's been years since I had one. When I started working on this Meyer lemon crumb muffin recipe I knew I wanted to add in a curd filling. And make them jumbo like the muffins I had as a kid.
Jump to:
Lemon muffin ingredients:
All purpose flour ( a gluten free all purpose blend can be substituted 1:1)
Baking powder, baking soda and kosher salt
Granulated sugar
Meyer lemon zest and juice( can use regular lemons if you don't have or can't find meyers)
unsalted butter
Oil - I like a neutral oil such as avocado or sunflower. I don't use olive oil in these muffins since I am not looking for a predominant oil flavor, just using it to add moisture
Sour cream - I use full fat
Large eggs
Vanilla extract
Curd filling - this can be a homemade lemon curd or store bought curd. If store bought there is a chance you will only find regular lemon curd and not meyer lemon curd and that is just fine.
Crumb topping - flour, sugar, butter, lemon zest and salt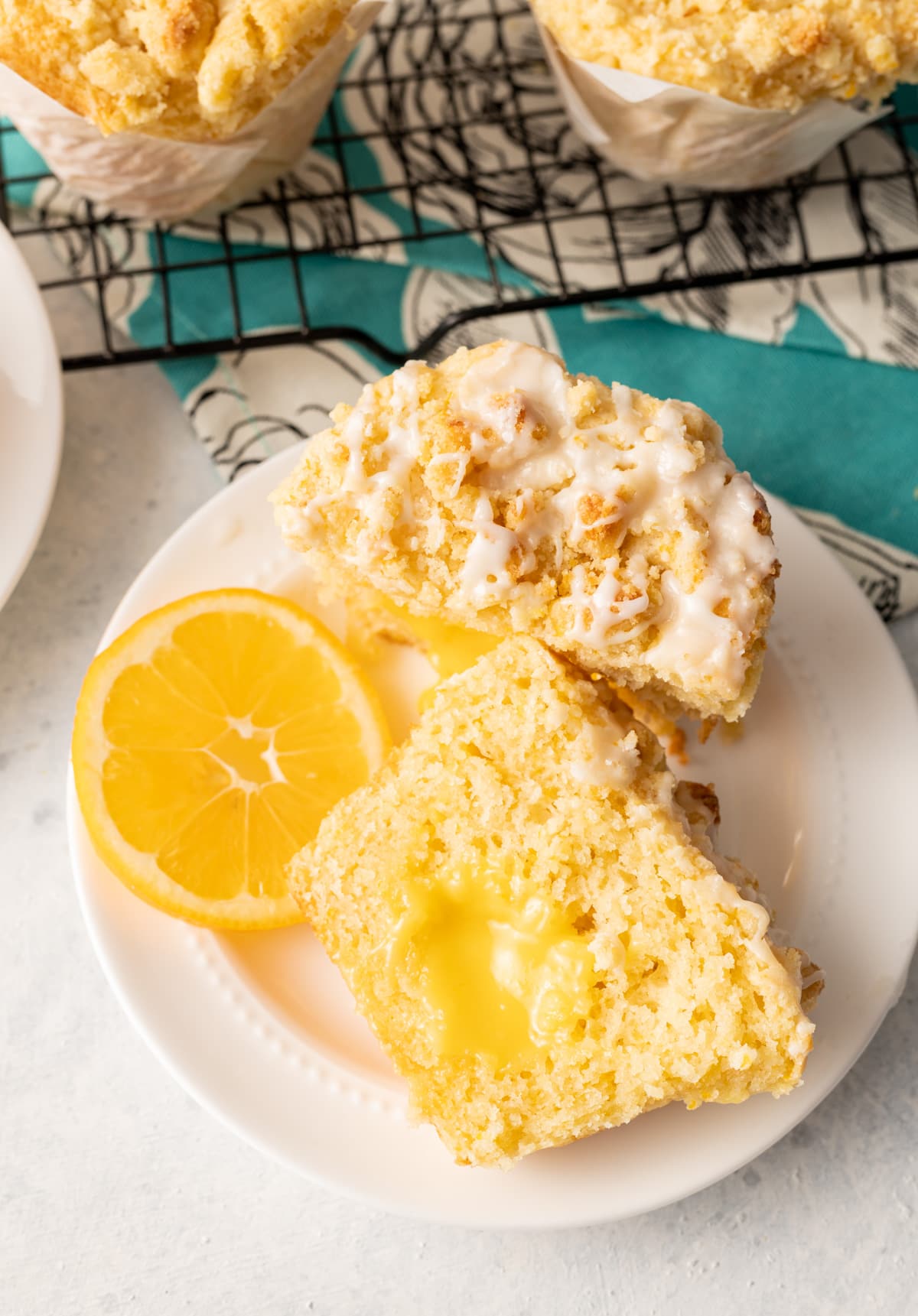 How to make your own paper muffin liners:
One issue is making bigger muffins is finding paper liners to fit the bigger muffin tin. I made my own tulip style liners so they would hold in the muffins since these get filled to the top and I add a crumb topping to them.
Making your own jumbo tulip muffin liners is super easy.
You will need 6 square of parchment paper no smaller than 6x6 inches. I found that this is the perfect size for these. I press down into the muffin pan with an upside down glass that fits and they fold in. Then I set the glass upside down and place the square over it to tighten the folds on each side between the corners.
It doesn't have to be perfect. I have one hand on top of the paper holding it down over the glass as I press the folds on the liners tighter agains the glass.
Next, spread a teeny bit of butter in each muffin tin well and place the liners in, pressing down so the butter holds them in. That's it!
No need to worry if they aren't sitting all the way into the tin, the butter helps keep them down but as soon as you fill with batter they will fit the tin perfectly.
Make the meyer lemon crumb muffins:
Make the crumb topping first so it is ready to go when the muffins are filled
Mix up the batter - this can be done in a large mixing bowl or a stand mixer
Have your curd ready if using - make this a day ahead of time if making from scratch.
Start with filling the lined tins halfway with batter, then make a little indent in the middle to add the curd.
Top with the rest of the batter evenly divided between the six muffins then top with the crumb topping.
There is a lot of crumb in these lemon crumb muffins, but because the liners are extra high the crumb stays in while baking. Maybe a piece or two spills out, that is ok. Who doesn't love lemon muffins with crumb topping?
Golden, jumbo Meyer lemon crumb muffins. These smell amazing when baking. Lemon zest and juice in the muffins, lemon curd, lemon zest in the crumb too. And if you want, you can add a lemon icing too!
Pro muffin baking tips:
There is one great trick to getting jumbo style muffins to bake up and not out. That is starting the baking at a higher temp and then without opening the oven door, lower the temp for the remaining of the baking. The higher temp gets that initial rise started and then the lower temp bakes the muffins more evenly.
Baking the entire time at one temperature won't give the same result. That initial high heat helps these rise and stay risen. Because these are jumbo muffins they take longer than smaller sized ones and the lower temp helps bake them evenly without drying out the edges and leaving the center raw.
I am not a fan of opening the oven door to turn a pan halfway through the baking process to ensure even baking. I find that this will cause baked goods to sink and have the middles not bake the same as the edges. I leave baked goods alone until its close to almost finished, then I check for doneness.
You can use either the toothpick method ( although you might end up sticking the toothpick into the curd leaving a false sense of not done yet) or you can lightly press the top of the muffin to see if it springs back. If so, they are done.
Weighing ingredients Vs using cups:
I use my food scale and weigh out ingredients in grams because this is the most accurate way to get the best quality baked goods. Cups aren't accurate because not only are all cups not the same the sizes vary from brand to brand as well as from different countries. I have done tests with different brands of measuring cups and they all came out with different weights after I did the spoon and level as well as scoop method and then weighed in grams.
Baking is a science and science needs accuracy. Weighing is accurate and precise. Not to mention a lot easier. Another issue with cups is that I have no control over how people use measuring cups to measure dry ingredients especially flour. You could pack in way too much which would result in a sub-par baked good. Too much flour could throw everything off. Same with not enough. Not to mention also some ingredients are difficult to measure in cups such as nuts, dried fruit, chocolate etc. This is why weighing in grams is the most accurate.
I also use grams for most liquid measure since 100 grams equals 100 ml of water. Smaller amounts of items measured in teaspoons I usually leave as teaspoons, tablespoons are sometimes listed in grams as well but for the most part the different tablespoons I have used have all resulted in the same amount. Aside from cute, decorative ceramic tablespoons and teaspoons are never accurate. Those are better as decoration than for being used for baking.
More meyer lemon dessert recipes:
"Recipe"
Jumbo Bakery Style Meyer Lemon Crumb Muffins
Jumbo bakery style muffins with a tart lemon curd, crumble topping and icing. (The one star vote is from Debbie who doesn't own a food scale)
Ingredients
358

g

All purpose flour

2 ¾

2 ½

teaspoons

baking powder

½

teaspoon

baking soda

½

teaspoon

kosher salt

250

g

cup granulated sugar

1 ¼ cup

2

Tablespoons

Meyer lemon zest

76

g

unsalted butter

melted and slightly cooled

72

g

oil

I use avocado oil, melted coconut oil would also work

320

g

sour cream

2 ½

Tablespoons

Meyer lemon juice

2

large eggs

room temperature

1

teaspoon

vanilla extract
Crumb topping:
87

g

All purpose flour

67

g

sugar

42

g

butter

melted

2

teaspoon

meyer lemon zest

⅛

teaspoon

salt
Optional: Lemon Curd - can be homemade or store bought. If homemade make a day ahead of time. See recipe post for links to lemon curd recipe.
Instructions
Set out the sour cream and eggs to come to room temperature (65-70deg F). 

Preheat oven to 425 Deg F. 

Set out a 6 well large muffin tin and line with jumbo tulip shaped parchment liners.

(DIY large muffin paper version as seen in the post) Cut six 6x6 inch parchment squares, pressed into each muffin well and sides folded at an angle slightly to fit. You can double check the fit by placing the parchment square over the bottom of an upside down cup of glass that is same width as muffin tin base and then folding each side between corners until it's snug. Grease the tin with a little bit of butter then place the folded liners into the tin pressing down to keep them in.)

Make the crumb topping. Mix all the ingredients with a fork until crumbly, set in the refrigerator until ready to add to the muffins.
Make the muffins:
Whisk together the flour, baking powder, baking soda and salt in a medium sized bowl. Set aside.

In a bigger mixing bowl rub the sugar and zest together with your fingers until very fragrant, whisk in the melted butter and oil, then add in the sour cream, lemon juice, eggs and vanilla whisking again until well mixed. Add in the flour mixture and stir with a spatula until no more flour streaks remain. 

Divide batter between all 6 wells, they will be very full if not over the top, that is ok. This is what the tulip liners are for since they are much higher than the muffin tin. Sprinkle the crumble mixture over the tops of the muffins. 

(If you are filling with curd only fill each the muffin tins half way, make an indent in the middle of the batter, add a heaping tablespoon of curd then add the rest of the batter on top making sure the curd stays in the middle)

Bake the muffins at 425 Deg F for 8 minutes then without opening the oven, reduce the heat to 350 Deg F and bake for another 20-22 minutes or until the tops bounce back wen pressed/toothpick inserted to the middle top is clean ( if using curd some will stick to the toothpick so the checking the top by pressing method will work better for these). They will be a light golden color. 

Let cool in the muffin pan for 20 minutes and then carefully remove the muffins to cool completely on a wire rack.

If adding the icing drizzle, whisk together the powdered sugar and lemon juice then drizzle over the cooled muffins with a fork. 

These keep well in an airtight container at room temperature for a few days. 
Notes
Please use a food scale for accurate measuring. 
These are big muffins. You can make them into regular size if you like, they will make between 12-15 muffins. Baking time will vary. I have not tested this recipe for regular sized muffins. 
 If you are making these and for some reason don't have enough sour cream you can sub plain, Greek yogurt.
Notes originally in the blog copy, I decided to add them here instead. 
Make sure you set everything out to room temperature first ( eggs, sour cream etc) about 65-70 Deg F

Rub the zest and sugar together to release the lemon oils

I tested these lemon muffins with using all butter, all oil and half butter half oil. I love the moistness from the oil as well as the crumb from the butter so I went with both. Melt and slightly cool the butter first. 

I also tested this recipe using all milk, half sour cream and half milk as well as mostly sour cream with a little milk and all sour cream. I know, I am crazy but I wanted to get a consistent result with the best ratio of ingredients. I found that using at least ⅔ cup sour cream or more was best result. Personally I would go with the full 1 ⅓ cup sour cream but if for some reason you want to make these muffins but don't have enough sour cream you can make up the difference with full fat whole milk and they will be just as good.

The curd filling is totally optional. I used my Meyer lemon curd recipe, you can use store bought if you don't feel like making that from scratch as well. If you do use my Meyer lemon curd recipe make it the day before you make the muffins. It needs to set up completely before being used. 

The crumb topping is a must. I added in lemon zest for yet another hit of lemon, I make the crumb then let it set up for a few minutes in the fridge before adding to the muffins. 

As tempting as it may be to eat these as soon as they are out of the oven, let them cool for a while still in the pan. Gently lift out and then cool completely, while still in the liners, on a wire rack.

Add a little lemon icing drizzle if you want even more lemony goodness.