Tropical Passion Fruit Moscow Mules
My cousins introduced me to Moscow mules a few years ago and I loved them ever since, and since I like to add a tropical twist to recipes when I can, this is my tropical riff of a Moscow Mule.
What is a Moscow Mule?
A Moscow mule is traditionally made with vodka, lime juice and ginger beer and is served in a copper mug. It's a simple cocktail that tastes amazing and the copper mug is part of the charm of the cocktail.
Since the base of the drink is simple ingredients it goes well with any additions to change it to a more complex cocktail that is still just as refreshing such as flavored vodka or adding fruit juices.
For extra tropical flavor I used Ciroc Pineapple. I also always have Ciroc Coconut on hand for tropical cocktails. Both have very subtle tropical flavors and work so well in mixed cocktails. I knew I wanted to also use the passion fruit pulp that I may or may not have smuggled back from Maui last year.
Not telling you how I did it IF I did it, because I like to return to Hawaii annually and don't need to get on a " no fly likes to smuggle passion fruit list". Oh how I wish I could bring back apple bananas as well. Best bananas ever, grown on Hawaii.
Hawaiians call Passion fruit, or Lilikoi, "Liquid Gold". Because it is. There are many varieties of passion fruits and the ones we had were yellow on the outside and this rich gold color inside. Sweet and tart at the same time and the fragrance is amazing.
Last year we went to Maui for two weeks and got to do a lot of adventuring around the island. A few trips to farms upcountry Maui, a trip around the island past Hana and of course lots of beach days.
One of the trips upcountry was to a goat dairy called Surfing Goat Dairy. They had surfboards all over for the goats to climb on. We learned all about the farm, my kids got to feed baby goats and we sampled goat cheeses and quark. My favorite was the lilikoi quark. I bought a couple containers and that became my breakfast for the last few mornings we were there.
I need to figure out how to make it. And if you are ever in Maui on vacation, I highly suggest visiting the dairy. They have several kinds of tours and sampling the goat cheeses was the best part! They also had passion fruit vines all over the dairy that they use in their recipes.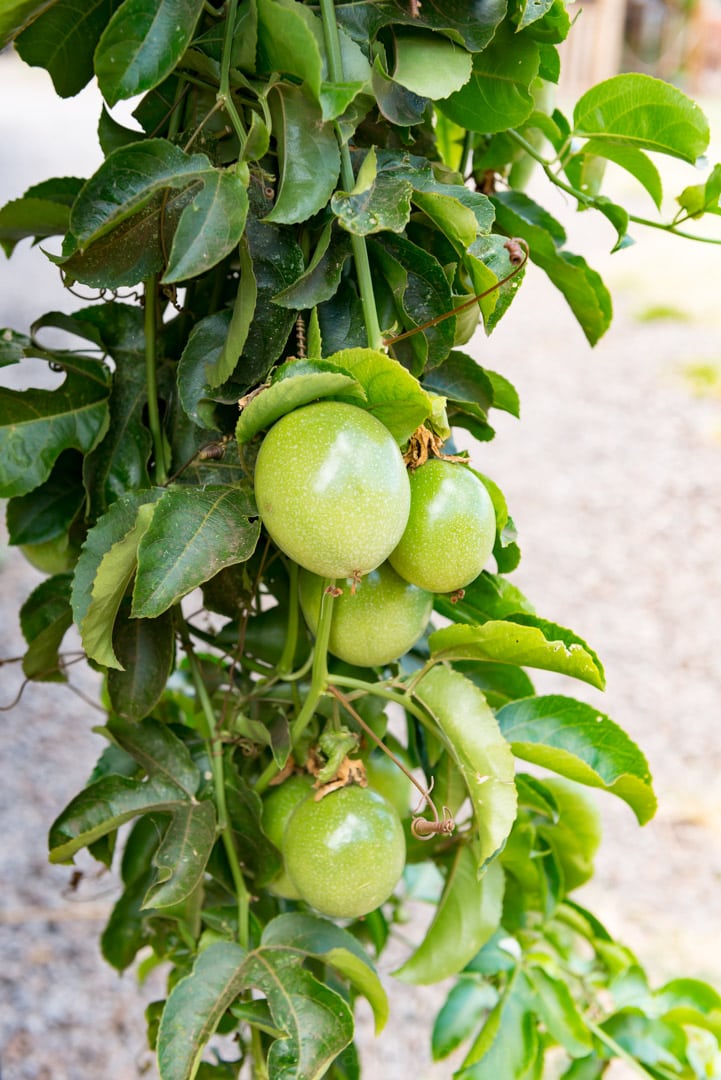 These were the largest passion fruits I had ever seen. They were about the size of a navel orange.
Usually you see passion fruit in grocery stores that are very small, shriveled and dark purple. There are many varieties of passion fruit, the yellow were the ones I saw the most of on Maui.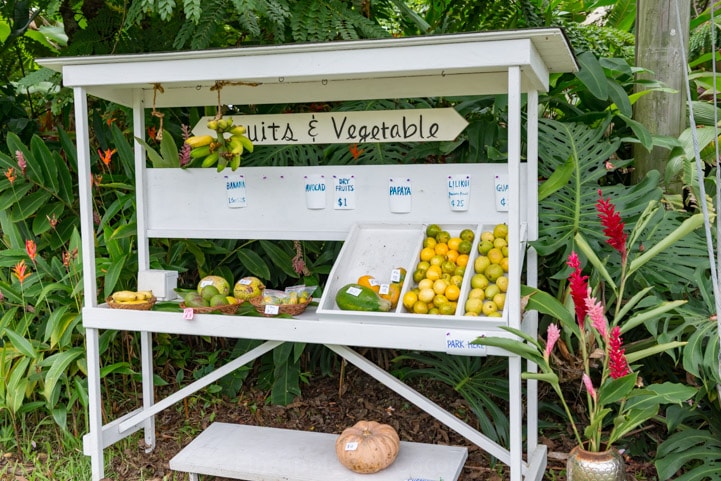 On our drive to Hana, Maui I saw this fruit stand and had to stop by. So many people that live on the island sell the produce they grow on their land on stands and it's all done via the honor system.
No way could I pass up these passion fruit at only $.25 each! They are $3-$5 EACH at the stores here in Las Vegas!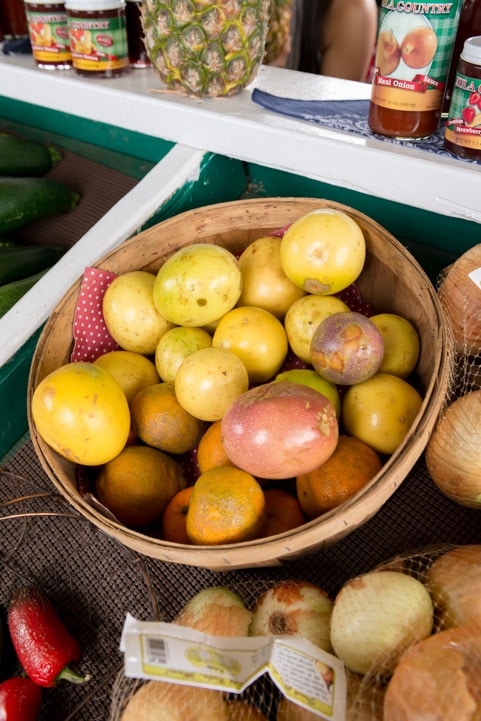 Because the passion fruits tend to be very tart I used Barsmith Mix Lime Syrup instead of fresh limes to add lime juice as well as a little sweetness. I love using this lime syrup for cocktails because it isn't overly sweet. I muddled the lime syrup with the passion fruit pulp before adding the ice and the rest of the ingredients.
Feel free to use fresh limes in place of a lime syrup. I have made this cocktail with both the syrup and the fresh limes and I love both versions.
I decided to serve these in clear glasses in place of the traditional mule copper mug to show off the gorgeous passion fruit color.
Ginger brew or ginger beer is one of the ingredients in Moscow Mules. This is a carbonated soda, not an alcoholic beverage. It add a nice,, light ginger flavor as well as fizz. Use any brand you like.
A few notes about these Tropical Passion Fruit Moscow Mules First:
You fresh passion fruit juice/pulp if you can. The flavor will be the best. You can use a passion fruit juice such as Hawaiian Sun or Ceres but it will be sweeter and a different flavor.
Use fresh limes instead of a lime syrup. I prefer Barsmith Mix over Rose's Lime juice.
You can use plain vodka or flavored if you like. I prefer using flavored like Pineapple or Coconut.
Use any ginger beer you like. Bundaberg and Reed's are my favorite to use.
Make it a whole meal: Start with these Passion Fruit Moscow Mules then go with a few of these recipes -
Tropical Cucumber Kimchi with Mango and Pineapple
"Recipe"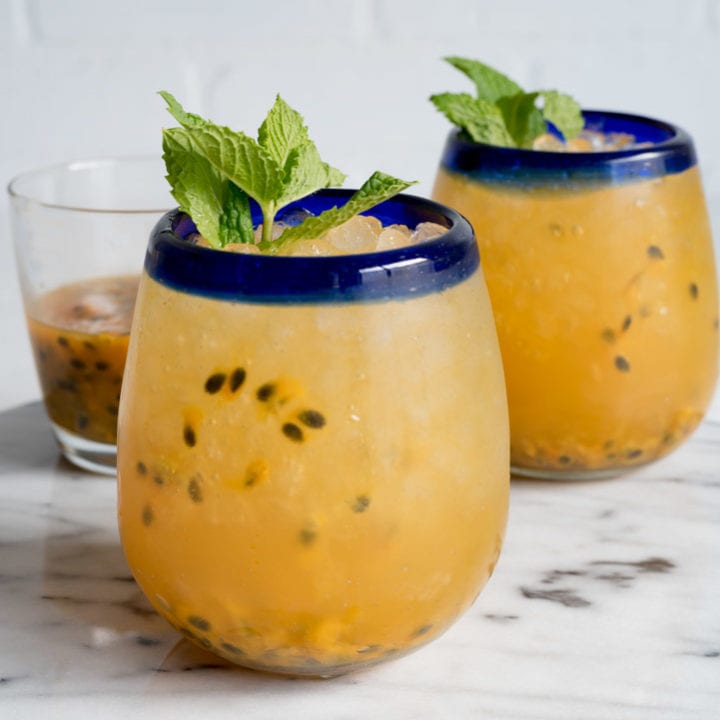 Tropical Passion Fruit Moscow Mules
A tropical twist on the classic mule cocktail with pineapple vodka and fresh passionfruit. Makes 2 cocktails.
Ingredients
4

ounces

Vodka - Pineapple

coconut or plain.

6

tablespoons

fresh passionfruit pulp - about 4-6 passion fruits worth

depending on size (seeds optional)

2

teaspoons

Barsmith Mix Lime Syrup

Or rose's lime or fresh lime juice and a little simple syrup ( or more to taste)

8

ounces

Ginger Beer

Ice

Mint for garnish
Instructions
Divide the passion fruit pulp amongst the glasses and pour 1 teaspoon of lime syrup, or juice, into each glass and muddle gently.

Fill glasses with ice. Pebble ice is my fave. I get bags of pebble ice from Sonic.

Add in 2 ounces of vodka in each glass then top with the ginger beer.

Gently stir then add a sprig of mint for garnish. Serve immediately
Notes
If you can't find fresh passionfruit you can always add in passionfruit puree, or passion fruit juice. Try to find 100% passionfruit juice or nectar, some blends have other juices and it won't taste the same.
If you go with the fresh lime juice route but still want the drink a little sweet go with a teaspoon or so of lime juice and some simple syrup to taste.
Simple syrup is a 1:1 water to sugar ratio. Boil in a pan until sugar is dissolved, cool and store in a container in refrigerator. Simple syrup lasts a few weeks kept well chilled.
I like using a flavored vodka to up the tropical-ness. You can always used a non-flavored if you like.
I always say if the Hawaiian Islands had a state "scent" Lilikoi would be it. The fragrance of Passion Fruit reminds me of how Hawaii smells the second I land on the islands. There really is nothing else like it.
So I made as much passion fruit recipes as I can while on the mainland in between trips to the islands. I think I will go make myself another passion fruit Moscow Mule today. Is it 5 o'clock yet?