White Peach, Basil, Blueberry Mojito
The first time I tried a Mojito I didn't like it. Like at all. Way too much mint. Tasted like toothpaste. But I kept seeing so many variations of a mojito on menus that sounded so good so I decided to give them a try again. And they soon became one of my fave cocktails. I do order them easy on the mint though.
I decided to go with a variation of the mojito with this White Peach Basil and Blueberry Mojito. The mint gets swapped out for fresh basil. This is recipe number 2 for my White Peach/Basil/Blueberry week ( which I think will be extending into next week since I decided to make a 4th recipe to share) which I hope you are all liking so far. I know I am.
See to start off I am NOT that big of a fan of mint. Maybe because it reminds me of toothpaste. I like candy cane mint, the peppermint flavor but not the spearmint flavor. I am not a gum chewer and I also am not fond out mouthwash flavors. So the first time I had a mojito it tasted like a cross between toothpaste and mouthwash. Not really flavors I like in a cocktail. The next time I tried a mojito it was a pineapple one. Oh you know I loved that. Still though, the mint was very over-powering. I guess I am a one-leaf-of-mint in a mojito kind of gal.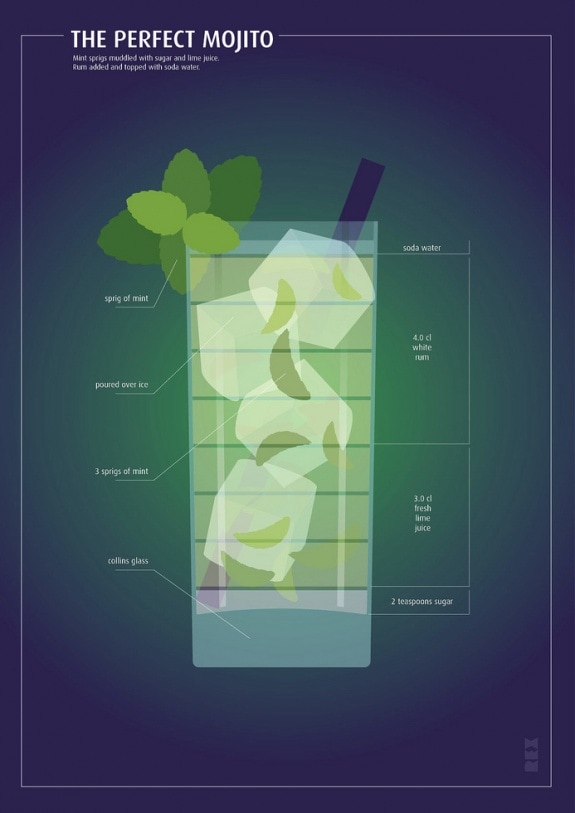 I pinned this neat graphic about the mojito to my "Cheers" Pinterest board the other day because I thought it was a cool how to for making the perfect mojito. Except for all that mint. The Collins glass is the classic mojito glass. I decided to go with a simple syrup instead of using granulated sugar, and of course I swapped out the mint with basil from my garden. Oh how I love basil.
There are several components making this white peach blueberry basil Mojito quite possibly one of the best cocktails I have ever had., and the part that really makes it amazing? Farmers market fresh white peaches infused into rum. So good. Like amazingly good. Like I am ready to infuse all the alcohols with fruits and veggies and herbs. And maybe even bacon. Yes, bacon infused…vodka? Bourbon? I will have to experiment.
I just can't get over the flavor combination of these three. WAIT til you see what I have planned next for them. But back to this cocktail.
I had my friend Emily come over the other day to taste test this for me. She is my back up taste tester when my husband is at work and let me tell you I really have to twist her arm to come over for taste testing help. NOT. I had made them that night without the infused rum because it wasn't ready yet. So I added in a little extra peach simple syrup. The drinks were really good that way, but I knew they would be even better with it. She was telling me about some debauchery she had gotten into with some friends the night before when Vegas was having some crazy thunderstorms and she and her friends were caught in it at old downtown Vegas. She told me about this drink she had at the Commonwealth Bar called " The Dude Abides" Any Big Lebowski fans out there? If you remember he drinks a Caucasian aka White Russian in the movie. This drink consisted of Zing red velvet vodka, Kahlua, Bailey's and chocolate bitters. Sounds amazing. I need to try it soon.
Emily and I also had gone out for mother's day brunch with our families and we had a drink that had basil in it with strawberries and Prosecco. We are both huge fans of brunch. It was the first time I had basil in a cocktail before and I LOVED it. So when I was thinking about this mojito I knew basil was the right choice. Not mint, obvi. Emily called it a fauxito but we decided to not call it that because it gave the impression that there was no alcohol in it. Which is not the case. I am telling you. Make infused booze. Its easy to do and just, so good. And if this mojito was on a brunch menu you know I would order it!
White Peach, Basil, Blueberry Mojito
White Peach, Basil, Blueberry Mojito
Ingredients
4 Collins glasses
White Peach Infused light rum
White Peach simple Syrup
2/3 cup Blueberries
3-4 tbsp Basil, chiffonade
1/2 white peach, diced
Club soda or sparkling water, cold
Ice
For the Infused Rum
3 semi firm white peaches
3 mason jars pint sized, with lids
Bacardi silver rum
For the Simple Syrup
1 white peach
1 cup sugar
1 cup water
Instructions
For the Infused Rum
Peel and cut the peaches in half and remove the pit. If they are hard to peel, blanch in simmering water for 30 seconds, then place immediately into an ice bath. The skin should remove easily then. Dice into 1" chunks and place one peach in each mason jar. Fill with light or silver rum to the top. Screw on the lid and lightly swirl the jar around. Keep in refrigerator for at least a week to infuse with peach flavor. Shake the jars gently once a day. Keep chilled until ready to use.
For the white peach simple syrup
Peel and slice the peach in half, remove the pit. Dice into 1" chunks. Place the peach chunks in a saucepan with the sugar and water and bring to a boil, stirring to dissolve the sugar. Lower the temperature and simmer for 10-15 min until the mixture starts to thicken, stirring occasionally and mashing the peaches against the side of the pan. Turn off the heat and let cool for1-2 hours. Strain into a jar, such as a mason jar and keep refrigerated until use. Will keep 2 weeks in refrigerator
For the drinks
Strain the peach infused rum into a measuring cup. In the Collins glasses divide the basil and blueberries. Add in 2 tbsp of the white peach simple syrup to each glass and gently muddle the blueberries and basil. Don't smash too much.. Add ice, and 2-3 ounces of the peach infused rum and top with club soda or sparkling water. Top with a few pieces of diced peach and serve immediately.
Notes
The simple syrup makes more than what the drinks call for. So just make more drinks! You can infuse the rum in any container you want just as long as it has an airtight lid. I used 1 peach for each pint jar and I didn't measure exactly how much rum it was. The peaches do soak up a little of it. So if you use a larger container maybe err on the side of 1 peach for 2 cups of rum. The peaches have such a mild flavor so the longer you let them infuse the rum the better. I say one week minimum is best.
Also my word of advice on photographing drinks with ice in them on 100+ degrees days like in Las Vegas. Have LOTS of ice, be ready to swap it out as it does melt very quickly as you can see here and don't let your husband or significant other have the air conditioning off. I was HOT while taking these pics and couldn't figure out why my ice was melting faster than I could take pics. See, my husband was outside grilling dinner so standing in front of a 400 deg grill in 100 deg heat made our 90 deg house feel COLD to him. Meanwhile I am sweating while taking pics of what are supposed to be icy cold mojitos. Sooo yeah. Lesson learned. Check the AC. I thought photographing ice cream was challenging in summer here. Adding cocktails to my list.
This was before my ice started rapidly melting. Melted ice or not, this is a really tasty mojito!