I love roasted pumpkin seeds and these soy furikake roasted pumpkin seeds might just be my favorite way to flavor them now. A little sweet, a little salty, a little savory and whole lot of umami in these crunchy roasted seeds. A perfect pre-Halloween snack.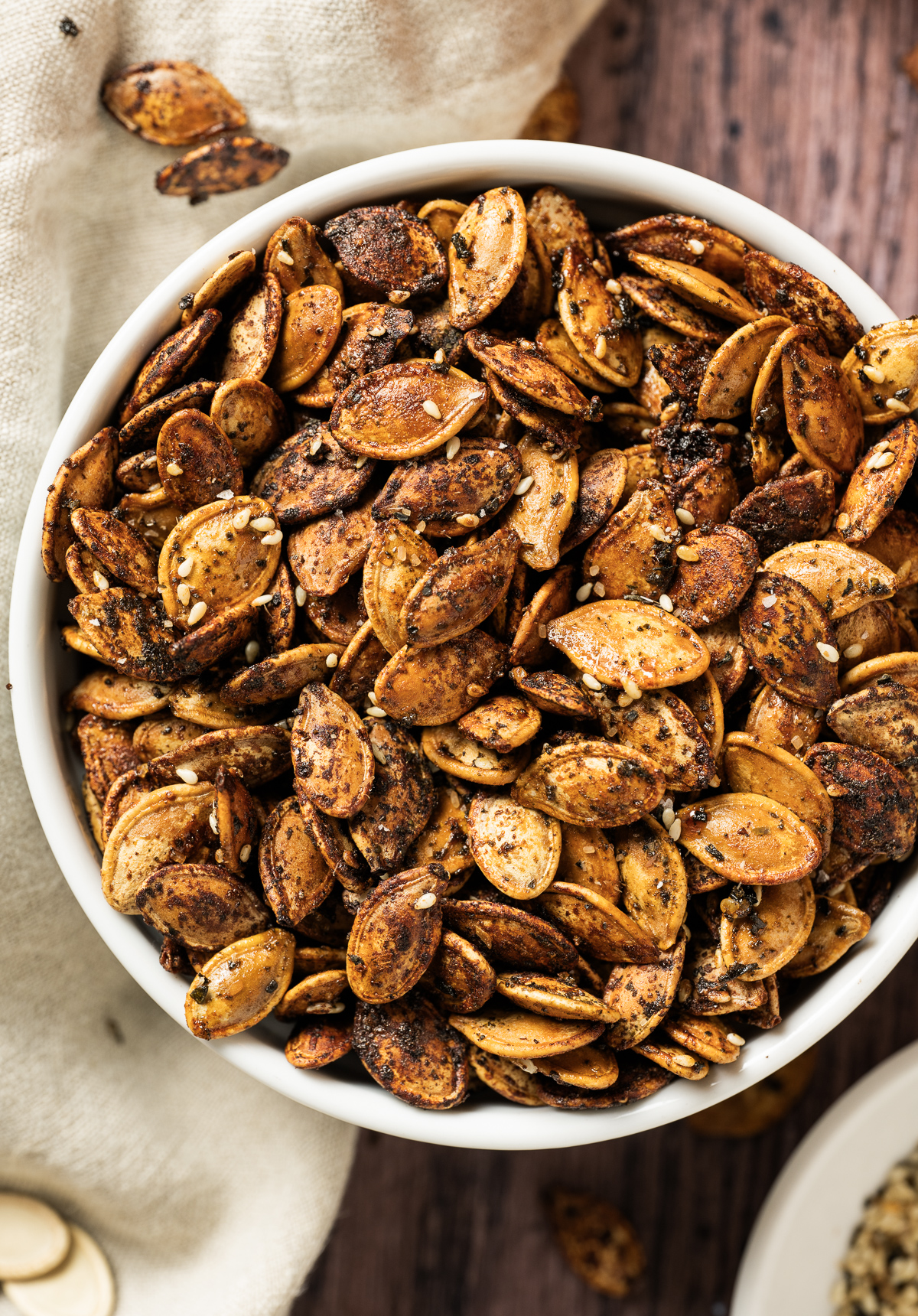 This page contains affiliate links. Affiliate links support Pineapple and Coconut at no additional cost to you. If you choose to make a purchase via these links, I earn a small commission to help keep this blog running and it is much appreciated. I am an Amazon and Adorama affiliate.
October. Halloween time - for those who participate. Time to carve up pumpkins and roast the seeds. Never throw out the seeds! Its really easy to clean and roast them for a tasty, and nutritious snack.
Furikake is one of my favorite seasonings to use on everything from popcorn, to salmon, rice, to these seeds and more. Its a very versatile seasoning for sesame and seaweed lovers alike.
I bought a jar of this Barnacle Foods Alaskan furikake kelp seasoning when I was in Cordova, AK in August 2023. I saw it at The Net Loft, along with some of their other seasonings and sauces and bought a few things to bring home.
Jump to:
Ingredients
Simple roasted pumpkin seed recipe with just a few ingredients, some optional - if you want more seaweed and also spicy.
Pumpkin seeds -from fresh Jack-O-Lantern
Oil - olive or avocado
Salt
Black Pepper
Soy Sauce
Honey
Furikake
Kelp powder ( optional)
Togarashi spice ( optional)
See recipe card for quantities.
What is furikake:
Furikake is a Japanese seasoning blend of salt, sugar, sesame seeds, pieces of nori seaweed. You can find it at Barnacle Foods online, various other stores online, local well stocked international or Asian grocery stores that carry Japanese foods. Trader joes even has a decent furikake seasoning. Make sure to stir or shake well since the salt tends to settle to the bottom. You could even try making your own furikake seasoning as well.
Instructions
Roasted pumpkin seeds are relatively easy to make. The tedious part is scooping them out of the pumpkins and cleaning. If you have a good scooping spoon, one with a serrated edge on one side, it makes it a lot easier to scoop out.
Scoop out the pumpkin seeds into a colander and separate as much of the pumpkin insides from the seeds under cool running water.
Spread the seeds on a large baking sheet lined with paper towels to dry out.
If you have a lot of seeds, dry them out on two baking sheets. This usually takes a few hours. You can also dry them out overnight to roast the next day.
Heat the oven to 375 Deg F. Line a baking sheet with parchment (remove the paper towel) and toss the seeds with oil, salt and pepper.
Roast, stirring every 5 minutes until golden.
Whisk together the honey and soy sauce in a bowl add the roasted pumpkin seeds and coat well.
Roast the pumpkin seeds for 5 more minutes then sprinkle with furikake and optional kelp powder and togarashi spice.
Barnacle Foods Alaskan Furikake kelp seasoning and Kelp powder. Full of salty umami ocean goodness.
Hint: You can dry out the pumpkin seeds faster if you want by placing them on the baking sheet in a 200 Deg oven for 5 minutes. This will help speed up the drying process.
Are pumpkin seeds good for you?
Yes. Pumpkin seeds are high in a wide variety of vitamins and minerals, fiber and protein. Pumpkin seeds can be very beneficial to a healthy diet.
Variations
There are so many ways to make pumpkin seeds.
Spicy - I add in togarashi spice to make these spicy. You could add in any kind of hot sauce, chili powder or even wasabi powder.
Sweet - you can add in more honey but keep in mind the honey will make for stickier pumpkin seeds
Equipment
Storage
Store in an airtight container or bag up to a week.
Top tip
To get a nice salted flavor in the seeds before adding any seasonings you can brine the pumpkin seeds in two diff ways. This is optional but it does season the pumpkin seeds nicely.
Boil in salted water for 10 minutes.
Soak in salted water for several hours up to overnight.
Dry completely before roasting.
Related
More fun snacks to make:
"Recipe"
Soy Furikake Roasted Pumpkin Seeds
Umami filled roasted pumpkin seeds with soy, honey, furikake and optional spicy togarashi seasoning. Elevated roasted pumpkin seeds.
Makes 8-12 ¼ cup servings.
Ingredients
2-3

cups

pumpkin seeds

120 g a cup

1

Tablespoon

plus one teaspoon oil - olive

avocado etc, divided

½-1

Teaspoon

Kosher salt

(See notes for brining seeds first)

½

Teaspoon

Pepper

2-3

teaspoons

soy sauce

can also use gluten free tamari

2-3

teaspoons

honey

2-3

Tablespoons

furikake

1

teaspoon

kelp powder

½

teaspoon

togarashi spice
Instructions
Scoop out seeds from pumpkins, removing any pieces of pumpkin insides. Rinse well in a colander under cold water to continue to remove any stringy pumpkin pieces.

Spread the pumpkin seeds out on a paper towel lined baking sheet. Depending on how many seeds you get, you may need to use two baking sheets. Let dry completely, this takes a few hours up to overnight. You can speed this process up by drying the pumpkin seeds on a baking sheet in a 200 Deg F oven for 5-6 minutes. Then let cool before seasoning and roasting.

When ready to roast, heat your oven to 375 Deg F and line baking sheets with parchment paper.

Toss the dried pumpkin seeds with oil, salt and pepper. Spread out on the prepared baking sheet.

Roast for 15-20 minutes until golden, stirring every 5 minutes.

While the pumpkin seeds are roasting, whisk together the honey, soy and a little more oil in a bowl big enough to fit all the pumpkin seeds.

Add the roasted seeds to the honey soy mixture, stirring well to coat all the seeds, then spread back on the baking sheet. Roast for another 5 minutes.

As soon as they are back out of the oven quickly sprinkle over the furikake, optional kelp powder and optional togarashi and stir well to combine. Let cool completely before serving.

Keep in an airtight container or resealable bag up to a week.
Notes
For an alternate version to season the seeds - either boil for 10 minutes in salted water or soak overnight in salted water. Drain then dry before roasting.
You will want 5 grams of salt for 2 cups of water for every half cup of pumpkin seeds. For 2 cups of pumpkin seeds that will be 20 grams of salt and 8 cups of water.