Chocolate Peppermint S'mores Cookies. Your favorite winter drink combined with your favorite summertime treat in one ooey-gooey, delicious holiday cookie.
Chocolate peppermint is a classic holiday flavor combination. Is it peppermint chocolate or chocolate peppermint? I call it either way.
And either way is so good, especially in all kinds of desserts from cakes, cookies, cupcakes, and more.
I don't usually drink flavored coffees, but when I lived in Oregon I loved going to Dutch Bros. around the holidays for their peppermint mocha.
They recently opened a few locations here in Vegas, I'll have to go soon to see if they have the peppermint mochas here. I wanted to replicate that flavor in these cookies.
My kids love peppermint hot chocolate and the other day we found peppermint and candy cane marshmallows for their holiday hot chocolate treats. I bought a few extra bags for these cookies.
How do you make s'mores cookies?
I based these s'mores cookies off the peppermint hot chocolate cookies I made a few years ago. I tweaked the recipe a little and made these cookies a few times to get them how I liked them best.
I liked using square marshmallows better than the minis. I cut the marshmallows in half for each cookie, pressed into the cookie dough, put in the marshmallow then rolled the dough into a circle to cover the marshmallow. Then pressed them into a bowl of crushed candy cane pieces before chilling.
First batch I covered them too much and the marshmallow oozed out. They still tasted amazing, but didn't quite have the look I was going for. The next batch I had the marshmallow only partly covered.
Those came out how I wanted them to look for the most part, but some still had the marshmallow ooze all over because the cookie dough spread away from the marshmallow first, then the marshmallow melted.
Another tasty mess.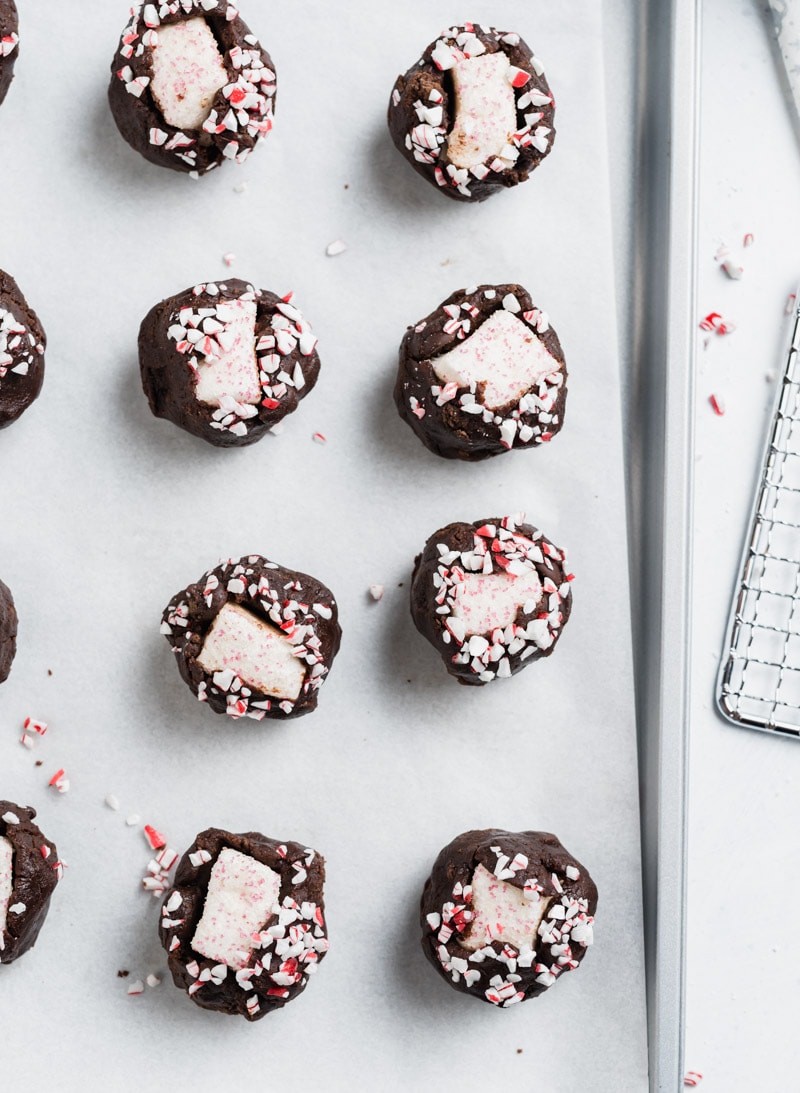 I feel like Goldilocks here. The third attempt was just right. The final attempt I covered up the marshmallows almost all the way up before dipping in the candy cane pieces and it worked perfectly.
These s'mores cookies need to be refrigerated for at least 2 hours up to overnight before baking. They will spread way too much if they aren't chilled and won't get the same effect as ones that are chilled.
I made all the marshmallow stuffed dough balls, placed them all on a parchment lined cookie sheet, covered with another piece of parchment then popped in my fridge.
If you don't have the fridge space for a cookie sheet, you can place them on plates. I don't suggest a bowl because they will all stick together. They need to be chilled while not touching.
Ooey-gooey s'mores perfection. There are so many versions of the s'mores cookies online. Some are HUGE cookies with the marshmallow stuffed inside, some just have the mini marshmallows on top. I say any way you make them they are going to be delicious.
Traditional s'mores are made with honey graham crackers, a piece of chocolate, and a marshmallow.
Because I wanted to go the chocolate peppermint route, I went with my double chocolate cookie base - melted chocolate and cocoa powder in the cookie, with chocolate graham cracker pieces, dark chocolate chips and peppermint extract.
Peppermint extract can be kinda potent so I only used a half a teaspoon.
A few notes about these Chocolate Peppermint S'mores cookies before the recipe:
Can these freeze after being baked? Yes. Keep in an airtight container or resealable bag. You can reheat slightly before eating if you want a super melty marshmallow again.
Do I have to use peppermint marshmallows or candy cane marshmallows? No. Since those tend to be seasonal, you can use regular marshmallows and up the peppermint extract to a full teaspoon
I used chocolate graham crackers in these for extra chocolate. These went from a double chocolate cookie to a quadruple with the use of melted chocolate, cocoa powder, chocolate chips and chocolate grahams.
Experiment with how you roll up the dough around the marshmallow. Like I said in this post, depending on how well they are stuff inside the dough, or not, will affect the final outcome of how they look.
Use parchment paper on your baking sheets since the marshmallows will ooze out a little. Easier to remove from parchment than a cookie sheet.
I used

Smashmallow

candy cane marshmallows for these. I am not 100% sure if the candy cane version are available year round or if they are only seasonal. The smashmallow brand makes a ton of different flavored marshmallows. All look so good.
"Recipe"
Chocolate Peppermint S'mores Cookies
Holiday version of s'mores cookies made with dark chocolate chips, chocolate graham crackers, candy cane marshmallows and crushed candy cane pieces.
Ingredients
2 ½

cups

all purpose flour

11.25 ounces

½

cup

cocoa powder

1.5 ounces ( You want to use hight fat/good quality such as Cacao Barry extra brute)

1 ½

teaspoon

baking powder

¾

teaspoon

baking soda

½

teaspoon

kosher salt

8

ounces

unsalted butter

2 sticks

5

ounces

dark chocolate

65-70%, not chips, chopped

⅔

C

granulated sugar

4.6 ounces

1

c

brown sugar

8 ounces

2

large eggs

room temperature

½

teaspoon

vanilla extract

½

teaspoon

peppermint extract

1

C

dark chocolate chips

4-5

full sheet chocolate graham crackers

broken into small pieces

20

candy cane marshmallows cut in half*

Crushed candy cane bits
Instructions
1. Combine the flour, cocoa powder, baking powder, soda and salt in a bowl, whisk and set aside

2. In a glass bowl set over a pan of simmering water, combine the butter and 5 ounces of chocolate and stir until melted. Set aside to cool slightly. This can also be done in the microwave on 50% powder in 30 second intervals, stirring after each 30 seconds

3. In a stand mixer cream together the sugars and eggs until light and thickened, add in the extracts, scrape down the sides and mix again. 

4. With the mixer on low, pour in the butter chocolate mixture and mix on medium until fluffy.

5. Add in the flour mixture and mix until just combined. Add in the chocolate chips and chocolate graham cracker pieces and mix on low until combined.

6. Scoop out a rounded tablespoon or so of dough and press a hole in the middle and place half a marshmallow in side. Roll the dough until the marshmallow is almost all the way covered. You want a little to peek out. Dip in crushed candy cane pieces, place on a baking sheet. Repeat with all the dough, marshmallow halves and candy cane pieces. Chill for 2 hours, up to overnight.

7. When ready to bake, heat oven to 350 Deg F. Prepare baking sheets with parchment paper. Place chilled cookie dough balls at least 2 inches apart. Bake for 11-12 minutes until cookies are set, marshmallows are melty.

8. Let cool on cookie sheets for 5 minutes then transfer to a wire cooling rack to cool completely before serving.

9. Keep in an airtight container or resealable bag at room temp up to a few days or freezer up to 2 months. You can reheat these slightly before serving when frozen. 
Notes
** I used Smashmallow brand marshmallows for these cookies in Candy Cane flavor. Feel free to use any marshmallow brand you would like. Peppermint/candy cane works best. If you can't find them ( I found them at Target, Whole Foods for cheapest. Amazon sells them for a lot more) you can use other brands. I believe Kraft Jet-Puffed has a peppermint flavor marshmallow, Trader Joe's also sells mini ones during the holidays. You can use regular vanilla marshmallows - just up the peppermint extract to 1 teaspoon from ½.