Easy S'mores Popcorn Pops -ooey gooey marshmallow popcorn balls drizzled with chocolate and sprinkled with graham crackers. Perfect bite sized treats for a party!
I whipped up these Easy S'mores Popcorn Pops for a surprise virtual birthday party for an awesome blogging friend turning 30!
This gal is known for her love of all things popcorn and she is a mom to two adorable little kiddos, so you know she is busy busy. Which makes popcorn for dinner a staple in her house.
I mean who doesn't love popcorn for dinner?! Its a fave " meal" of mine as well. She is all about her popcorn; check out her popcorn pinterest board HERE! I can't ever make popcorn now without thinking about her!
Happy birthday Rachel!!!!
Rachel and I "met" via twitter and we hit it off talking about motherhood, crazy toddlers, losing that lingering baby weight and of course our mutual love of popcorn. I knew when I was asked to join in on this surprise party that I wanted to make something popcorn for it. So grateful to Brandy for asking me to join in!!
The party is Drinks and Little Bites so I knew these popcorn pops would be perfect.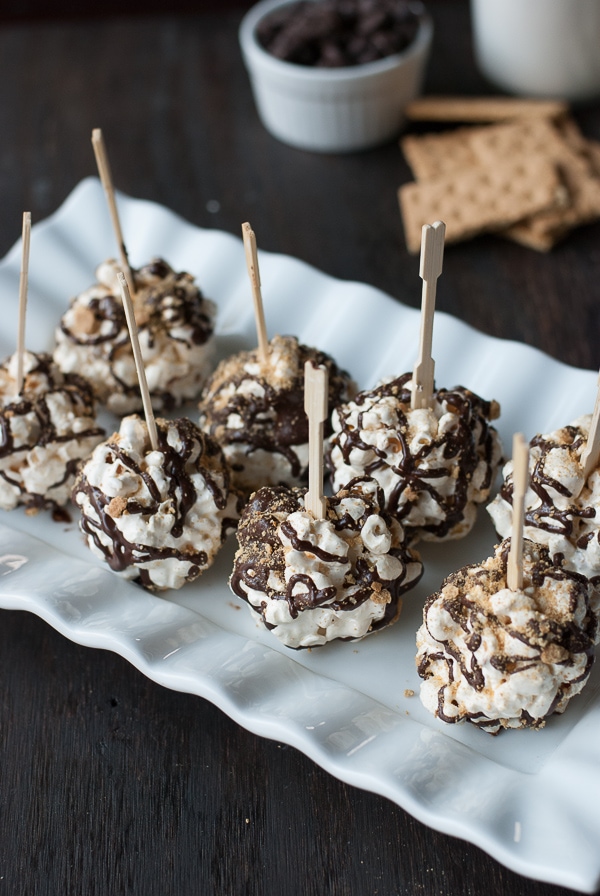 I am a huge s'mores fan, and I love different twists on s'mores like my Pina Colada S'mores, so these popcorn pops were fun to make. Plus as my husband said making them as pops you can hold on to the stick and your hands didn't have to get all goopy. Win Win!
These are super easy to make. Even easier if you buy ready made marshmallow creme and aren't crazy like me and make homemade.
I prefer homemade since I am anti corn syrup and make my marshmallow fluff with honey. It's similar to my Honey Vanilla Marshmallows and there is only a hint of honey; it's really not overpowering at all. Its just crazy sticky so plan on taking a few minutes to lick it wash it off your hands.
If you haven't checked out Rachel's blog before, then you definitely should now. WWW.Rachelcooks.com She makes a variety of awesome recipes, sweet and savory, she posts about making homemade baby food ( which is what I did with my kiddos and is surprisingly easy) and she even does a really cool feature on other bloggers called " A day in the life" which I have gotten to meet and know other bloggers better. Its so fun learning about everyone who runs a food blog and sees we are all just as busy as one another!
Stop by and check out the other awesome bloggers that are also wishing Rachel a Happy Birthday with this suprise virtual party:
Samantha at Sweet Remedy with Red Cherry Sangria
Brandy of Nutmeg Nanny with Homemade Blueberry Vodka & Lemonade Cocktail
Heather of Farmgirl Gourment with Black Cherry Bourbon Soda
Audra of The Baker Chick with Heirloom Tomato Bacon Shortcakes
"Recipe"
Easy S'mores Popcorn Pops
Easy S'mores Popcorn Pops are a fun treat for any time of the year. Makes 36 pops
Ingredients
⅔

C

unpopped popcorn

2

tablespoon

coconut oil*

Not necessary if using an air popper

4

tablespoon

butter

1 ½

c

marshmallow fluff**

1

cup

chocolate chips

1

teaspoon

sunflower oil

2- 3

sheets of graham crackers

crumbled fine
For the Marshmallow Fluff
2

egg whites

¼

teaspoon

cream of tartar

½

c

organic sugar plus 1 tbsp

½

cup

honey

¼

c

water

Small pinch salt

½

teaspoon

vanilla extract
Instructions
Pop the popcorn using either an air popper (*no oil needed if using) a popcorn maker or in a pan on the stovetop. Remove to a bowl and shake a little to get the unpopped kernels to the bottom of the bowl. Scoop out the popcorn to another bowl and shake again trying to get rid of all the kernels. Set aside
For the Marshmallow Fluff (You can use store bought, if so skip this step)
In a bowl of a stand mixer combine the egg whites and cream of tartar. Use the whisk attachment and whip until soft peaks have formed. Add in the 1 tablespoon of sugar and whip again until starting to form stiff peaks. Stop the mixer and scrape the sides down.

In a saucepan on the stove combine the remaining sugar, honey, pinch of salt and water. Stir over medium heat and clip on a candy or deep fry thermometer. Bring to a boil and watch for the temp to reach 240 deg F and no greater. As soon as it is about to reach 240 deg F start the mixer back up to medium and then slowly pour the syrup in once it reaches 240 deg. Once it's all mixed in raise the mixer speed back up to high and whip for about 5-6 min, until the bowl has reached room temp, or is cool to the touch. Add in the vanilla extract and whip again, stopping the mixer to scrape down the sides as necessary. Measure 1 ½ cups and save the remaining for another time.
To make the popcorn balls
In a large pot, such as a stock pot or dutch oven melt the butter and the marshmallow cream, stirring until smooth. Add in the popped popcorn and stir gently to coat the pocorn well. If you feel there isn't enough marshmallow coating or it isn't sticky enough you can always add in more of the marshmallow cream

Form into balls about the size of a small lime and put a small candy stick or small bamboo appetizer skewer into the center. Let firm up at least 4 hours. You can speed this process up by chilling in the fridge or freezer.

Melt the chocolate chops with the oil in a bowl and stir until smooth. Drizzle over the popcorn pops and then immediately sprinkle the graham cracker crumbs. Chill again until ready to serve.
So Happy Birthday Rachel! Welcome to your 30's and I hope you have a fantastic day!!