Savory California Hash Brown Waffles with Avocado. A savory waffle with southern California avocados.
I LOVE waffles, sweet and savory. These waffles combine some of my favorite savory breakfast foods together - eggs, potatoes, salsa and of course avocado.
I eat avocado just about every day. I add it to eggs for breakfast, sandwiches or salads for lunch, salads, tacos or any thing else I can add it to for dinner.
I even add avocados into smoothies. I grew up on avocados in southern California so they have been a part of my diet since I was a little kid. I really can't get enough of them.
Fresh, gorgeous California grown avocados. Grown in my hometown on a farm overlooking the famous surf break, Rincon. The farm is aptly named "Rincon Tropics". And they grow the BEST avocados ever.
What ingredients are in hash brown waffles?
Hash brown waffles are super easy to make, just a few ingredients. I start out with shredded potatoes. I love using either red or buttery, Yukon gold. I peel first then shred in a food processor. Easy to do, but often times I go the shortcut way by using store bought hash browns. You can find them in the freezer section. Make sure they are fully thawed before using for these waffles.
I use 2 pounds of potatoes for this recipe - weighed after shredded. If using whole potatoes the amount you will need to buy depends on the size of the potatoes. Usually 5-6 large Yukon golds, 8-10 red potatoes.
Along with shredded potatoes these waffles include:
Whole eggs - I use 6, 1 egg per waffle since this recipe yields 6 waffles.
Melty cheese - I use jack cheese or a combo of jack and cheddar. Shredded. I will shred from a block you can use store bought pre-shredded cheese. I prefer not to use pre-shredded since they tend to have other additives in them.
Canned fire roasted diced green chilies. These tend to come in two sizes 4.5 oz and 7 oz. Get the bigger can. These range from mild to spicy, use what you prefer.
Spices - I use garlic, onion, salt and pepper. If you want to add in a little chile powder, some cayenne, cumin, or smoked paprika go for it. I have used all of these in the past and the waffles are always excellent. I stick with ½ teaspoon for the spices, anything with extra heat like cayenne I use ¼ teaspoon.
Bacon. I will use around 6 pieces of thick cut bacon, I cook this first then cool and chop or crumble. I cook them pretty crispy so they stay crispy in the waffles
For on top of the waffles I add - salsa - any kind you like works, thick slices of fresh avocado, salty cotija cheese crumbles, slices of lime and chopped fresh cilantro. A little dollop of sour cream would be good too.

Cotija cheese

is sold at well stocked grocery stores or any Mexican or latin grocery stores. I find it at Whole Foods. Its a salty, crumbly cheese, similar to feta but not as tangy. I love using it for these waffles as well as other Mexican recipes such as tacos and enchiladas.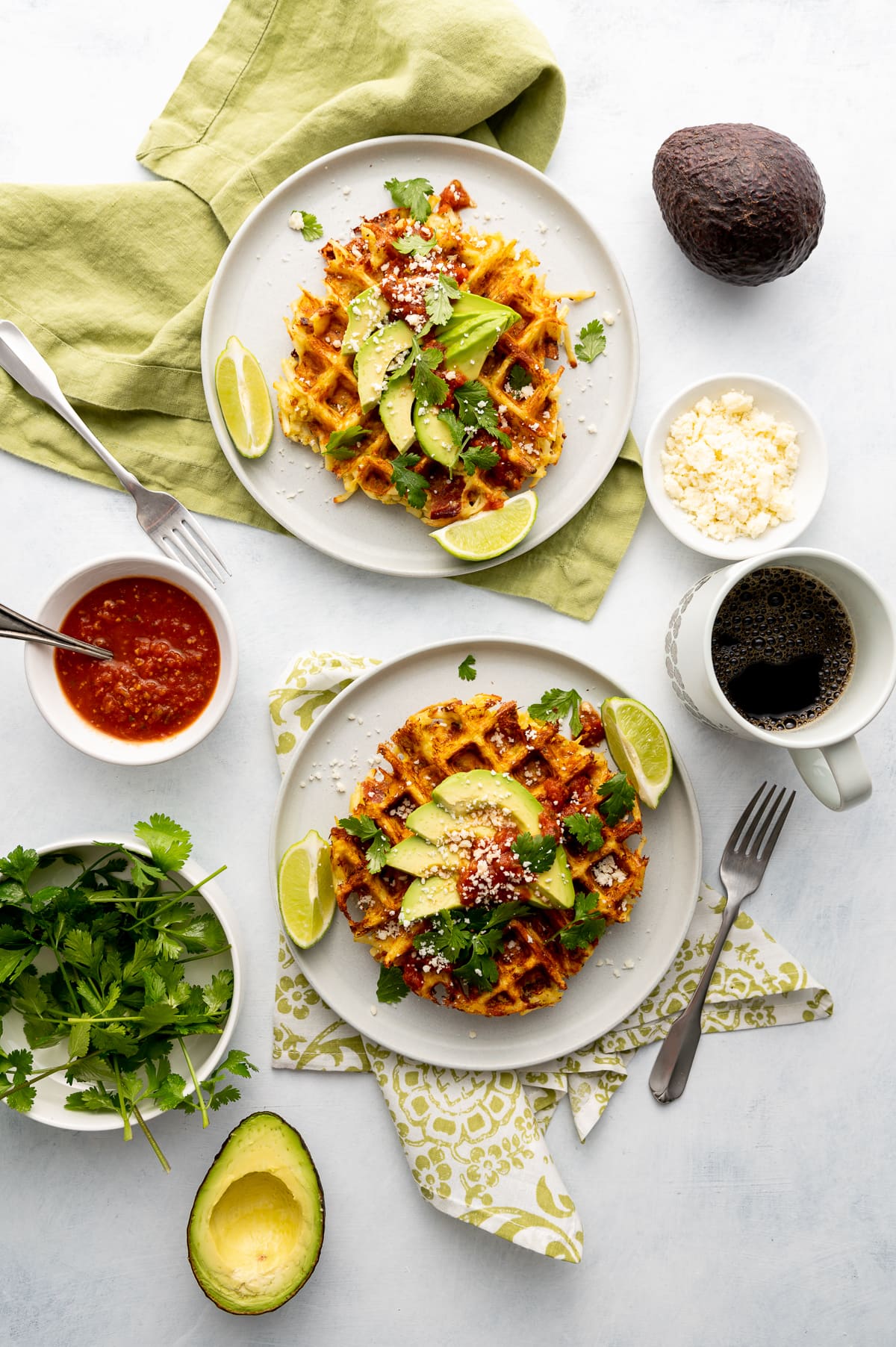 Now let's move on to how we make these amazing hash brown waffles.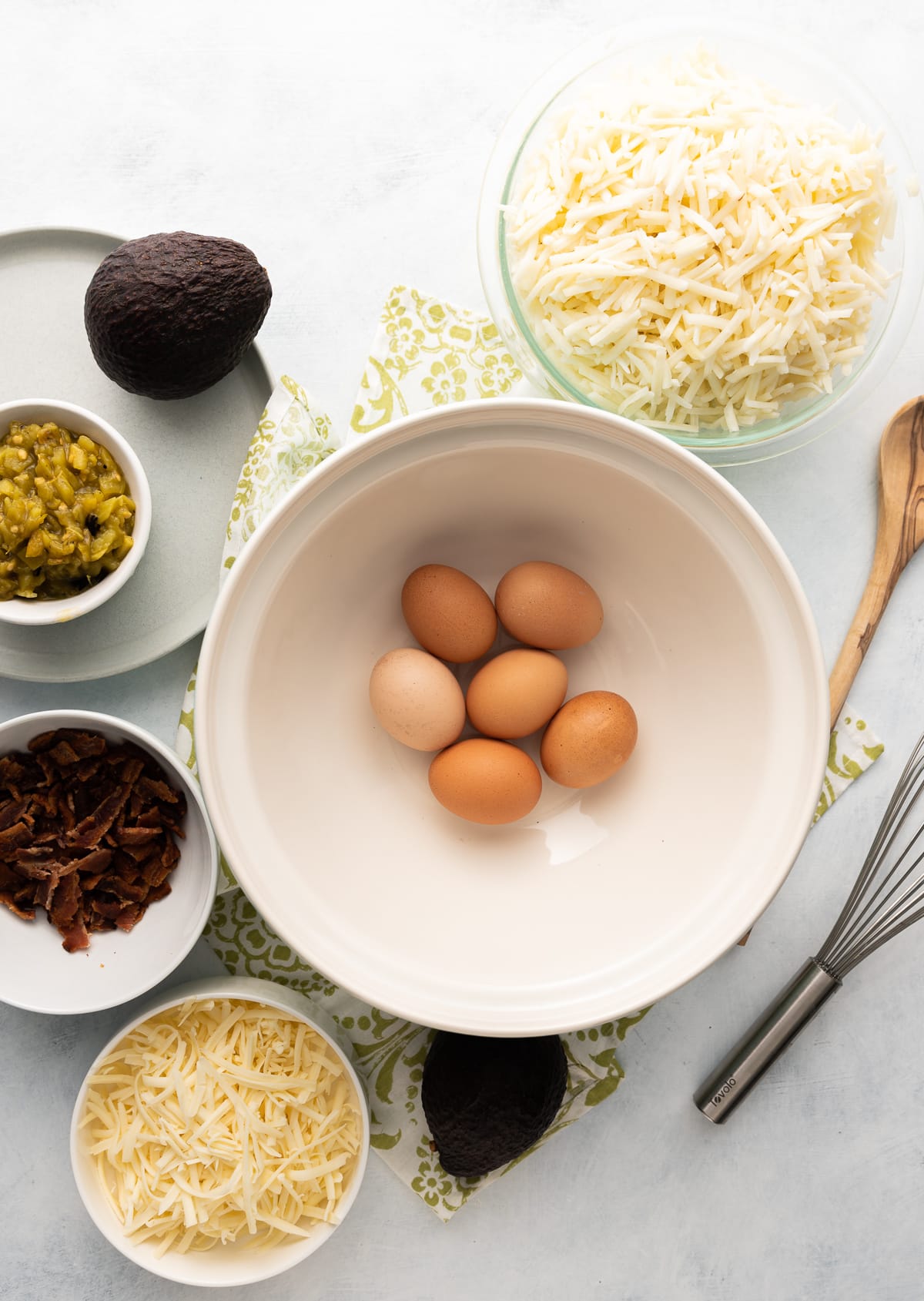 How do you make hash brown waffles?
I have found that whisking the eggs first before adding in the rest of the ingredients results in a more evenly cooked waffle with no areas of just cooked egg. I have tried this before with cracking the eggs on top of the shredded potatoes in a bowl but it didn't mix together quite as well and I had some areas of the waffle that was just egg.
Whisk the eggs well first then add in the rest of the waffle ingredients.
Rest the mixture for ten minutes. This is important so the mixture hydrates well enough to form a cohesive waffle. This isn't like traditional sweet waffle batter, its definitely a looser mixture. But they cook up really nicely.
While these cook I watch the time as well as the steam releasing from my waffle iron. I keep the heat on setting 4, which seems to be the best for these waffles as well as others I make, such as my mochi waffles.
My waffle iron makes two round, Belgian style waffles at once. The time it will take you to make these waffles depends on your waffle iron. I have only made these in my style iron. These need to be made Belgian style since they are a thicker waffle due to the consistency of the potatoes.
Once the waffles are cooked I keep them in a warm oven to stay hot and crispy until the rest are cooked. I place a wire rack on a baking sheet and set my oven to 200 Deg F. (93 Deg C).
This keeps them crispy since there is space below them from the wire rack instead of being placed directly on a baking sheet.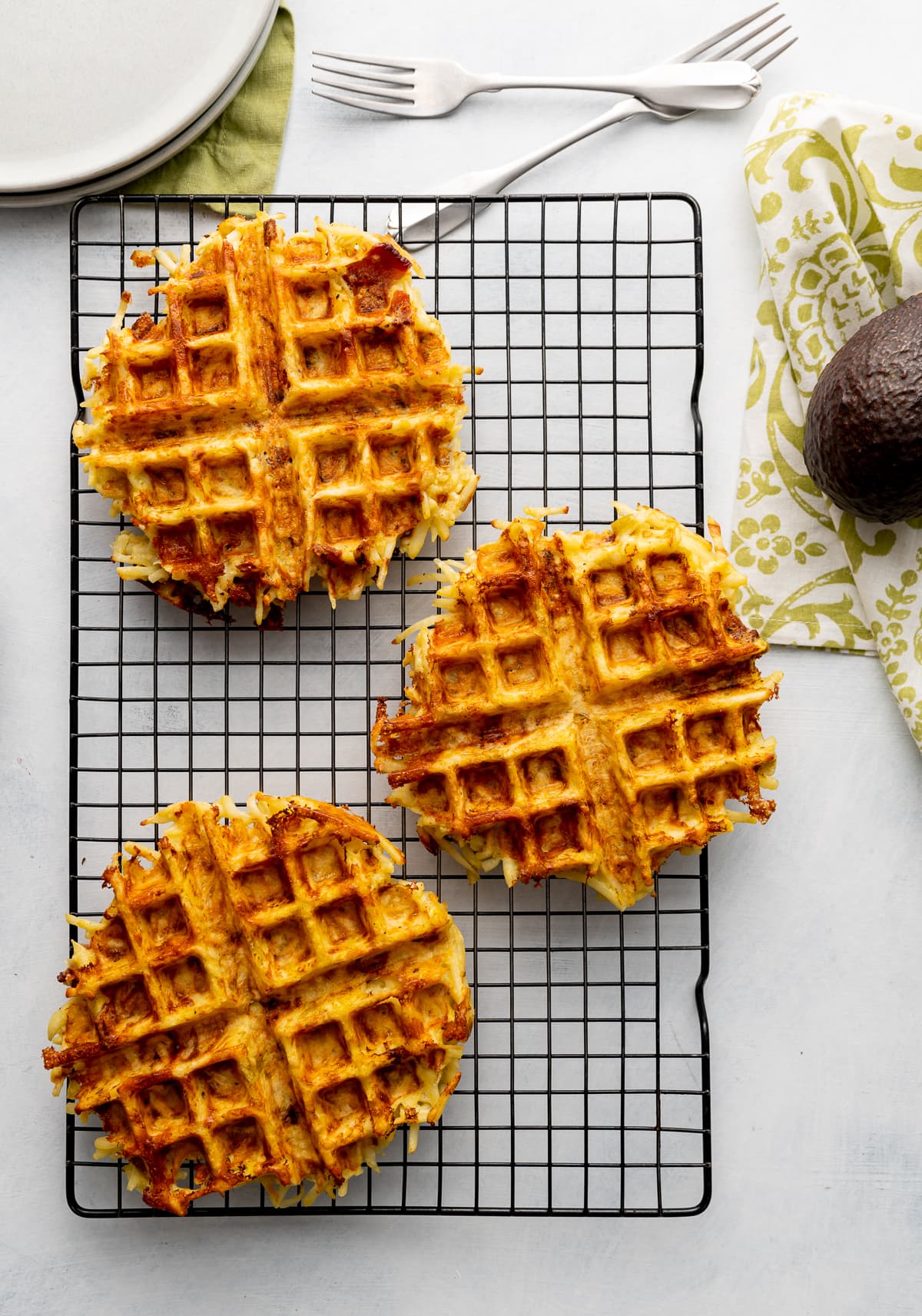 Tools you will need to make these savory California hash brown waffles:
Food Processor (if making your own shredded potatoes)
A few more notes about these Savory California Hash Brown Waffles with Avocado recipe:
Prep for these waffles depends upon using whole potatoes or pre-packaged hash browns. If using pre-packaged they are usually kept in the freezer section of most grocery stores, thaw completely before using. Make sure the ingredients are just potatoes and not any other additives or spices.
Cook and cool your bacon first then chop or crumble it. The time for this depends on your method of cooking bacon. I put bacon on a foil lined baking sheet and cook for about 20-25 minutes at 350 Deg, turning every 5 minutes or so for even cooking.
Use a good melty cheese for these to help the waffle ingredients stick together while cooking. I love using jack cheese since it goes well with these flavors. Quesadilla cheese would be another good melty cheese to use as well.
Prep your topping ingredients while the waffles are cooking.
These waffles are fantastic for breakfast, brunch, lunch or dinner. Anytime you want them really.
"Recipe"
Savory California Hash Brown Waffles with Avocado
Crispy savory waffles made with shredded potatoes, crispy bacon, melty cheese and more topped with buttery Californian avocados.
Ingredients
6

large eggs

2

lbs

peeled and shredded red or Yukon gold potatoes

can also use store-bought pre-shredded hash browns -thaw first

8

ounces

shredded jack cheese

can also use a mix of cheddar and jack

6

slices

thick bacon

cooked and crumbled ( about a half a pound raw bacon from thick sliced bacon that is 12 slices a pound)

7

ounce

canned fire roasted green chiles

no need to drain

½

teaspoon

each - garlic powder

onion granules, black pepper

1

teaspoon

kosher salt
Toppings:
1

cup

salsa - any kind you like

Avocado slices - 2-3 large avocados

⅓

cup

cotija cheese

crumbled

1

bunch cilantro - washed and chopped

2

whole limes

sliced
Instructions
Preheat your waffle iron according to manufacture's directions. I have mine at a setting of 4 or medium heat. Spray top and bottom of iron with cooking oil.

Preheat oven to 200 deg and place a baking sheet with a wire cooling rack on top to keep the waffles warm until they are all cooked. 

In a large mixing bowl whisk the eggs, add in the remaining ingredients and stir until well combined, let rest for 10 minutes. 

Using a large scoop, scoop a heaping cup of the mixture onto your waffle iron, and spread out slightly. This won't spread as much as a typical waffle batter so you will have to use a spatula to spread it out to the edges. Cook 6-7 minutes, a little longer than a sweet waffle, until the steam starts to slow, check to make sure they are done, they will no longer stick to the iron and be golden and crispy. Once done, place the cooked waffle on the prepared pan in the oven to keep hot and crispy until the rest of the waffles are cooked. 

While the waffles are cooking prepare the topping ingredients, peel and slice avocados, crumble cotija cheese into a bowl, wash dry and chop the cilantro. 

To serve place one waffle on a plate, spoon a little salsa over the the top, add avocado slices in the middle, then a squeeze of lime juice with more dollops of salsa, a few teaspoons of cotija cheese and a sprinkling of chopped cilantro 

Serve with lime slices and hot coffee. 
Notes
These waffles reheat well. You can keep in an airtight container and heat up in the oven or toaster oven the next day. They also freeze well, thaw before reheating in oven or toaster oven.