Tropical Coconut Hibiscus Shortbread Cookies. Shortbread Cookie cut outs for Valentines day. Or any day depending on the cookie cutter shape you use.
I normally don't make a big fuss of Valentines Day, my husband and I think we should treat each other with love and affection all throughout the year, not just save it for one day. To me its always been a very commercialized "Hallmark" holiday, and alienates many who don't have a special someone to celebrate the day with. You can be your own valentine, which I think everyone should always be their own valentine first.
We all have different love languages and mine is food, I like to feed my loved ones with all my recipes, especially baked goods like cookies. Maybe bake yourself some cookies this year and don't share with anyone. Or share with as many people you like. Shortbread cookies are a great cookie to make for just this occasion. And of course I made mine tropical.
My original intention was to make just hibiscus shortbread cookies but I decided at the last minute to add in coconut and I am glad I did.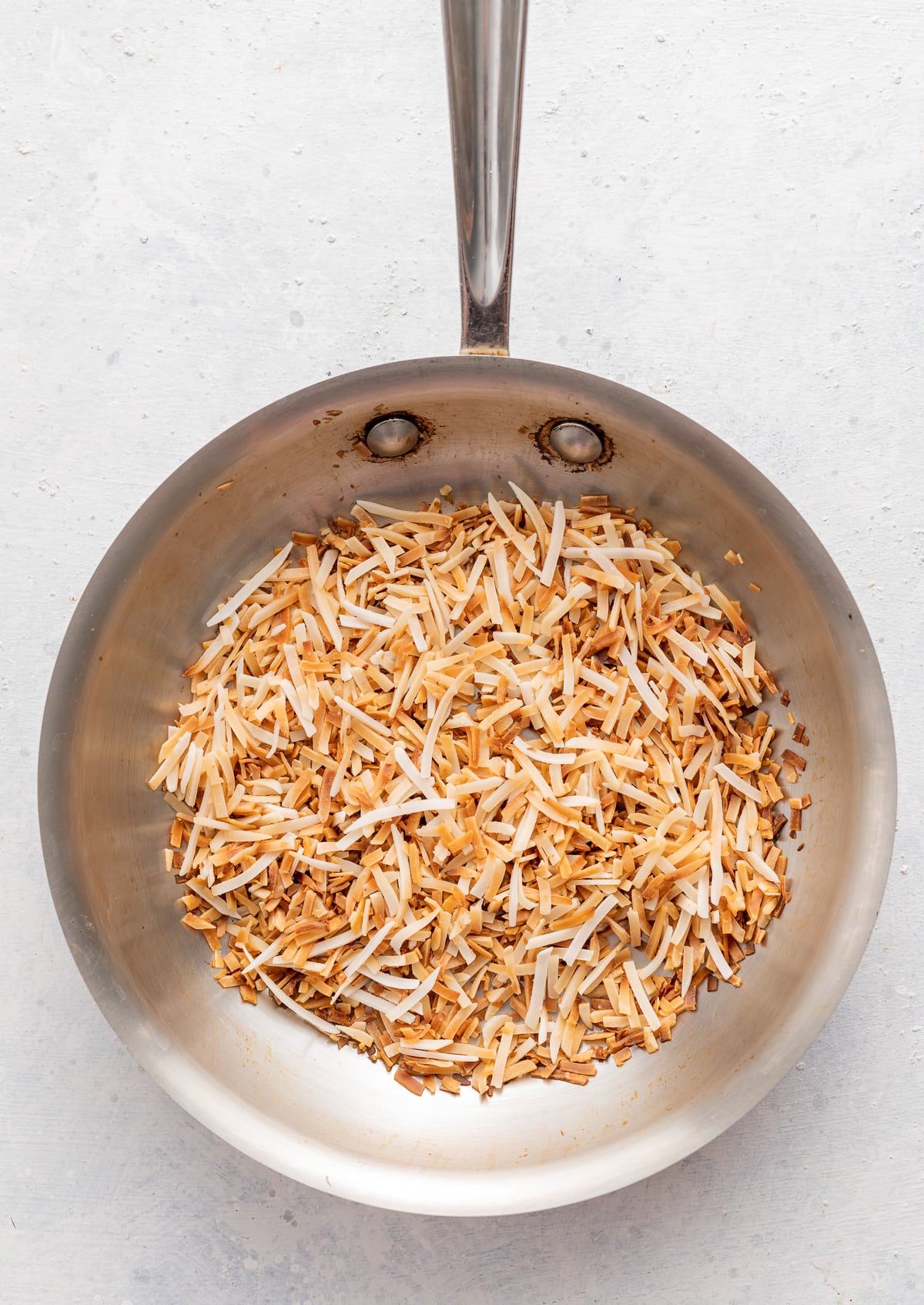 I have a coconut shortbread cookie recipe on my blog from years ago that I love, but they are a bit more involved to make and I wanted a cookie one could make in an afternoon, even with a little time spent with the dough chilling in the fridge. Toasting the coconut is a must for any coconut cookie. I love the more intense, nutty coconut flavor.
I also wanted to make a cut out cookie since I knew my kids would love them, but this recipe would also work to roll into a log and slice that way as well. Shortbread cookie recipes are very versatile.
Shortbread cookie dough is a very basic dough to start out with. Just a few ingredients - butter, powdered ( or confectioners) sugar, all purpose flour, cornstarch, a little kosher salt, a dash of vanilla extract. Thats it. No leaveners, no eggs. Then you can mix it anything you like from zests, nuts, chocolate chips, dried fruits etc. The sky is the limit.
This a great dough for cookie cut outs since you can re-roll it out several times without affecting the texture or structure of the cookies. I always roll between pieces of wax paper, no need to add flour so you don't end up adding more than the recipe calls for resulting in a tougher cookie. I originally wasn't planning on heart shaped cookies, but I couldn't find the flower shaped cookie cutter I was planning on using so hearts it is. For Valentine's Day.
These coconut hibiscus shortbread cookies don't spread at all while baking so you can have more on your baking sheet at once. With the cutter I used, I got 18 cookies. The amount of cookies that this recipe yields depends on the size of cutter used. I wanted big cookies.
These cookies are fantastic is as is. Light and tender, buttery and a hit of that tropical goodness from the nutty coconut and tangy hibiscus. But why stop here? Let's glaze them.
I made a quick glaze with powdered sugar and some hibiscus syrup. I could have gone the royal icing route, but I was too lazy to make it. I also thought about dyeing white chocolate pink, but was all out of natural pink food dye. Any of the three options work great. Just powdered sugar and the hibiscus syrup alone are a stickier glaze that doesn't firm up completely. I am ok with that.
I love the color from the hibiscus glaze. I get dried hibiscus flowers from a local Mexican grocery store to use in recipes. You can also use hibiscus tea bags, just make sure they are 100% hibiscus and not anything else in them. It will alter the color and flavor.
A few notes about this coconut hibiscus shortbread cookie recipe first:
The base recipe is very basic and quick to make. The longest part of this recipe is chilling the dough before baking it.
You want to use candied hibiscus for these, not dried. You can find candied hibiscus at Trader Joes or

online

.
If you can't find the candied hibiscus you can sub with either dried cranberries or cherries
I chill the cookies once cut out for a little bit before baking again, this ensures they will keep their shape
Roll them out thick, mine are just over a quarter of an inch.
Bake for 10 minutes until the edges are just barely starting to turn golden, don't over bake. I made these in two batches for a total of 20 minutes of baking.
Let cool completely before glazing
The glaze is optional. You can make a

royal icing

or even dip in white chocolate if you want.

"Recipe"

Tropical Coconut Hibiscus Shortbread Cookies

Easy to make shortbread cookies with nutty coconut and tart candied hibiscus with a hibiscus glaze. A tropical version of a favorite cookie, cut out into hearts for Valentine's day.

Ingredients

For the Cookies

1

cup

butter

226g/8 oz, room temperature

½

cup

plus 1 tablespoon powdered sugar

67g/1.4 oz

1

teaspoon

vanilla extract

2

cups

all purpose flour

260g/9 oz

2

tablespoon

cornstarch

20g/.5 oz

¼

teaspoon

Kosher salt

½

c

toasted unsweetened coconut

½

cup

finely diced candied hibiscus

see notes

For the Glaze

1

cup

Powdered sugar

120g/4 oz

2-3

tablespoon

Hibiscus syrup

see notes

Instructions

Lightly toast the coconut in a small pan over medium low heat, stirring frequently until starting to turn golden. This will go from golden to burnt quickly so stir often until you get almost all the flakes toasted then remove from heat. Let cool before adding to the cookies. This can be done while waiting for the butter to get to room temperature. Once the coconut is cool, smash or crush into smaller pieces if desired.

In a stand mixer or a large bowl using a hand mixer, cream together the butter and sugar until light and fluffy,  then add in the vanilla and mix for another thirty seconds. Add in the flour, cornstarch and salt and mix again until well combined. Add in the coconut and candied hibiscus pieces and mix gently to fold them in, you can use your hands for this part. 

Gather the dough and shape into a thick disc, wrap in wax paper or plastic wrap and chill for 2 hours up to overnight. 

When ready to bake heat oven to 350 Deg F, line baking sheets with parchment paper.

Let the dough thaw slightly then roll out to ¼" thick, no thinner, and cut out with a 3 inch heart shaped cookie cutter, or any shape you like. 

Place an inch apart on the baking sheets, and chill for 20 minutes. You can pop them into the freezer before baking too if you have the space.  Once firmed back up, bake for 10 minutes. Let cool slightly on the pan then transfer to a wire rack to cool completely before dipping in glaze. 

Whisk together the powdered sugar and hibiscus syrup until well mixed and thin enough to dip. Dip half the cookie into the glaze and set out to dry. These won't dry as hard as royal icing does, they will remain a little tacky. 

These last a few days stored in an airtight container at room temperature, up to 3 months frozen wrapped in plastic and kept in a resealable bag or container.

Notes

For the candied hibiscus - You can find dried candy hibiscus at Trader Joes or many online retailers. Make sure it is candied and not just dried. You can sub with dried cranberries or cherries if you can't find the candied hibiscus.

For hibiscus syrup combine half a cup of water with half a cup of sugar and 2 tablespoons of dried hibiscus (not the candied, just dried) and bring to a boil stirring to dissolve the sugar. Let steep for one hour then strain into a bottle or jar, cool completely before using. Keep sealed in refrigerator.