Easy Cottage Cheese Deviled Eggs is a great way to use up leftover hard boiled eggs and add an extra boost of protein from the cottage cheese.
I was trying to think up something witty for this cottage cheese deviled eggs post such as " sick of hard boiled Easter eggs yet?" or "not another deviled egg recipe.." but alas, I really don't have anything funny to say about deviled eggs. I can only say they are easy, delicious and you can make them any way you want.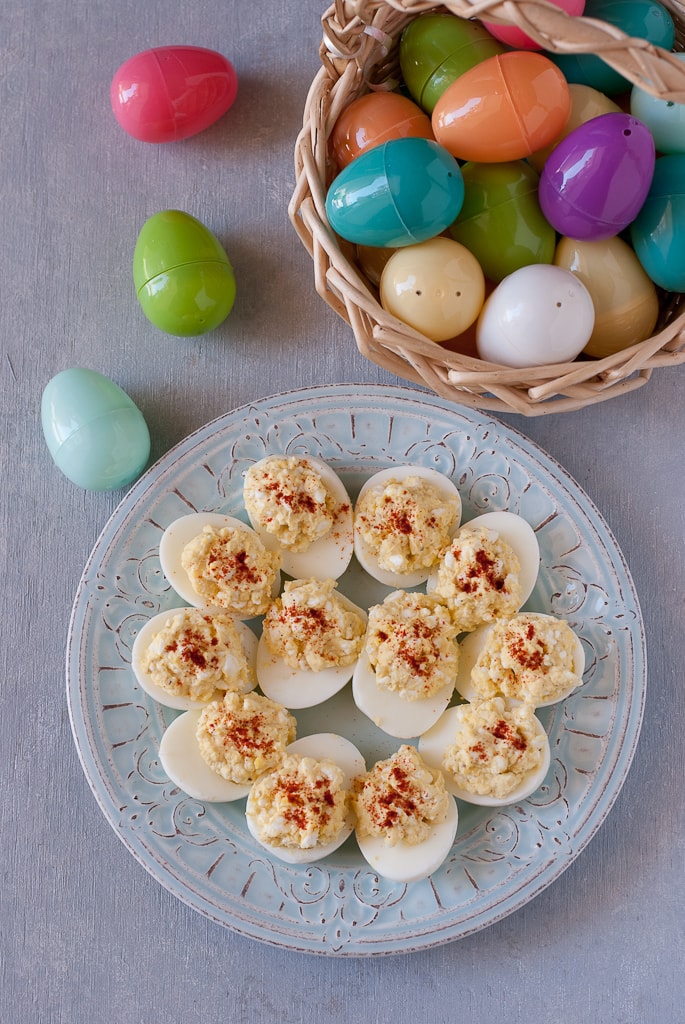 I actually made these as a quick snack a few days ago, snapped a quick pic and posted on instagram and people commented on it saying it sounded really good. So I figured why not make it into a blog post and have it have an "official" recipe. But then I thought about what a recipe really is. To me making something like these deviled eggs or my avocado egg salad even, is more like putting stuff in a bowl and mixing and not an actual "recipe". To me. a recipe is long and involved with lots of steps and ingredients such as the Vietnamese Pho Ga recipe from Steamy Kitchen that I want to make soon, or these oh so delicious yet very intimidating to make macarons, such as these from my friend Gerry at Foodness Gracious, Macarons with Kumquat and Rosemary cream. He makes them look so EASY!! But deviled eggs? Easy and not really a "recipe" in my opinion but there are so many amazing variations of the standard mayo mustard yolk combo that maybe we can call these a recipe.
I am so in love with this little ceramic egg holder from Cost Plus World Market. I use it almost every day now for getting eggs to room temp, or holding hard cooked eggs in the fridge, or just taking up counter space. I had put my hard cooked eggs in this holder and was getting the rest of my ingredients ready and I noticed that they were starting to get some condensation from warming up to room temp since I had them in the fridge for a day. I liked the pattern it was making so I snapped a few pics.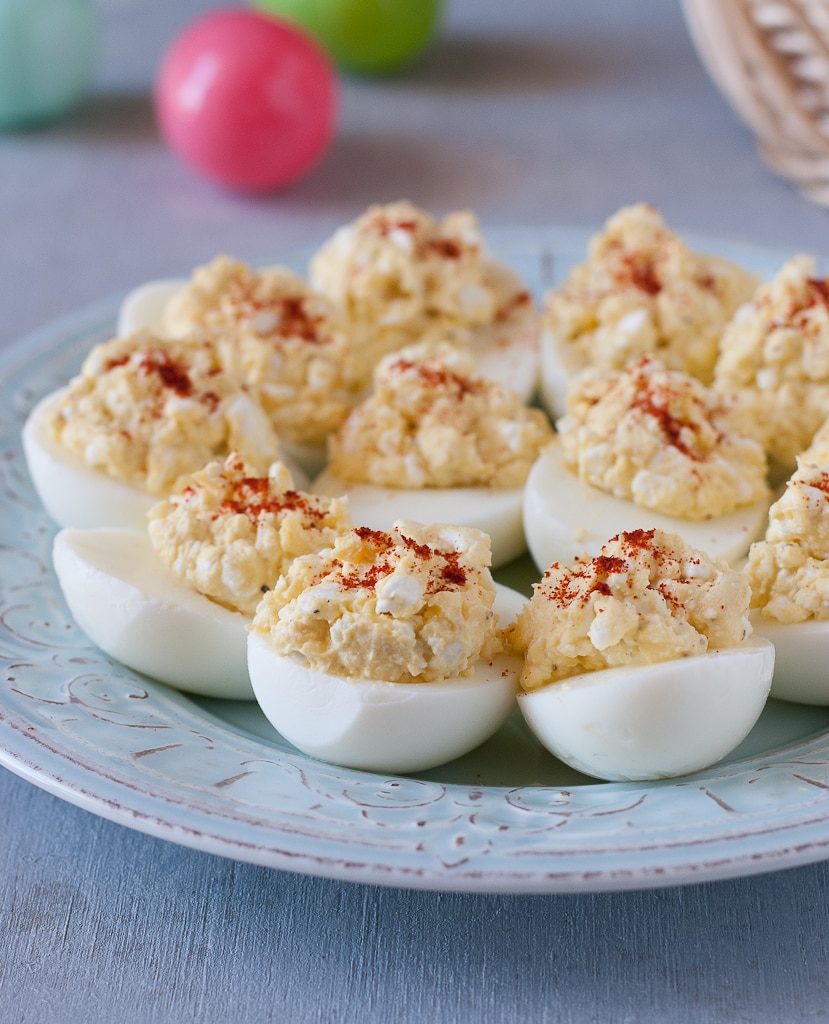 This is such a basic easy recipe. So let's talk about the hard part. Boiling perfect eggs. Like I mentioned in my Avocado Egg Salad post, I have always used this method from Simply Recipes. I have always had good luck with peeling eggs until the other day when two of my six pretty much destroyed when trying to peel. Most of the white was stuck to the shell and they were pretty mangled looking once peeled. Four out of the same batch peeled just fine. So I am blaming it on the chicken that laid those eggs, not the cooking technique. Or the peeling technique.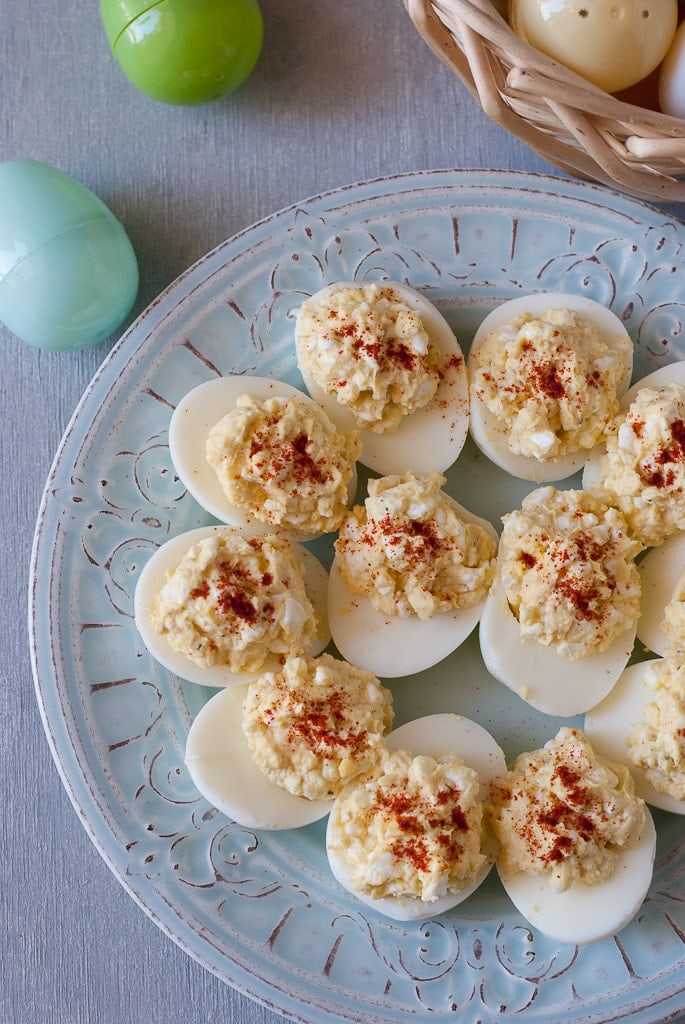 If you are not a huge fan of mayonnaise you can always use yogurt, cottage cheese like I use, or avocado to keep the filling creamy. I like the extra added protein from the cottage cheese in these and I add in so much that I either have the filling piled up way too high, or I have leftover filling which I eat with just a spoon. So this recipe is how I make it - but customize it anyway you want. I really don't think there is a wrong way to make them. Just put stuff in a bowl with the yolks, mash and fill the egg halves. Unless you want to be fancy and use a pastry bag and pipe the filling into a pretty swirl. I say go for it.
"Recipe"
Easy Cottage Cheese Deviled Eggs
Easy Cottage Cheese Deviled Eggs Makes 1 dozen deviled egg halves
Ingredients
6

Hard Boiled eggs

½

c

Lowfat cottage cheese

I use Organic Valley

1

tablespoon

Dijon mustard

¼

teaspoon

each sea salt and ground black pepper

Smoked paprika for garnish
Instructions
Set eggs in a high sided sauce pan, fill with water to an inch over the eggs. Add 1 teaspoon baking soda. Bring to a boil, let boil for one minute. Remove from heat, cover and let sit 12 minutes. Immediately remove eggs and place in an bowl of ice water and make sure the eggs are fully submerged. Let cool completely. Keep chilled until ready to use.

Carefully remove the egg shells, cut eggs in half and remove yolks to a bowl. Add the cottage cheese, Dijon, salt and pepper to taste and mash.

Scoop mixture back into the eggs and sprinkle a little smoked paprika on top. Serve immediately or keep covered in refrigerator and serve within 24 hours.
Notes
Make sure the eggs you use aren't the freshest, not rotten, but not fresh out of the hen either. Fresh eggs tend to not separate from the shells as well as older eggs do.
Check out these other deviled eggs recipes:
Toasted Sesame and Kimchi Deviled Eggs by Kitchen Konfidence
Smoked Salmon Deviled Eggs By Alaska From Scratch
Thai Deviled Eggs By SpaBettie
Deconstructed Pork Belly Deviled Eggs by Climbing Grier Mountain
Bacon Jalapeno Deviled Eggs By Real Housemoms
Bacon Guacamole Deviled Eggs By Closet Cooking
Marbled Deviled Eggs By Just Dip It In Chocolate
Falafel Spiced Deviled Eggs by Kitchen Konfidence
Buffalo Blue Cheese Deviled Eggs by Cupcakes and Kale Chips
Loaded Deviled Eggs by The Cookie Rookie
Creole Crab Stuffed Deviled Eggs by Host The Toast
Greek Deviled Eggs by The Spiffy Cookie
So there ya have it - lots of ways to make deviled eggs. And once you are sick of deviled eggs make my egg salad!