Healthy Greenya Colada Smoothie. Like a Piña Colada, but healthier and green. And non-alcoholic.
Today is my birthday and I am sharing my favorite healthy "Greenya Colada" smoothie recipe. Don't worry, I will probably drink a boozy pina colada later because, balance.
I am a smoothie fanatics. I got a vitamix a few years ago and I truly use it several times a day. It earns its keep in my house.
Green monster smoothies have been very popular as of late, and although they look a little scary like a monster, they are anything but. My favorite "green" addition to smoothies is baby spinach. I have tried kale before and its a touch too strong for me. I also have tried making kale chips and, well, um, lets just say I am not a fan. But I LOVE sauteed kale.
And I love smoothies. If I whip one up post workout I will add in some protein powder. On days I make smoothies in the afternoon I try to make extra and either share with my kids, who think green smoothies are awesome, or I fill up our popsicle molds with the leftover.
I call this a Greenya Colada since its my version of a non-alcoholic Pina Colada with greens added. I know, SO original right?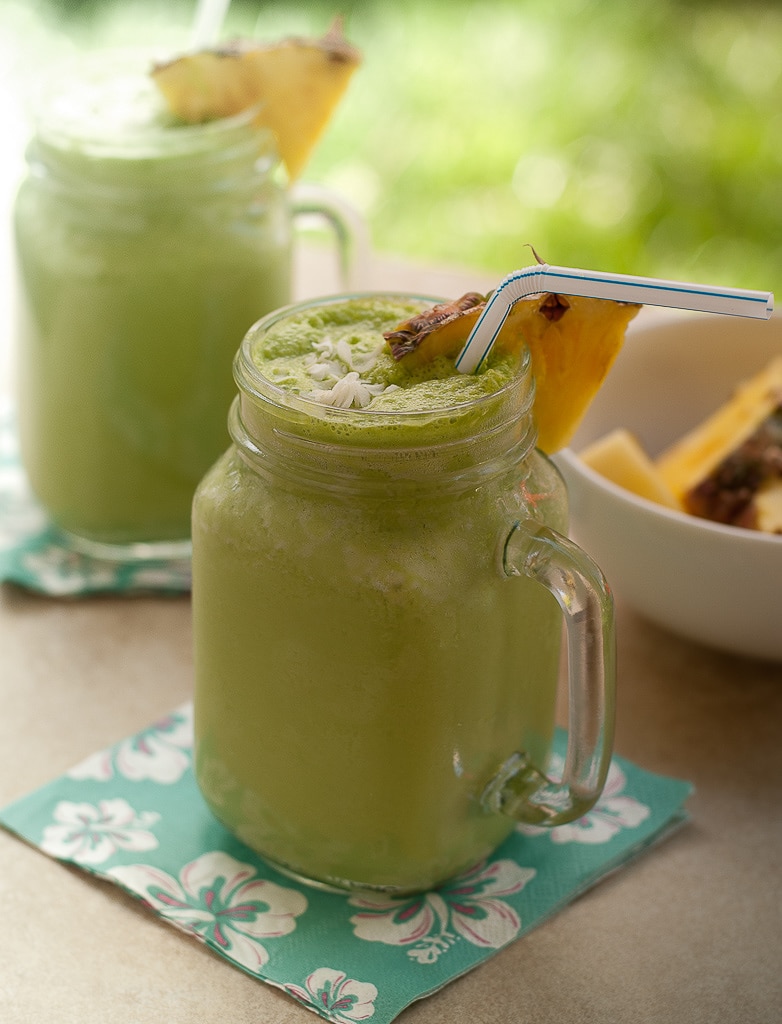 I started out taking pics of the smoothies on my patio, my kids were playing in their pool and it was a really nice day out. Until my 4 year old decided to turn on the hose and spray me. So back inside I went. with my smoothie.
"Recipe"
Healthy Green-ya Colada Smoothie
Greenya Colada Makes 2 large servings
Ingredients
1

cup

coconut milk

½

cup

coconut water

1 ½

cups

frozen pineapple chunks

3-4

cups

spinach

1

tablespoon

coconut oil

Ice

Honey

optional

Pineapple slices and coconut flakes for garnish
Instructions
Combine the coconut milk and water, then spinach and then frozen pineapple on top.

Blend on medium until spinach is starting to puree and then while blender is on slowly pour in coconut oil.

Once added, blend on high. Taste and add ice and honey if desired for a thicker more sweeter shake.

Sprinkle coconut flakes on top and a slice of pineapple for garnish
Notes
You can sub Almond milk for the coconut milk if you would like. Also you can add in things like chia seeds, protein powder, or any other green leafy you desire. Smoothies really are a recipe where the combinations of ingredients are endless!
You can also add rum to these. Its good. So I have heard... ( pssttt coconut rum makes them awesome)