Mango Bread like you find at the farmers markets and roadside stands in Hawaii. But made at home. Moist and delicious, loaded with mango, amazing with a fresh cup of Hawaiian coffee and a good book.
This page contains affiliate links. Affiliate links support Pineapple and Coconut at no additional cost to you. If you choose to make a purchase via these links, I earn a small commission to help keep this blog running and it is much appreciated. I am an Amazon and Adorama affiliate.
This page contains affiliate links. Affiliate links support Pineapple and Coconut at no additional cost to you. If you choose to make a purchase via these links, I earn a small commission to help keep this blog running and it is much appreciated. I am an Amazon and Adorama affiliate.
Jump to:
Mango bread has taken the place of banana bread in our house, hearts and stomachs ever since we had in it Maui a couple years ago and again in Kauai this past summer.
I love this mango bread at room temperature but slightly heated with a little slathering of butter or cream cheese is super tasty too.
What is Hawaiian Mango bread?
When we went to Maui a few years ago we sampled banana, mango, lilikoi and guava quick breads all throughout our trip. Maui is known most for its famous banana bread that you pick up on the way to Hana to snack on while your drive through the 600 turns of the infamous Hana highway.
Mango bread is a sweet cake like bread just like banana bread but loaded with mangoes.
You can also find it at various farmers markets on the island and we found the best mango bread at the outdoor market near Leoda's pie shop on the way to Lahaina. My kids couldn't get enough of it, neither could I. Leoda's pies are amazing too by the way. A MUST stop on Maui.
Maui mango bread inspiration:
When we got back from Maui I looked for mango bread recipes online and the ones I found never quite ended up the same as the ones we had on vacation. I tried making substitutions with banana bread recipes, but still, not the same. I made a plan to look for more Hawaiian cookbooks on our next Hawaii trip. I try to hunt down vintage cookbooks every trip to Hawaii. Usually from thrift stores. Kauai has an amazing book store and I made a point to visit it when we went this year.
Located in Hanapepe, the Talk Story bookstore has the claim to fame of the western-most independent book store in the United States. They had everything from new to very old, children's to adult fiction, popular and hard to find. Lots of Hawaiian guide books as well as a huge section of Hawaiian cookbooks. I was in cookbook heaven.
I decided on three, since suitcase room was dwindling due to many other purchases already made that trip. Two of the cookbooks I found had mango bread recipes in them and I couldn't wait to try them at home.
Mango bread ingredients:
Mango puree - from fresh or frozen that has been thawed
All purpose flour
sea salt - I go with milder sea salt here instead of Kosher salt
baking soda
Ground cinnamon - just a little bit, it enhances the flavor of the mango
Avocado oil - I love using a neutral oil in quick breads and it works so great here to keep the texture moist
large eggs
granulated white sugar
vanilla extract
Rum - optional but a dark or gold rum also compliments the mango flavor really well
See recipe card for exact amounts
How to make mango bread:
If using fresh mangoes, blend as well as you can. No need to strain. If using frozen mango, thaw to room temperature then puree.
This is a two bowl recipe - no need for a stand or hand held mixer.
Prepare your loaf pans with either butter and flour, cake release or parchment paper with some excess hanging over the long edges of the pan.
Whisk together dry ingredients in own bowl.
Mix together the mango puree, sugars, eggs, oil, vanilla and optional rum in a larger mixing bowl.
Add the flour mixture to the mango mixture
Divide between pans and bake.
You can also make this recipe into muffins. Several readers have done so with great success.
Best pans to use for loaf cakes:
Aluminum. Always and forever. It helps bake the breads or cakes more evenly. Glass, ceramic and darker pans will brown the edges faster than the middles and no one wants a loaf bread or cake with burnt bottoms and raw middles. Here are some I own and use all the time.
Top Tips:
This post was initially sponsored by Chosen Foods and I used their avocado oil. Do you have to use avocado oil? Nope. I love baking with it since it is a nice neutral flavored oil. You can use melted coconut oil in place or another neutral oil such as sunflower. I haven't made this with olive oil, I tend to use that more for vinaigrettes than baking. I don't use canola oil or soy oil at all.
What if I don't have loaf pans or only one loaf pan? Make muffins! I have made this recipe into one loaf, and a dozen or so muffins before or all muffins. I get anywhere from 2 dozen to 28 muffins, depends on how full I fill the muffin tins. I always use paper muffin/cupcake liners too. Even with cooking spray, muffins tend to stick in my pans and they are a pain to clean.
To make as muffins, make the batter as the recipe states, fill each muffin tin ⅔ full ( I use a

#12 scoop

- ⅓ cup size) and bake for 16-18 minutes. Cool in pan for 5, remove to wire cooling rack to cool completely.
This bread freezes well. Wrap in plastic wrap then foil then in a resealable bag to keep super fresh, and to keep out other freezer smells. I didn't wrap up a banana bread very well once, had it in the freezer next to a bag of shrimp. Shrimpy smelling banana bread wasn't the most appetizing ha ha
I have made this recipe with both fresh mango and frozen. For the frozen I thawed it then drained off the excess liquid. You want the puree to be like thick applesauce, not watery at all. 
More Mango dessert recipes:
More quick bread recipes:
Hawaiian Mango Bread Recipe:
"Recipe"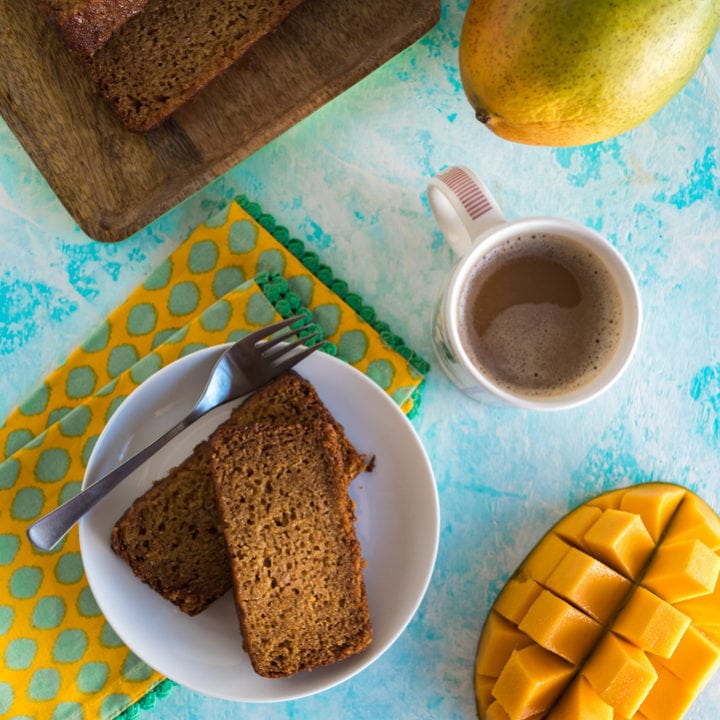 Hawaiian Mango Bread
Mango Bread like you find at the farmers markets and roadside stands in Hawaii. But made at home.
Ingredients
*Ingredients listed in cups for spoon and measure method

ounces and grams for weighing method* Weighing in grams is the most accurate.

3

cups

All purpose flour

13.5 oz or 390 grams

1

teaspoon

sea salt

3

teaspoon

baking soda

1 ½

teaspoon

ground cinnamon

3

cups

mango puree

see notes

2

cups

sugar

14 ounces or 400 grams

1

cup

plus 2 tablespoon Chosen Foods Avocado oil

9 ounces or 255 g*

2

large eggs

room temperature

1

teaspoon

vanilla extract

2

tablespoon

rum

optional
Instructions
Preheat oven to 350 Deg F (180 C) and grease and flour two loaf pans ( 9x5") OR use parchment paper that hangs over a few inches on both longer edges.

In a medium bowl whisk together the flour, sea salt, baking soda and cinnamon.

In a large bowl mix together the mango puree, sugar, avocado oil, eggs, vanilla and rum if using it. Mix until well combined.

Add in the flour mixture and stir until moistened and only a few flour streaks remain. Do not over mix.

Divide batter between pans. Bake for 55-65 minutes or until a toothpick placed into the center comes out clean and only has a few crumbs on it.

Cool in pan 10-15 minutes then remove to a wire cooling rack and cool completely. Wrap in foil then in an airtight container. Will keep well 3-4 days at room temperature or up to 3 months frozen.
Notes
*You can sum avocado oil for coconut or any other neutral oil such as sunflower. I have not made this with butter so I can't tell you how that would turn out.
For the mango puree I will blend fresh mangoes when in season. You want the puree to be the same consistency as applesauce. You can also find frozen mango puree in specialty grocery stores, International, Asian or Mexican grocery stores. Thaw, drain off excess liquid, then purée. Or you can use frozen mango chunks. Just thaw and blend until smooth. Do not use mango nectar or juice, it will make the batter way too runny.
The sugar can be reduced a little. I have played around with only using a cup and a half (10.5 ounces) of sugar and it comes out close to the same. If you want to substitute a liquid sweetener such as maple syrup or honey then adjustments will need to be made to the entire recipe. I have not used a liquid sweetener with this recipe before.