Tropical Mango Raspberry Pineapple Smoothie
Sipping on this tropical mango raspberry pineapple smoothie right now is really making me wish I was sitting on a beach in Hawaii while sipping. Not at my desk staring at a computer screen.
I miss being in Hawaii. I miss the beach, the ocean, listening to the wind in the palm trees, the waves crash into the shore, waiting for the green flash at sunset every night. Swimming with sea turtles, drinking mai tais. Hawaii is perfection. Once in a while I see episodes of Hawaii Life. Seriously. That show sucks. Its other people buying homes in Hawaii, not us. We have to live vicariously through them. Granted I am in Vegas and not experiencing the frigid " polar vortex" like many others are ( Sorry rest of the country) but I still want to be in Hawaii now too. So for now this Hawaii inspired smoothie will have to do. There really is nothing like Hawaii, I love everything about it. The food, the culture, the scenery. This pineapple smoothie is a total " taste of aloha".
So when the AWESOME people at Frieda's Specialty Produce sent me an email with their list of produce available now and I saw they had mini Zululand Queen pineapples I knew I needed them in my life. Because, pineapple. And anything mini is ridiculously cute. What is also cool about these mini pineapples is that they don't have a tough core like bigger ones do so all you need to do is slice off the outer part and the rest is good to go. No need to cut out the core because its way softer and edible. Less work is great in my book. I make smoothies almost every day and I always add in pineapple. They are just that good and these mini ones are a perfect serving size for a pineapple smoothie!


Back to wishing I was in Hawaii. There is this coffee shop we visit when we go to Hawaii, Java Kai. Best coffee ever, amazing smoothies. I have made one of their pineapple smoothies before, their Hula Hula smoothie. I took home their smoothie menu the last time we were there so I could recreate them at home every time I was feeling the not currently sitting on the beach in Hawaii blues. Any smoothie with pineapple, mango or coconut in it with any other combo of fruits always makes me feel like I am in Hawaii. I might just even sip it as I sit in front of my space heater. Their version has raspberry sorbet in it, while that is GOOD, really good, I opted for frozen raspberries instead, trying to be good about sugar intake this month. Trying to...
I remember being a kid in Hawaii and seeing mangoes cut like this at restaurants on one of our many vacations there. I always cut mangoes like this. My kids love it and it makes for a much more portable mango snack. Plus it looks cool. How to get your kids to eat a wider variety of food? Make it look cool. You're welcome.
I also FINALLY saved up for a new computer. We needed one badly. I have been putting my poor little laptop to the test these past 6 months. Our desktop was fried in a forgot to shut it off before shutting off the power to the house when working on an electrical project in our world's longest kitchen remodel and it died. Like dead dead. My brother was able to recover the hard drive but the motherboard was done for. So we saved up and *gasp* made the switch to apple. Finally. I am in love with my new imac. The screen is hyooooooooooge. Thats "huge" in exaggeration speak. I can't believe I have been editing photos all this time on my laptop. Never again.
And since I got the new computer with the screen three times the size of my laptop I needed to take super up close macro shots of things to see how they looked. I was having way too much fun with it. Again, never again using my laptop with photos. This computer is a real game changer. I feel like a real photographer finally!!

I also was having way too much fun photographing these mini pineapples. I posted a picture on my Facebook page the other day holding it to show how small they are. They fit in the palm of my hand. My kids saw them and of course immediately said " Awe its so cute" and " can I have it?". They may or may not have also named the pineapples. I was sent 4. I have plans for the other three, I only used one for this pineapple smoothie.
"Recipe"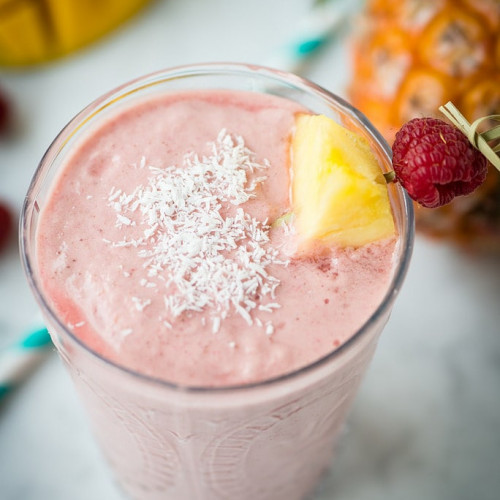 Tropical Mango Raspberry Pineapple Smoothie
Tropical Mango Raspberry Pineapple Smoothie Serves 2 A high protein healthy smoothie that reminds you of a Hawaiian beach vacation with every sip. All that is missing is a towel and suntan lotion
Ingredients
½

C

Coconut milk

canned, full fat

½

C

Coconut water

1

C

mango

frozen or fresh

1

C

Pineapple

frozen or fresh

1

c

raspberries

frozen of fresh

3

teaspoon

chia seeds

2

scoops protein powder

Vanilla or unflavored. I use True Nutrition unflavored grass fed whey

3

teaspoon

coconut oil

1

cup

ice

optional
Instructions
Combine everything but the coconut oil in a blender. Blend until smooth. With the blender motor running on low, open the lid or vent cap on the blender lid ans slowly pour in the coconut iiil and blend another minute. Divide between to glasses and serve immediately.

Notes: If using all fresh fruit add the ice to make for a colder, thicker smoothie. If using all frozen fruit no need to add the ice.

The protein powder amount is up to you ( you can omit it completely if you want, I prefer it for the extra added protein) I always do one scoop per serving, or however much a serving is with the protein powder you use. Vanilla or plain is best in a fruit based smoothie.
I want to thank Frieda's for sending me these awesome pineapples to create recipes with. They also sent me a few other items which I am waiting for them to ripen so I can make some more fun tasty recipes! Frieda's Specialty produce has a ton of amazing items for sale, lots of tropical and exotic produce. Check them out HERE.
I didn't receive and compensation from Frieda's for the post, I was only sent the produce. I only work with brands and companies I believe in and Frieda's is a great company to work with. As always, opinions are my own.