Ring in the new year with my Old Fashioned Champagne Cocktail. Something old to represent the past year ( a classic cocktail) and something new to represent next year (this new recipe).
I decided to have a little fun with making classic cocktails into champagne cocktails. I love champagne cocktails and the possibilities really are endless with them.
The Old Fashioned is a classic, simple cocktail. Whiskey - either bourbon or rye, sugar muddled with bitters, a little water, garnish with orange, cocktail cherry. Simple, classic, timeless.
A classic Old Fashioned is typically flavored with an orange peel, the more you sip the cocktail the more citrus flavored it becomes. I spied this Hella Bitters in Citrus at my local liquor store and I knew it would be a great addition. Old Fashioneds are typically sweetened with a sugar cube, but simple syrup can also be used. I made cocktails with both. I also love the hint of molasses the brown sugar cubes lend to the cocktail.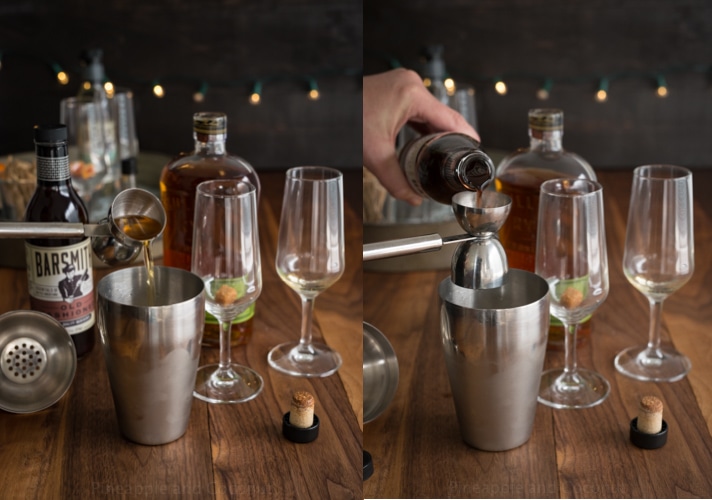 I mixed the Barsmith Old Fashioned mix with the rye in a cocktail shaker filled with ice. Champagne cocktails aren't typically served over ice, but Old Fashioned cocktails are, so chilling the rye and mix helps keep the drink extra cool without having to add ice.
I love using prosecco for champagne cocktails, but any dry brut, lightly sweet champagne or sparkling wine will work. I wouldn't go too sweet like a moscato or asti.
You want to let that Old Fashioned flavor shine through and have the champagne add just a touch of bubbly.
Add a cherry and orange slice garnish and voila! Drinks are served. I love sour cherries, sorry maraschino cherries. Although pretty and popular amongst the Shirley Temple drinking crowd and many bartenders, I am not fond of the fake flavor and waxy like texture.
I do love sour cherries though so I used those for my garnish along with some cara cara orange slices.
I read an article on Eater on the 6 cocktail trends they want in 2016. One is fancy glassware. I love that. Since I have quite the growing collection of glassware. They also spoke about how classic cocktails, such as the Old Fashioned, came back with a vengeance but bar patrons still want the next "big" thing or trend. Maybe making classic cocktails into champagne cocktails could be part of that next big trend.
Serve these up at your New Years party this year to say by to 2015 ( seriously where did it go? I thought 2014 flew by and now its almost 2016??) And say Cheers Dears to the new year!
"Recipe"
Old Fashioned Champagne Cocktail
Old Fashioned Champagne Cocktail www.pineappleandcoconut.com Makes 4 cocktails
Ingredients
Brown sugar cubes

Simple syrup

Hella Bitters in Citrus

BarSmith Old Fashioned Mix

Good quality Rye Whisky

I like Bulleit Rye

A dry not too sweet champagne or Prosecco ( I love La Marca Prosecco

)Sour cherries and orange slices for garnish
Instructions
In 4 cocktail glasses ( I used a wide champagne flute) add in either one brown sugar cube or 1 teaspoon simple syrup to each glass. Top with a few drops of citrus bitters.

In a cocktail shaker filled with ice add in 6 ounces of Rye and 4 ounces of BarSmith Old Fashioned mix and shake well. Divid amongst the glasses. Top with prosecoo or champagne and garnish with sour cherries and an orange slice on a skewer. Serve immediately.