Passion fruit swizzle cocktail. I love a good swizzle, a classic tiki cocktail, and made all in the glass. No need for a cocktail shaker.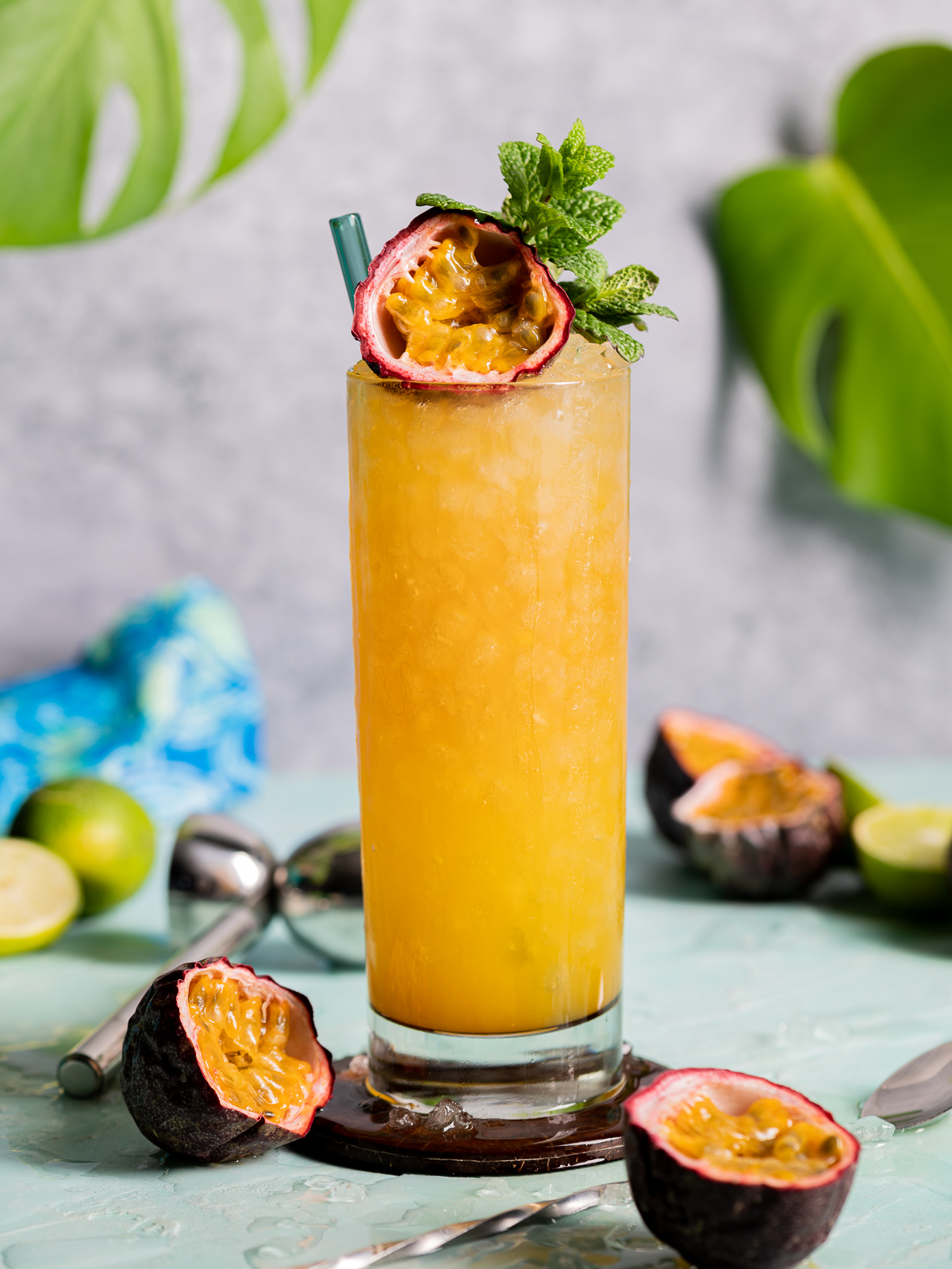 This page contains affiliate links. Affiliate links support Pineapple and Coconut at no additional cost to you. If you choose to make a purchase via these links, I earn a small commission to help keep this blog running and it is much appreciated. I am an Amazon and Adorama affiliate.
Jump to:
Cocktail update:
I love to make cocktails, especially tiki cocktails. However to be fully honest with you all, I have pretty much stopped drinking for health reasons. I do love a fun fruity tropical cocktail, but the headaches after two sips aren't worth it. So for now alcoholic cocktails on my blog just won't be as frequent as they used to be.
I don't think its fair to post recipes that I don't personally consume since I create, test, make and photo everything myself. I will however be offering more non-alcoholic versions of my drinks, either as stand alone recipes or as options in a cocktail recipe notes.
Swizzle inspiration:
For this passion fruit swizzle I was inspired by a few tropical swizzle cocktails I had seen via friends on instagram lately, and I had just made some passion fruit syrup from my fresh passion fruits from Rincon Tropics. I knew it needed to be made into a cocktail. You know I love a passion fruit cocktail.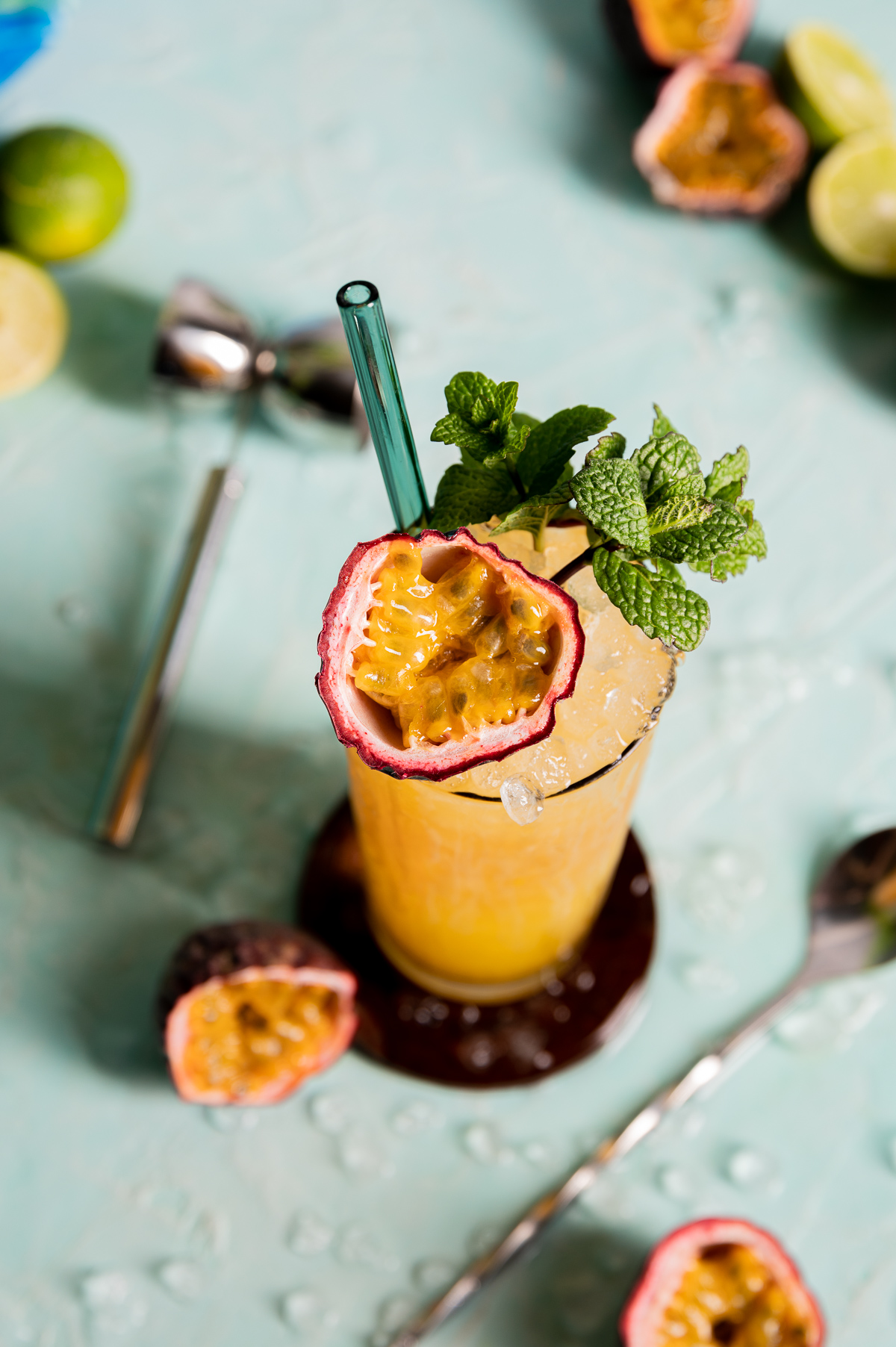 I have been watching a lot of Masterchef Australia episodes lately and I love all their little expressions and terms for all kinds of things. I might have to start using some of their expressions in my daily speech and blog writings. So with that in mind, Let's crack on with this passion fruit swizzle recipe.
What is a swizzle cocktail?
Not unlike twizzles in figure skating ice dancing, there is ice and twizzling, er, swizzling involved. This is where the similarities end. Swizzles were invented in the Caribbean, which is why they are predominantly a rum based cocktail.
A swizzle cocktail is a sweet and sour rum based tiki drink, served over crushed or pebble ice, often in a tall collins or a sling cocktail glass, various tropical fruits in juice or syrup form, some citrus, a bitter element and of course garnishes.
A swizzle cocktail is always mixed together with a swizzle stick or a long cocktail spoon in a twisting or swizzling motion from the bottom to the top of the glass to ensure the cocktail is mixed perfectly.
Ingredients in a swizzle cocktail recipe:
Rum - Caribbean rums should be your rums of choice. I go for a white and a flavored, I used a white and a pineapple rum.
Juice - fresh passion fruit juice is used here since this is a passionfruit forward cocktail. I used very ripe passion fruit for a sweeter juice
Citrus - I love using fresh citrus to cocktails, adds a sweet or sour note to the drink depending on what juice you use.
Liqueurs - I love adding in a little different flavors with liqueurs, tiki cocktails are notorious for having many ingredients to round out the flavors. One of my favorte liqueurs to use is Velvet Falernum.
Syrups - Any kind of simple syrup can be used, I prefer a flavored one to plain simple syrup. I made passion fruit simple syrup for this cocktail.
Bitter element - this can be in the form if a bitter liqueur such as Campari, Aperol, or what I used - Bruto Americano from St. George Liquors or you can use your favorite bitters drops - aromatic, citrus etc.
How do you make a passionfruit swizzle cocktail?
I start by filling my glass with pebble ice ( I buy bags of ice from Sonic, still have my eye on a pebble ice maker for home) and then I start to layer the drink.
Rum, a flavored rum - here I am using pineapple, next I add fresh passion fruit juice and a squeeze of fresh lime.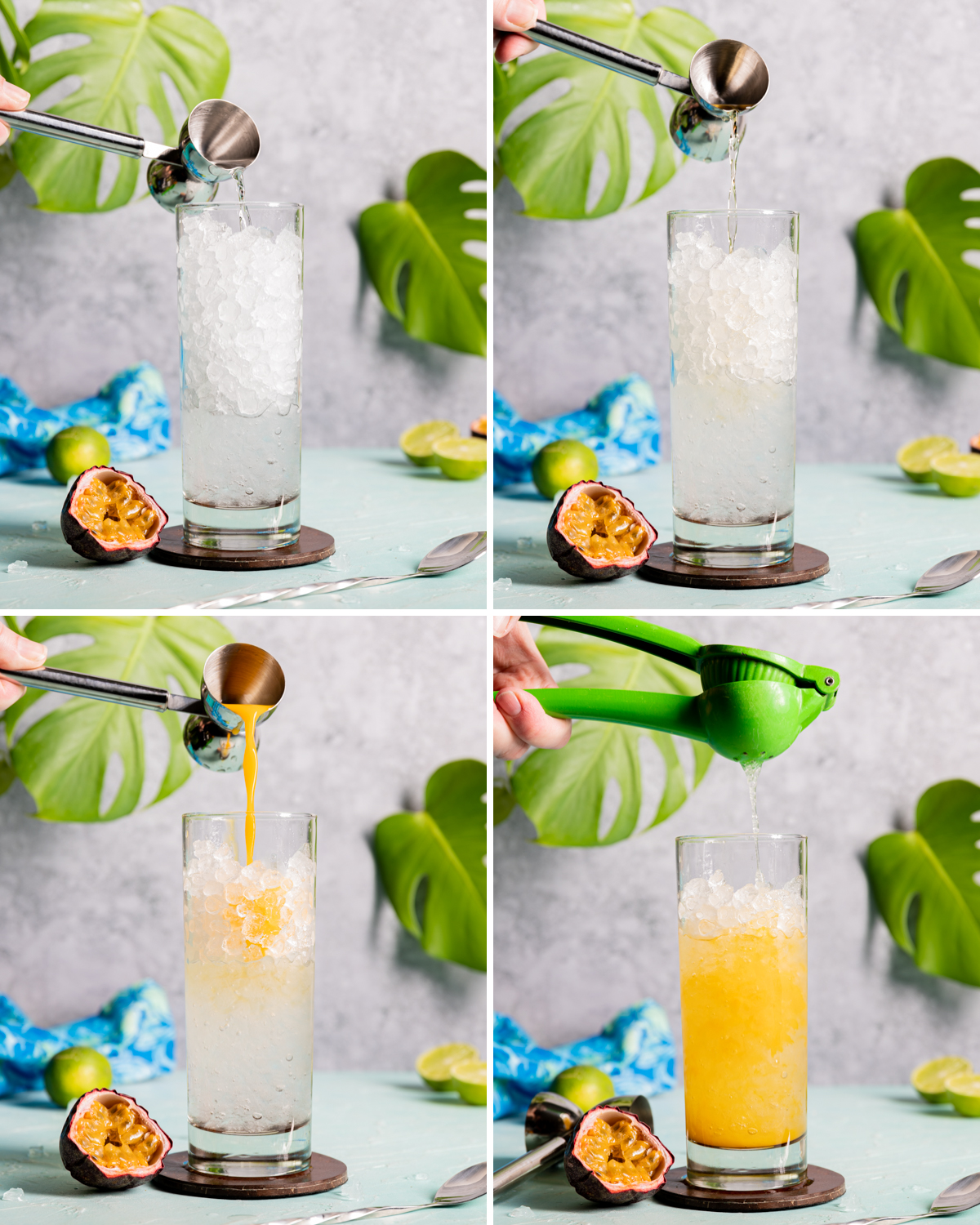 The next steps to this passion fruit swizzle are :
Some passion fruit simple syrup, a barspoon of falernum, and then it is time to swizzle! This is done with an a swizzle stick or an extra long bar spoon.
Swizzle or stir until the drink is well mixed, using a twisting motion while moving the swizzle stick or spoon from the bottom of the glass to the top then back down again.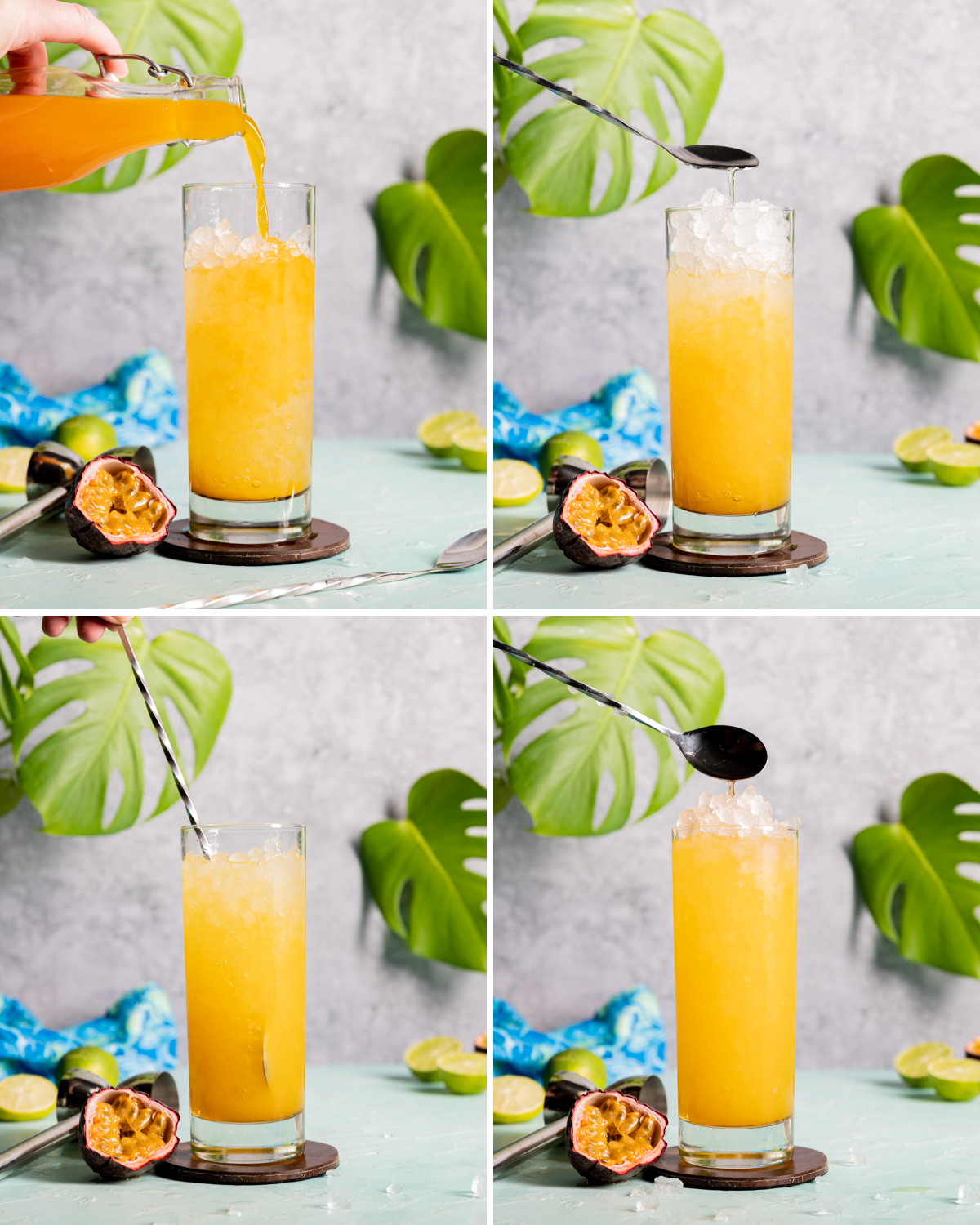 Finally, top off more ice and add the bitter element. I added in a bar spoonful or so of Bruto Americano from St. George Spirits. Campari or Aperol would also work well. Or even a dash of bitters of your choice.
Finally add your garnishes and a straw. I love my glass straws from Surfside Sips. Garnished with a half a passion fruit and some fresh mint. I finally have enough mint growing in my garden to use for recipes!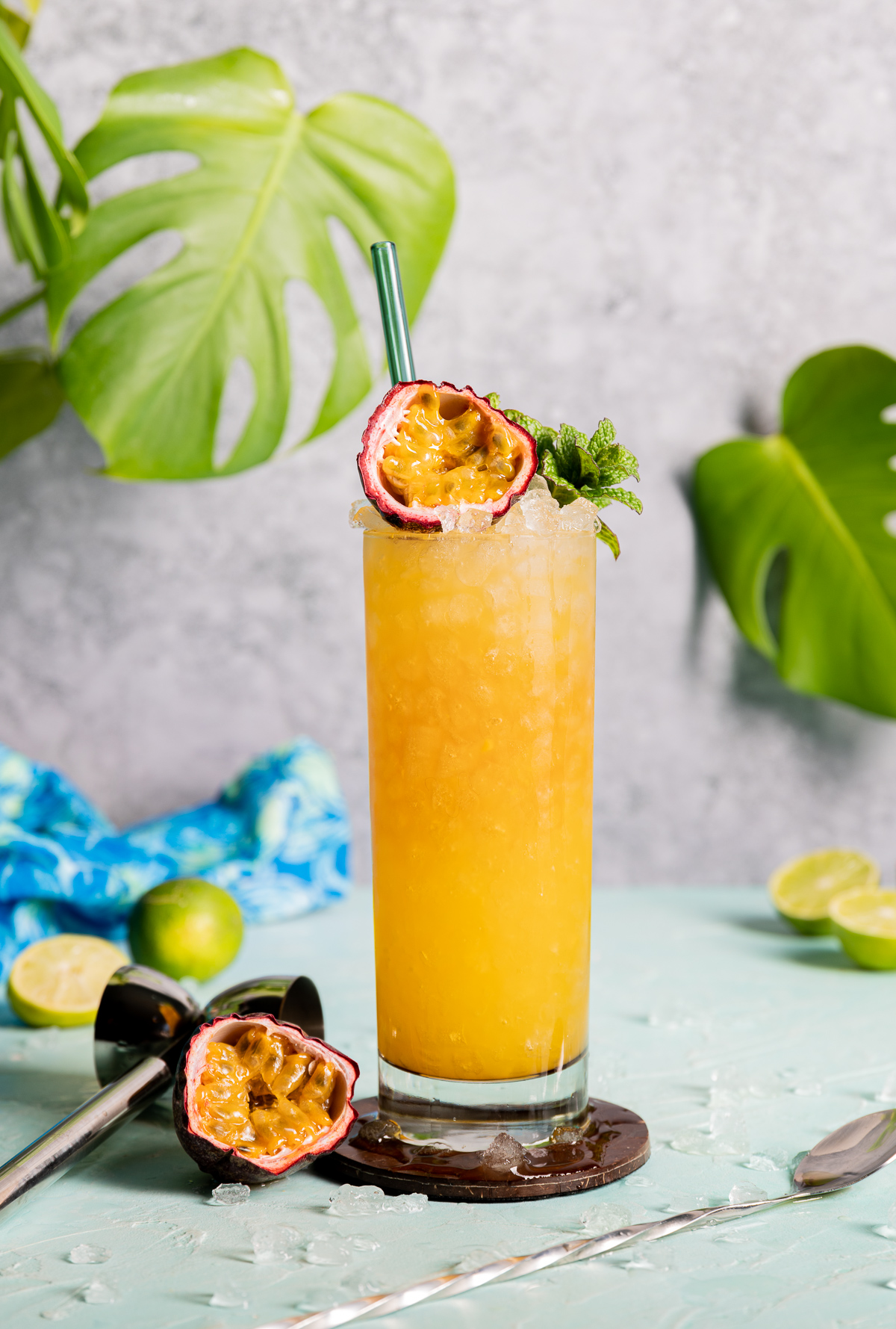 Pretty passion fruit swizzle cocktail and oh so refreshing.  A tropical treat for any time of year.
Want to have a whole Tropical meal including this cocktail? Here are a few recipe ideas to make a whole Luau or tropical party:
Slow Cooker Hawaiian Kalua Pork
Sous Vide Hawaiian Shoyu Chicken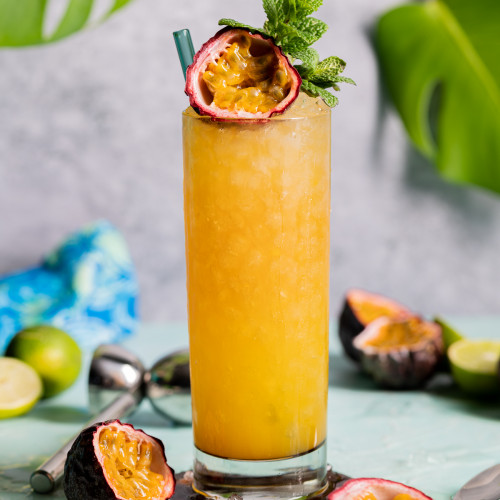 Passion fruit Swizzle Cocktail
A passion fruit forward rum swizzle cocktail with fresh passion fruit juice, passion fruit syrup and fresh passion fruit garnish.
Ingredients
Pebble or crushed ice

enough to fill your glass of choice

60

ml

White

gold or Rhum Agricole (preferably Caribbean rums) (2 oz)

30

ml

Pineapple rum

1 oz

30

ml

Passion fruit juice

1 oz

22,5

ml

Passion fruit simple syrup

.75 oz

15

ml

Lime juice

.5 oz

7,5

ml

Falernum

.25 oz

7,5

ml

Bruto Americano

.25 oz (or other bitter liqueur or drops)
Instructions
Add ice to tall collins or swizzle glass

Layer in the ingredients except the Bruto Americano. Swizzle stir with a swizzle stick or long cocktail spoon.

Top with more ice, slowly add the Bruto americano to the top, garnish with a half a passion fruit, fresh mint and a reusable straw. 

Cheers. 
Notes
Fresh passionfruit juice is used in this drink from about 10 passionfruits. To separate the seeds from the juice and pulp, blend on the lowest setting of your blender for 2-3 seconds. Strain.
You can substitute with bottled juice, I suggest finding 100% juice to match the flavor profile of the drink. I will order passionfruit juice from Aunty Lilikoi online if I can't find anything in stores near me when fresh passionfruit are no longer in season.
Passionfruit simple syrup - you can make on your own or you can purchase either online or in a well stocked liquor store. If I don't have any homemade or passionfruit are out of season I will purchase from Small Hand Foods. They are a wide variety of cocktail syrups that are fantastic.
Bitter element - for your bitter element if you don't have Bruto Americano, you can use Campari, Aperol, or a bitters such as Angostura, a citrus bitters or any bitters you like. The bitters help balance out the flavors of the drink.
To make this non-alcoholic, substitute the rums with a light colored juice or coconut water and add in some soda water for a little fizz after swizzling. You could also use a non-alcoholic spirit, there are many on the market today.