It is HOT this summer. Cool off with some Shaken Coconut Mango Lemonade. Homemade lemonade with a tropical twist of fresh mango puree and coconut milk. Sweet, tangy, creamy and tropical. A perfect refreshing drink. 
This page contains affiliate links. Affiliate links support Pineapple and Coconut at no additional cost to you. If you choose to make a purchase via these links, I earn a small commission to help keep this blog running and it is much appreciated. I am an Amazon and Adorama affiliate.
I love fresh squeezed lemonade year round. Something about making it at home is that much more refreshing and it's really easy to do. Lemons, sugar, water a teeny pinch of salt, ice. That's it.
When we went to Shake Shack two years ago for treat they had a coconut mango lemonade as their lemonade special that month.
I LOVED it and wanted to recreate it for you all. Especially since I haven't seen it there since. I love their seasonal lemonades so much.
Jump to:
Coconut mango lemonade ingredients:
How do you make coconut mango lemonade?
This coconut mango lemonade recipe starts off with fresh squeezed lemons, pureed and strained mangoes, simple syrup.
I start by juicing the lemons first and add those to the pitcher with simple syrup, a pinch of salt and water. Next I add the mango puree, stir well and chill the mixture.
I strain the mango puree to get any extra fibers out. You can strain the lemon juice as well to remove any pulp. Up to you.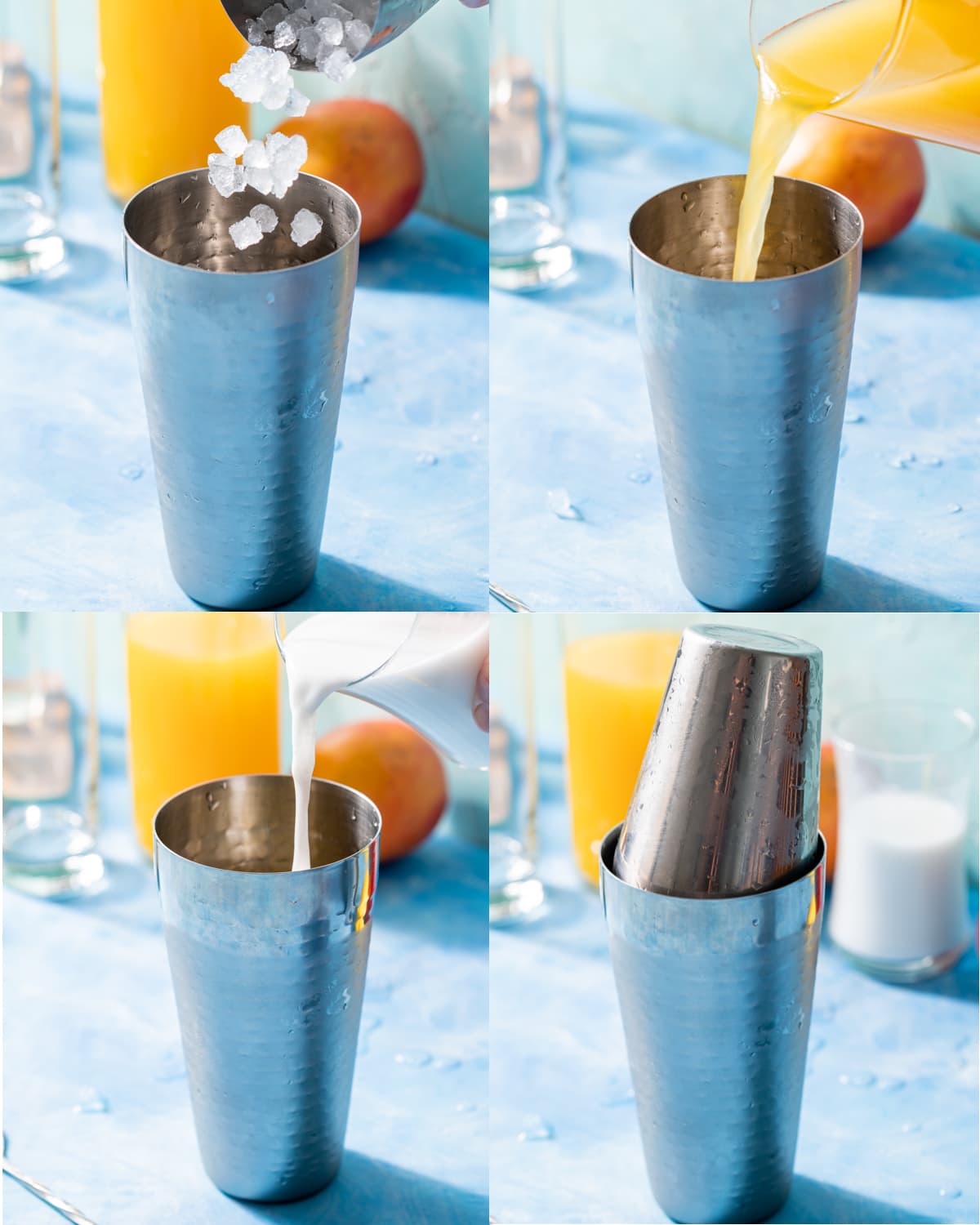 I taste the mango lemonade and see if it needs any more sweetener before moving on to the next step. I take a cocktail shaker and fill with ice and add in the chilled mango lemonade, but not all the way to the top, I then add in coconut milk.
I use the carton kind this time instead of canned, since it is not as thick. I love using Pacific Foods and So Delicious brands.
This mixture then gets shaken really well then poured into a glass, ice and all. Repeat for each glass of lemonade.
Add a straw and enjoy. I make a large pitcher of this lemonade to have on hand when the craving strikes, or when its super crazy hot out and I need to cool off.
Which is daily here during the Vegas summer. Especially this summer. Triple digits for weeks on end means lots and lot sand lots of drinks on ice. And lots and lots of ice.
You can also make these into popsicles. Strain the shaken mixture without ice into popsicle molds and freeze.
I love mango season in the summertime. We eat them as is, chop up in fruit salads, or for yogurt bowls. I make a lot of smoothies with them too as well as add in to salsas for tacos or salads. Recipe possibilities with mango really are endless.
Here are some other mango recipes you might enjoy to help keep you cool:
Tropical Calamansi Mango Sorbet Bars
Rich and Creamy Mango Ice Cream
A few more notes about this shaken coconut mango lemonade recipe first:
Fresh squeeze your own lemons for this. It makes it so much better. Don't use store bought lemonade it will already have plenty of sugar.
If you do want to make this with store bought lemonade if short on time, (trust me fresh squeezed is better) omit the simple syrup.
The mango puree is thick so I strain it to remove some of the fiber, but it makes the lemonade so good. You could use store bought mango nectar if mangoes aren't in season. Use really ripce mangoes
Pinch of salt. Always to balance the tart and sweet.
Coconut milk. I use unsweetened from the carton. It mixes in much better when shaking the lemonade than canned. I love Pacific Foods and So Delicious.
Pebble ice. I love it. I get bags of ice from

Sonic

. There are ice machines you can get for the home that are either counter top or stand alone but they can get pretty pricey. I love my pebble ice so I go with sonic.
This can be made in much larger batches for a party. Just don't add in the coconut milk until ready to serve.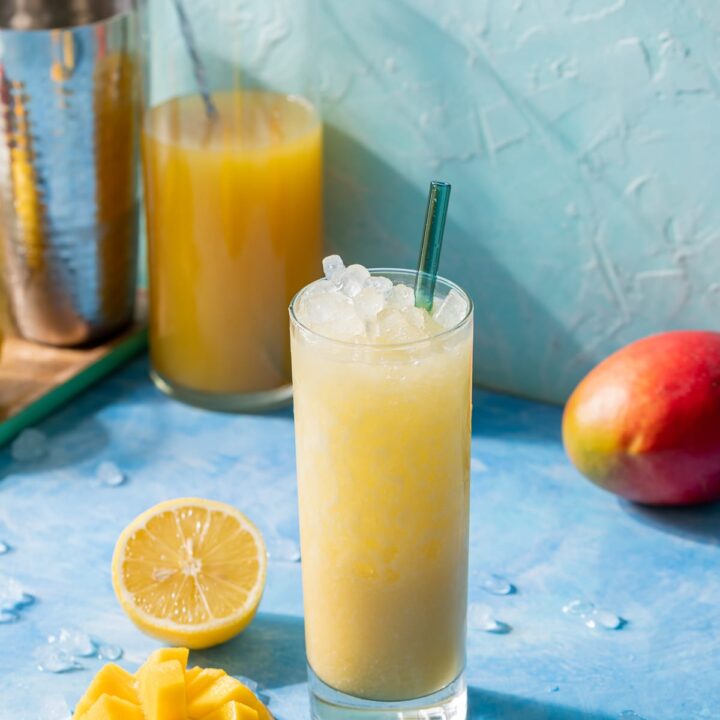 Shaken Coconut Mango Lemonade
Super refreshing coconut mango lemonade made with a few simple ingredients to keep you cool all summer long.
Ingredients
1

cup

lemon juice

from 6-8 lemons (225 ml)

1

cup

mango puree

from 2-3 mangoes (225 ml)

1

cup

simple syrup

1 cup water, 1 cup sugar (225 ml)

Pinch

salt

2

cups

cold water

500 ml

Ice

1

cup

unsweetened coconut milk

from a carton not canned, chilled (225 ml)
Instructions
Squeeze the lemons to make juice, strain if you don't want pulp and add to a pitcher

Peel and cut the mango slices into chunks and blend until smooth, strain then add to the pitcher. 

Make the simple syrup - combine the sugar and water in a sauce pan and heat until the sugar is dissolved then simmer for 5 minutes. Let cool. Add this to the pitcher with the salt and then top with 2 cups cold water. Stir well and chill for at least 30 minutes. 

When ready to serve fill a cocktail shaker with ice and fill two thirds of the way with lemonade (depends on size of your shaker) , add ¼ cup of the coconut milk, shake really well then pour into a tall glass. I do this for each glass of lemonade.

Serve. 
Notes
The servings depend on the size glasses you use. I used highball glasses and got 4 lemonades plus a little extra
The recipe can be multiplied easily for a larger pitcher for a party. Just don't add the coconut milk until ready to serve. 
Hope you enjoy this shaken coconut mango lemonade as much as I do. Please let me know if you make it!