Pineapple Coconut Champagne Cocktail and My Top 10 Recipes of 2013
Cheers! My last post of 2013 is this Pineapple Coconut Champagne Cocktail. The perfect sip to end a fantastic year and start a new one. And at the end of the post is a round up of my top recipes of the year.
Can you believe 2013 is over? I can't. This year has FLOWN by. Scary how fast it has flown by. I think we say this at the end of every year.


At the end of every December I try to come up with a new, fun bubbly cocktail to ring in the New Year. Not every New Year's cocktail I make has bubbles but I do have adding them as an option. I go for Prosecco, but you can go with any champagne or sparkling wine you like.
I of course had to make a pineapple and coconut cocktail for this year's New Year's eve celebration. And it is a simple cocktail, just a few ingredients.
You can't skip out on the flaked coconut rum on the glasses. I love a sparkling sugar rim or something like coconut flakes to add a little more pizazz to cocktails.
Sweet, tropical and bubbly. How everyone should ring in their New Year.
For final post of the year I figured why not something Pineapple and Coconut. Because I am after all, Pineapple and Coconut. I tested this champagne cocktail recipe out a few different ways, one with my pineapple simple syrup and coconut milk, one with the syrup and coconut juice and one with pineapple and coconut juices.
I think my favorite was the one with coconut milk and pineapple simple syrup but, it wasn't really pretty. The milk look curdled ( gross) but it tasted so good!
But for the sake of keeping my last recipe of the year simple..I am sticking with the juices. And I used my favorite bubbly, Macaron Prosecco, which goes perfectly with this cocktail, but feel free to use your favorite champagne if you don't have this available.
A few notes before the very simple pineapple and coconut champagne cocktail recipe:
I used R.W Knudsen

Just Pineapple

and Coconut Nectar juices for these cocktails. I have hear the coconut is harder to find these days (updated 2020)
Lakewood organics also makes a

coconut juice blend

. You want just the coconut juice blend if you can get it.
R.W. Knudsen does make a Pineapple and Coconut juice blend and you could use that in a pinch if you can't find the other ones. It is sweeter so you might want to add just a but more plain pineapple juice or even a splash of lemon juice.
There are some brands that make coconut nectar but these are more often substitutes for pancake syrup NOT a juice blend for a cocktail
There are also brands that make coconut juice but they are more often clear like coconut juice and won't work as well. There are a few Thai brands that make canned coconut juice that are more like a whitish colored nectar that would work.
You could also substitute something like So Delicious sweetened coconut milk beverage. I haven't tried this version so I can't tell you if it is good.
L&A is another brand that has a

pineapple and coconut

juice blend
I wouldn't use Coco Lopez cream of coconut, that would be way too sweet, unless you only use a tablespoon or so, shake it well with pineapple juice in a cocktail shake full of ice, then pour into glasses then fill with prosecco. I should try that to see if that is a great option. If any of you try it, let me know!
"Recipe"
Pineapple Coconut Champagne Cocktail and My Top 10 Recipes of 2013
A delicious champagne cocktail with a tropical twist. A perfect sip for ringing in the new year! Servings depends on how many people you feel like serving these drinks to!
Ingredients
Pineapple Juice

I used R.W Knudsen Just Pineapple Juice Chilled

Coconut Juice

I used R.W Knudsen Coconut Juice Chilled

Champagne or Prosecco well chilled

Simple Syrup

see notes

Unsweetened finely shredded coconut.
Instructions
Pour some simple syrup in a small bowl and the shredded coconut in another small bowl. Dip the top ¼ or so of your champagne glasses in the simple syrup and then in the shredded coconut making sure the rim is well coated. Set aside to dry a little

Fill each champagne glass with 1 ½ ounces of EACH pineapple and coconut juices. Fill the rest of the way with the champagne or Prosecco. Serve immediately.
Notes
Simple Syrup is a 1:1 sugar water ratio syrup. To make combine equal amounts in a sauce pan ( example 1 cup sugar one cup water) and then bring a simmer stirring until all the sugar is dissolved. Chill completely in an air tight container until ready to use.
You can make these ahead of time by combining the pineapple and coconut juices in a large pitcher or punch bowl and keeping chilled until ready to serve
I have in my blog post alternative options for juices to use if you can't find the ones I use
Happy New Years!!!
And now for the the top 10 recipes from this past year:
10. Ritz Carlton Creamy Butternut Squash Soup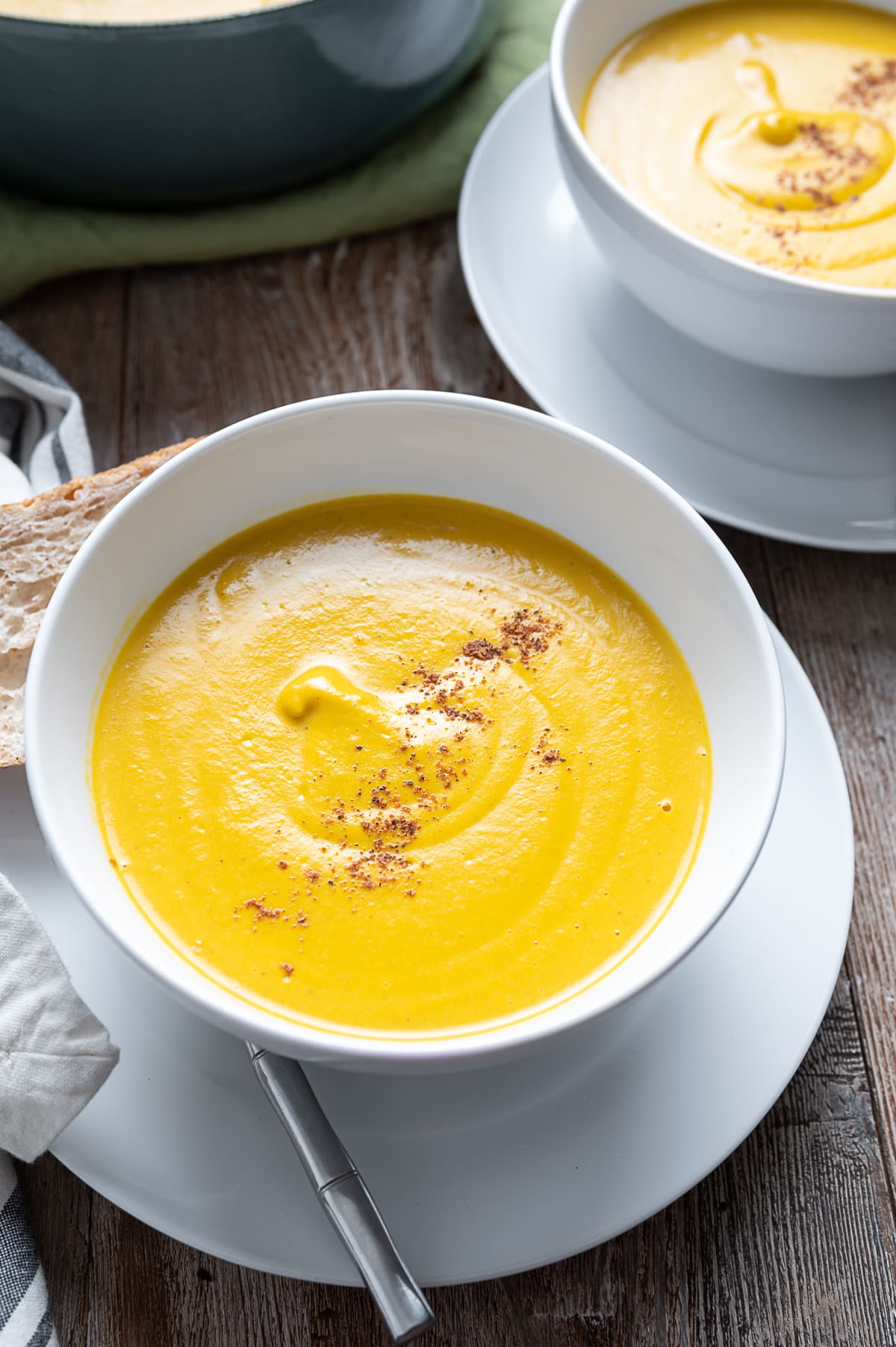 9. White Peach, Basil and Blueberry Mojitos
7. Chocolate Vanilla Tuxedo Cake with Raspberry White Chocolate Buttercream
6. Soft Coconut Peanut Butter Cookies
4. Creamy Maple Bacon Pumpkin Risotto
3. Dark Chocolate Cupcakes with Salted Caramel Buttercream
2. Hawaiian Style Slow Cooker Kalua Pork ( my all time #1 recipe)
And the number one for 2013 IS
1. Vanilla Honey Salted Caramel Popcorn
So there you have it. My top ten are exactly what my blog is all about. A nice mix of healthy eats and sweet treats. I have a lot of amazing recipes planned already for next year. This has been an amazing year for my blog and I thank each and everyone of you that reads my blog, makes my recipes and shares my work with your friends and family. It is beyond amazing to see a hobby turn into something I can make a living at.