Pineapple Coconut Sweet Rolls or as they are also called Pina Colada sweet rolls if you go with the optional addition of rum. YUM
Its May 1st and that means Holiday Food Party!! The "holiday" we are celebrating this time is Mother's Day and of COURSE I made something pineapple and coconut. Pineapple Coconut Sweet Rolls to be exact. Like cinnamon rolls, but tropical because, ON BRAND. ha ha!!
I think this is funny that I made this not super easy recipe for my Mother's Day post for the holiday food party because it didn't go exactly as planned...because my kids kept interrupting, Like all day long. I am amazed I got these done in time.
This post for the Holiday Food Party snuck up on us as fast as May 1st has. Most of us were scrambling at last minute to make and photo our recipes. In fact I was out of town over the weekend and had to get up reaaaallllly early on Monday am to make these. Well, to get the sweet roll dough started at least. I thought I was doing good getting it started before my kids were off to school.
But when you have two kids in am schools that have staggered start times and staggered end times and you end up letting your dough rise for like 4 hours instead of one and a half because you are busy running around getting kids from school you get this super high, extra bubbly yeasty dough. Which looks cool, but ends up making for a thinner sweet roll dough than it should be. But that is ok.
When I have kids saying " mommy mommy mommy mommy mommy" every three minutes what ends up happening is the sweet rolls rise a second time for a lot longer than they should. Then when they bake they don't really rise at all. They are all risen out. What was interesting with all my kid inflicted time delays the sweet roll dough ended up being almost like puff pastry.
Super light and flaky. Not soft and chewy like typical cinnamon rolls are, but a little more crunch. I actually really liked them this way. So maybe my time delays ended up as a baking mistake turned amazing new recipe technique? Not quite an actual laminated dough but similar texture.
I also douse the rolls in enough icing to hide the fact the the sweet rolls aren't giant and puffy. Normally I test a recipe several times before posting, however with my time crunch and the fact that I have made the sweet roll dough before several times ( usually correctly) I went with it. Plus the filling and icing are super easy. And of course top with toasted coconut.
Filled with crushed pineapple that caramelizes in the brown sugar and rum when baking, topped with a coconut cream cheese icing ( with more rum if you want!) and sprinkled with toasted coconut. These pineapple coconut sweet rolls are sure to be a new tropical favorite of the classic cinnamon roll.
Here are all the amazing recipes from the group of us for this Holiday Food Blog Party for Mother's Day. We all made some pretty awesome stuff, like always. Be sure to visit each blog and check out what we all made.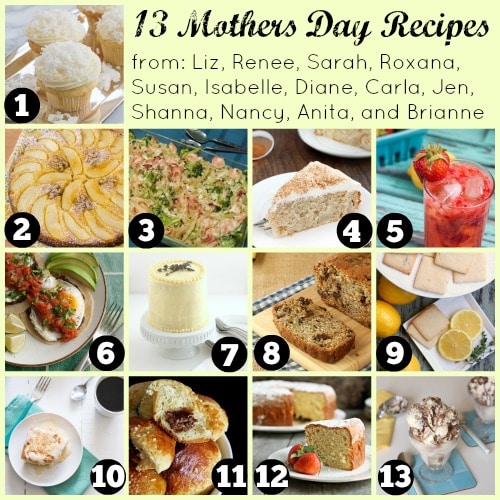 1. Coconut Cupcakes from That Skinny Chick Can Bake
2. German Apple Cake from Magnolia Days
3. Baked Lemon Pasta with Broccoli and Shrimp from What Smells So Good
4. Cinnamon Pear Cake from Roxana's Home Baking
5. Strawberry Whiskey Sour from Girl in the Little Red Kitchen
6. Huevos Rancheros from Crumb Blog
7. Triple Lemon Cake from Created by Diane
8. Banana Chocolate Chip Bread from Chocolate Moosey
9. Lemon Thyme Shortbread from Jen's Favorite Cookies
10. Pineapple Coconut Sweet Rolls from Pineapple and Coconut
11. Caramilk Stuffed No-Knead Brioche from Gotta Get Baked
12. Mom's World Famous Sponge Cake from Hungry Couple NYC
13. Brown Butter Pecan Fudge Ripple No-Churn Ice Cream from Cupcakes and Kale Chips
"Recipe"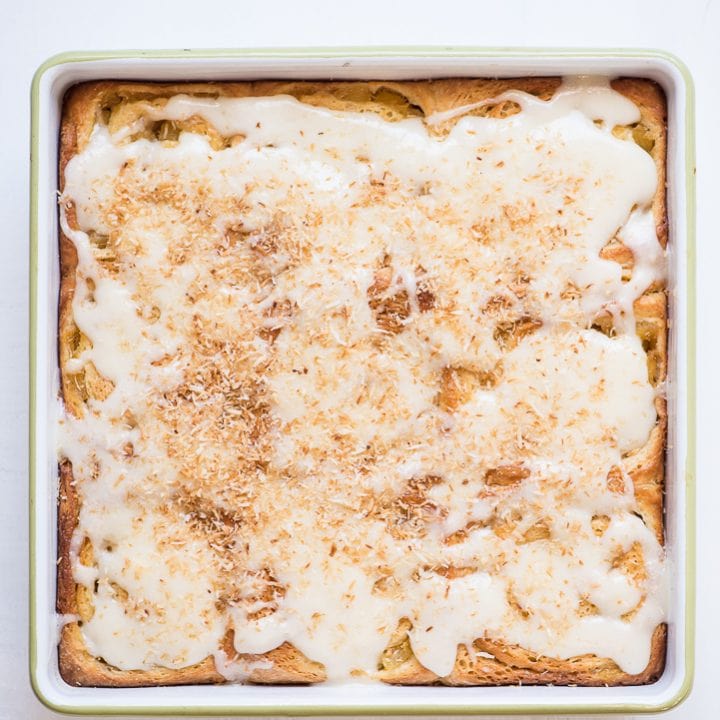 Pineapple Coconut Sweet Rolls
Pineapple Coconut Sweet Rolls. Or Pina Colada sweet rolls if you add rum to them. Perfect tropical sweet treat.
Ingredients
For the Sweet Dough (Adapted from America's Test Kitchen)
¾

C

organic canned full fat coconut milk

heated to 110 degrees F

6

tablespoon

organic melted butter

3

large free range organic eggs

room temp

4 ½

C

organic all purpose flour

divided

¼

c

granulated organic sugar

1

envelope

2 ½ teaspoon rapid rise yeast

¼

teaspoon

salt

½

c

shredded unsweetened coconut
Filling
3

tablespoon

butter

very soft

⅔

c

brown sugar

3

cups

crushed pineapple

drained well

2

tablespoon

rum

light or gold ( optional)
Icing:
4

ounces

butter

room temp

4

ounces

cream cheese

room temp

4

ounces

canned coconut milk

full fat

1

teaspoon

coconut extract

1

tablespoon

rum

light or coconut optional

¼

teaspoon

salt

⅓

cup

shredded coconut

toasted
Instructions
In a medium bowl whisk together the eggs, coconut milk and butter, set aside. Whisk together 4 cups of the flour, sugar, salt and yeast in a stand mixer bowl and then place in stand mixer and attach dough hook.

Start the mixer on low and slowly pour in the egg mixture. Once it is all combined mix for about 8 minutes or until the dough only sticks to the bottom of the mixing bowl. If the dough is super sticky add flour 1 Tablespoon at a time until its not sticky. You don't want to add too much and dry it out.

Transfer dough to very lightly floured surface and shape into a ball. Place in a lightly oiled bowl ( you can grease the bowl with melted butter) and wrap snugly with greased plastic wrap. Cover with a towel and place in a warm draft free area to rise. You want it doubled in size, about 1- 1 ½ hours of rising time.

Once the dough has risen remove from bowl to a lightly floured surface and gently press or roll to a rectangle about 12x16 inches, it doesn't have to be exact. If you want thinner rolls, roll to about 16x20. Spread with melted butter on the dough except for a 1" strip along one of the long edges of the dough. Sprinkle with brown sugar (using more than the ⅔ c amount if desired). Combine crushed pineapple with rum ( if using the rum) and then top with the crushed pineapple mixture. Roll up the dough starting with the long edge covered in filling and finish rolling at the uncovered edge with that edge down. Gently press and shape into an even cylinder. Cut into 18 one and one half inch pieces. Place into one or two baking pans a few inches apart. Cover with greased plastic wrap ( either oiled or buttered) and let rise again for another hour.

Preheat oven to 350 Deg. F. Remove the plastic wrap from the rolls and bake for 25-30 min. Remove from the oven to cool
Make the icing
Using a stand or hand mixer mix together the icing ingredients until well combined. Drizzle over the top of the rolls and sprinkle toasted coconut over the top. Serve warm

Rolls last up to one week refrigerated. Heat slightly before serving.
For a nice change on the usual cinnamon roll, these pineapple coconut sweet rolls are so good and not overly sweet. I know I would be pretty stoked if my family made these sweet rolls for me on Mother's Day but since I don't expect them to work THAT HARD for me ( just for me to have a massive kitchen mess to clean up later) I might make another batch soon and freeze. They can reheat and that is just fine with me.