Decadent Belgian Liège Waffles made into ice cream sundaes with vanilla ice cream and boozy cherry sauce. I love waffles and these are now my new favorite way to eat them!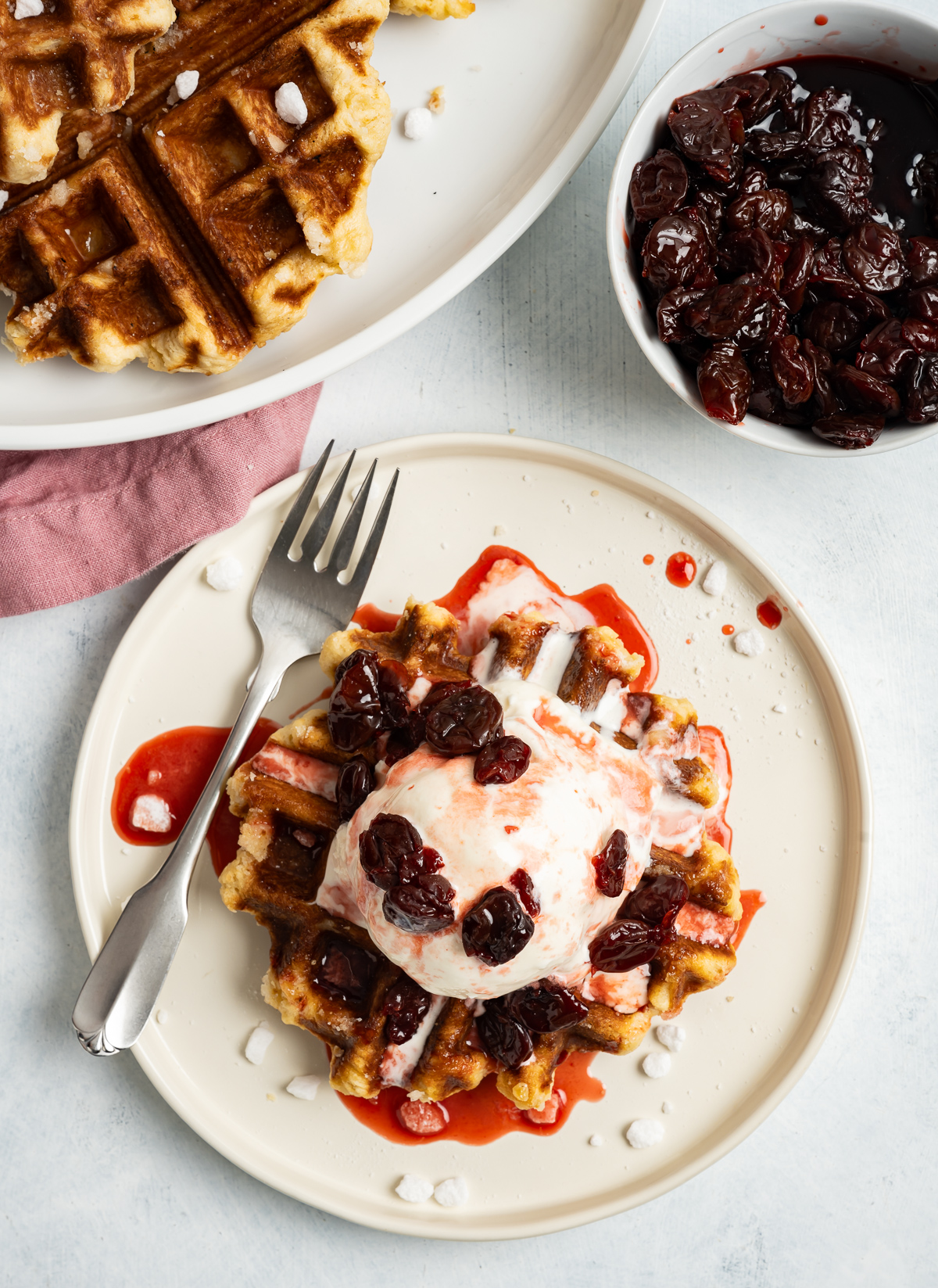 This page contains affiliate links. Affiliate links support Pineapple and Coconut at no additional cost to you. If you choose to make a purchase via these links, I earn a small commission to help keep this blog running and it is much appreciated. I am an Amazon and Adorama affiliate.
Belgian Liège (pronounced Lee-ege with a very soft g sound almost like zh sound) waffles are such a treat, crunchy and soft, melt in your mouth, golden yeasty waffle goodness with flecks of caramelized pearl sugar. They are amazing on their own, extra decadent as a waffle ice cream sundae. And the cherry sauce? Literally the cherry on top.
This was inspired by my gingersnap sundaes and my many waffle recipes. Goes great with a hot cup of coffee and a good book. These would be great for a brunch treat or dessert. Or just whenever you feel like having a sweet, delicious waffle snack.
Jump to:
There are a ton of Liege waffle recipes online, all with slight variations. I decided to make the recipe from my bag of Waffle Pantry's Belgian pearl sugar.
Belgian Liège Waffle Ingredients:
Flour (pastry flour, all purpose flour or half all purpose half bread flour)
Yeast - Instant or active dry - active dry needs to be proofed in warm water or milk, instant does not need proofing
Brown sugar - light
Kosher salt
Milk - whole
Eggs - large
Vanilla extract
Butter - unsalted
See recipe card for amounts
Cherry sauce ingredients
Dried Tart Cherries
Sugar
Water
Vanilla
Kirsch
See recipe card for quantities.
Instructions:
Making the waffles is a little more involved than a traditional Belgian waffle made with baking powder since the dough rests for a while for the yeast to do its magic. You can make these waffles the same day or let rest overnight in the refrigerator for even more yeasted flavor.
Mix together the flour, sugar, yeast and salt in a mixer bowl. I suggest using a stand mixer since you will be using the dough hook to do all the kneading work for you.
I whisk the eggs then add the vanilla and milk and stir that together before adding to the flour mix.
If you are using active dry yeast not instant, sprinkle the yeast over the warm milk to proof it. Then add in the eggs and vanilla.
The dough is quite fluffy and sticky, it will seem like it isn't kneaded enough but then you add in the butter and knead until its a much softer, but still sticky dough.
Have patience with add in the butter in. This step will take a while but it is worth it.
The dough then gets rested until more than doubled in size. I put plastic wrap over the bowl tightly then I cover with a towel.
When more than doubled, add in the Belgian pearl sugar and stir well. Let the dough rest another 15 minutes then they are ready to cook.
Cook the waffles:
I use a food scale to make evenly sized pieces of waffle dough balls. You can make 10 larger waffles like I did here, or 12 slightly smaller ones.
You don't want the waffle iron too hot or else the outside will get way too dark before the middles are cooked. I have a cuisinart Belgian waffle maker and I set it between 2-3 for these waffles.
Make Belgian Liège waffle sundaes: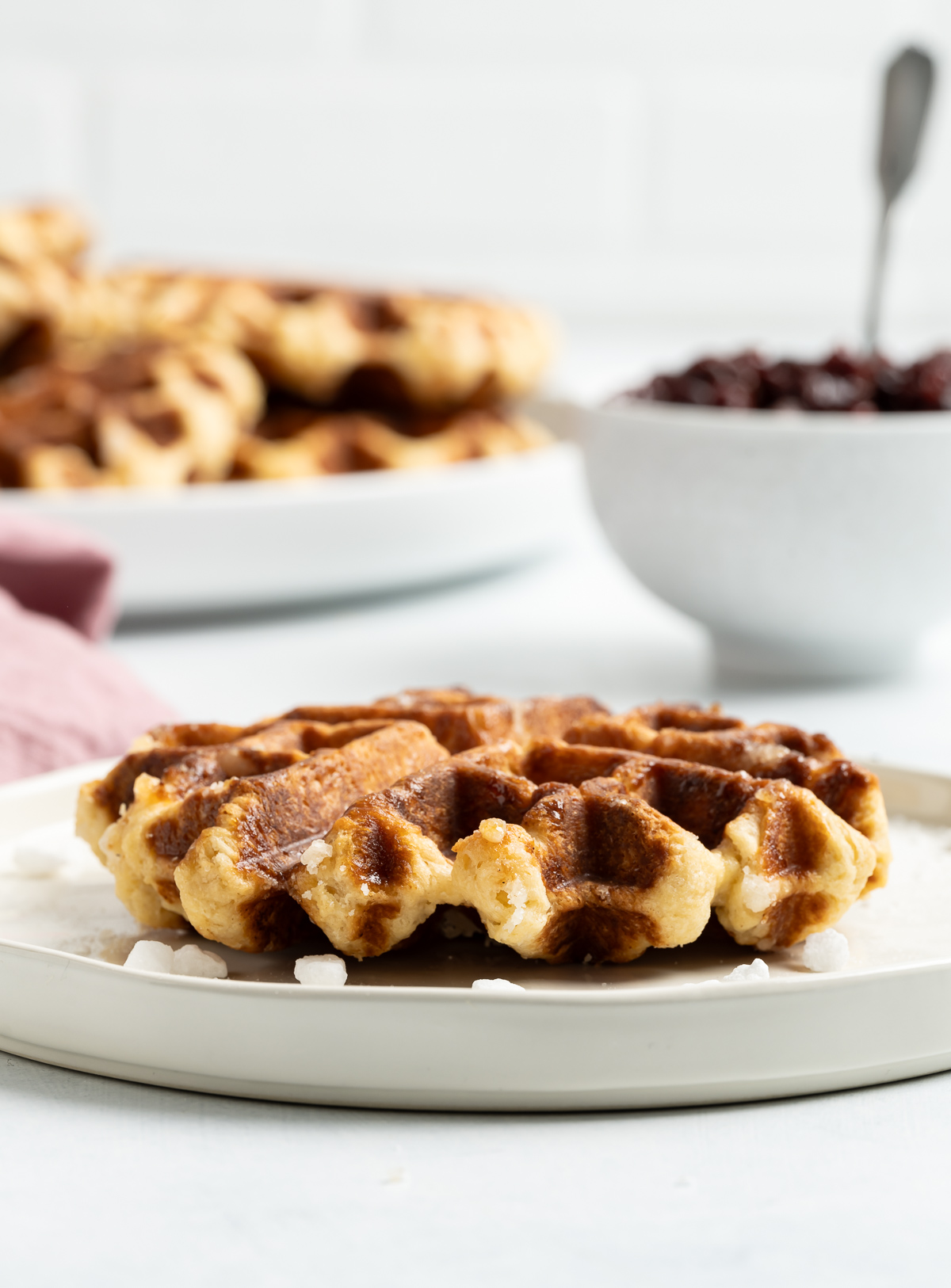 To make into a sundae, I place one waffle on a plate or bowl.
Top with vanilla ice cream
Spoon cherry sauce over the top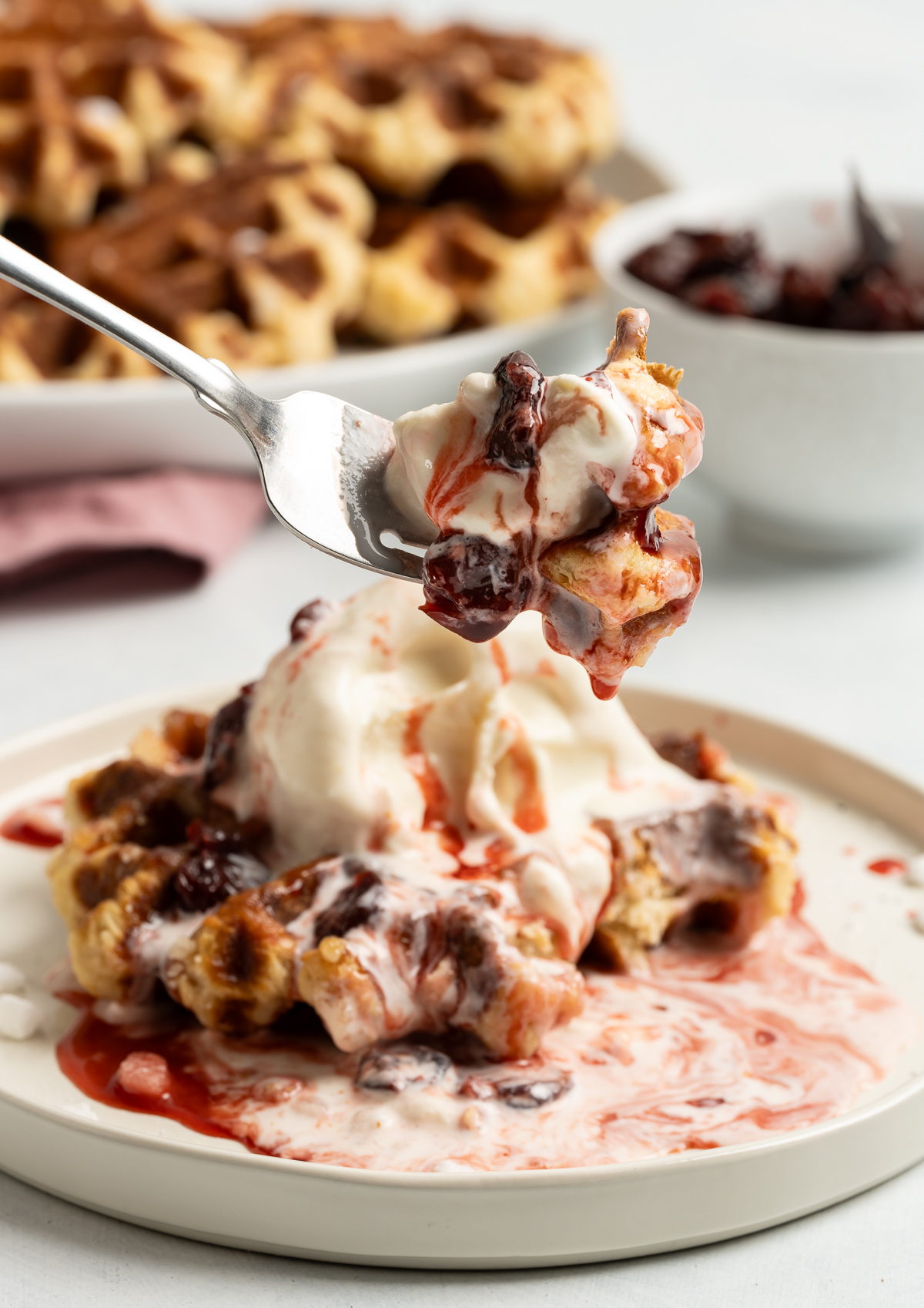 Eat and enjoy!
Hint: You can serve with either warm or cool cherry sauce. I went with cool since I didn't want my ice cream to melt too fast.
Equipment
Equipment can have a big impact on how a recipe turns out. Stone bakeware takes longer to heat up than metal pans, and also retain heat for longer, which could make the recipe more watery, or burnt on the outsides.
Tell your visitors what equipment you use and how to adjust the recipe if they use something different, and link to your affiliate link to purchase the equipment.
Storage
Once all the waffles are made, you can keep warm in an oven to keep crisp if serving right away. If not they store well in an airtight container for a few days. They will get softer but easily crisp back up in a toaster or oven.
What is a Liège waffle?
A liège waffle is a type of Belgian waffle that is smaller, think made at street vendors to be eaten handheld. They are much sweeter with the addition of the pear sugar and a bit crispier. I say they are a cross between a glazed donut and a crispy Belgian waffle.
More waffle recipes:
Looking for other recipes like this? Try these:
Belgian Liège waffles recipe:
Belgian Liege Waffles with Cherry Sauce
Makes 10-12 waffles, 1 cup of cherry sauce
Ingredients
For the waffles:

500

g

flour,

pastry flour preferred, can also do all all purpose or half all purpose, half bread flour

75

g

light brown sugar

7

g

instant or active dry yeast

½

teaspoon

kosher salt

2

large eggs

200

g

milk,

lukewarm

1

Tablespoon

vanilla extract

300

g

butter, unsalted,

very soft cut into cubes

225

g

Belgian pearl sugar

Additional butter for brushing on waffle iron

Cherry sauce:

60

g

sugar

120

water

300

g

dried cherries

2

teaspoons

vanilla extract

1

tablespoon

Kirsch

Vanilla ice cream

Equipment needed:

Stand mixer with dough hook

Large bowl

Belgian or deep waffle iron

Brush for butter
Instructions
For the waffles:

In a stand mixer bowl, whisk together the flour, brown sugar, instant yeast and salt. If using active dry yeast, mix it with the lukewarm milk to proof for 5 minutes. Instant yeast doesn't need proofing.

Place the mixing bowl on the mixer and attach the dough hook. Start the mixer. Whisk together the eggs, milk, vanilla. Add this to the flour mixture while the mixer is on low. Stopping every now and then to scrape down the sides of the bowl. Mix until the dough is a cohesive ball. Add in the butter, and mix again until all the butter is fully incorporated. This will take a bit for the butter to be completely mixed in. The dough will be soft but a little sticky.

Remove the bowl from the stand mixer, as well as remove the dough hook, cover the mixing bowl with plastic wrap placed tightly over the top and then a towel. Set aside to rise, 3-4 hours until more than doubled in side.

For the cherry sauce:

While the dough is resting make the cherry sauce.

Bring the water and sugar to a simmer, stirring until the sugar is dissolved. Add in the dried cherries and let simmer for 10 minutes. Turn off the heat and let the cherries soak for 10 minutes. Strain the cherries out leaving the liquid in the pan. Add in the vanilla and bring the sauce to a boil for another 5-7 minutes to thicken to a syrup. Add the cherries and the kirsch then turn off the heat to cool. Transfer to an airtight container and cool in the refrigerator a couple hours until cooled and thickened. Can be reheated to serve warm.

Once the dough has doubled, gently deflate the dough then add the pearl sugar. Mix in the sugar. Let the dough rest another 15 minutes. This can be done in the bowl then divided into dough balls or shape the dough balls first then rest for 15 minutes. Either way works.

Preheat your waffle iron. I like the setting to be between 2-3 for these waffles.

Brush melted butter in the middle of the iron if using a round Belgian waffle iron or two squares if using a square Belgian waffle iron

Place one of the balls in the middle on top of the melted butter and cook until the waffle iron beeps. Check to see if its a beginning to be a deep golden brown. Once done, transfer to a wire cooling rack and repeat with the remaining dough balls.

Place one waffle in a bowl or plate, top with a scoop of ice cream and a few spoonfuls of the cherry sauce for a liege waffle sundae.

These waffles are best served warm. They easily reheat in a toaster or toaster oven.
To do:
Before publishing, complete this checklist, deleting the list items as you complete them:
All images have alt tags
Content is on-topic (minimal or no personal stories)
You've manually linked to related posts in the content (try to do this naturally, not as a separate list of links)
The "related" recipe block is has a category or primary ingredient set
The "pairing" section has recipes to be paired with this
"Food safety" section has irrelevant information removed
Yoast meta description filled out (best practice)
The Yoast primary category has been set
Featured image has been set (1200x1200, JPG)
Hidden pin has been set
Check your recipe schema has been fully filled out at https://search.google.com/test/rich-results (after publishing)
Check https://developers.google.com/speed/pagespeed/insights/ to make sure this recipe has enough content above-the-fold to cause images to lazyload (after publishing)
Clarify any intermediate or advanced cooking techniques - not everybody has your experience and knows how to mash garlic, mince onions, or dice potatoes