Mushroom wild rice with shallot thyme butter is hearty, delicious and very easy to make. This nutty, earthy mushroom wild rice is excellent on its own or as a side dish to a variety of proteins. I love it with chicken or salmon. This rice would also be a great side dish to any holiday meal.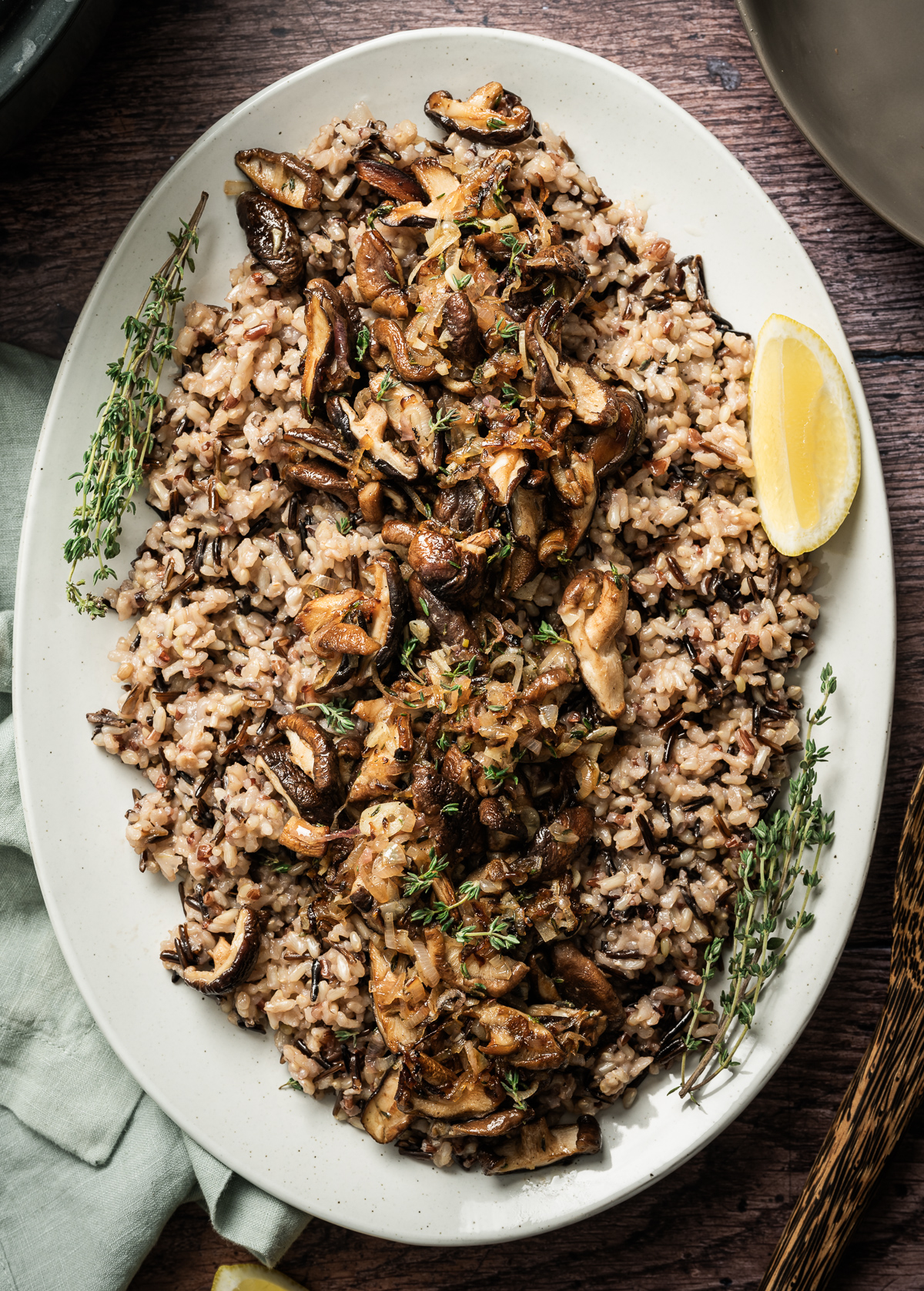 Recipe context:
When I was in Cordova, AK for Salmon Camp with Copper River Salmon, one of the evenings the four of us on the trip got to collaborate on a menu to feed 15 local fishermen and women. We were generously gifted two gorgeous Coho salmon fillets from one of the fisherwomen who was joining us for dinner. We went to the local grocery store to get the rest of the ingredients for the meal. We all helped each other prep as well as cook our own contributions to the meal.
Christa from Copper River Salmon, handed us a bag of freshly foraged hedgehog mushrooms and I thought a wild rice with foraged mushrooms would be an excellent side dish to the salmon.
Ari Laing from Well Seasoned Studio made the most delicious roast salmon with a tangy chimichurri. She also made a roasted Brussels sprout salad. Mariah Scott ( chef instructor, Next Level Chef) made an incredible blackened salmon Alaskan "gumbo" and Lisa Bryan of Downshiftology made her signature chocolate pots de creme for dessert. The meal was incredible - we even patted ourselves on the back for a group project done very well.
Jump to:
Mushroom wild rice ingredients:
This is a relatively simple recipe with just a few ingredients but it is packed full of flavor and makes for excellent leftovers as well.
Wild rice blend - I used Lundberg when we were in Cordova and used it again for this post. Any wild rice blend brand will work
Yellow onion
Broth - chicken or vegetable
Kosher Salt, pepper
Mushrooms - we had foraged Hedgehog mushrooms in Cordova, which are similar to chanterelle. Chanterelle can be harder to find and on the more expensive side, so I used fresh Shiitake mushrooms. If you have access to hedgehog or chanterelle, use those. If not shiitakes are an excellent substitute
Shallots
Olive oil
Butter
Garlic
Fresh Thyme
Lemons
See recipe card for quantities.
What is wild rice?
Wild rice is a water grown grass seed. Rice is grown in water, cultivated or farmed rice is grown in paddys, while truly wild rice is known as lake rice. Wild rice isn't a true rice but an aquatic grass seed part of a family called Zizania. There are cultivated wild rices and 100% wild rice which is much harder to grow.
Wild rice is lower in calories and higher in protein than brown rice. Most often wild rice blends are a combination of various rices and the wild rice seeds. The Lundberg wild rice blend I use is a combination of long grain brown rice, sweet brown rice, wild rice, Wehani red rice and black rice.
Step by step instructions:
Usually rice is rinsed and soaked before steaming or cooking stovetop - depending on the rice. Arborio or Carnaroli for risotto is not rinsed since the starch is needed for the texture of the dish. Wild rice doesn't need to be soaked, but I always give it a quick rinse under cold water to get rid of any excess starch or impurities.
Weigh out your rice. Lundberg suggest 45 g dry per serving. Rinse and let drain.
Heat oil in a heavy bottomed pan (love my Le Creuset braiser) and saute the onion, garlic, salt and pepper.
Wild rice does take longer than white rice to cook so prepare for that. This takes me about 45 minutes to cook.
Add in the rinsed rice and stir.
Add in the stock, stir, bring a boil then simmer until the rice is done. Wild rice will have more "bite" or be more al dente than traditional white rices.
Make the mushrooms: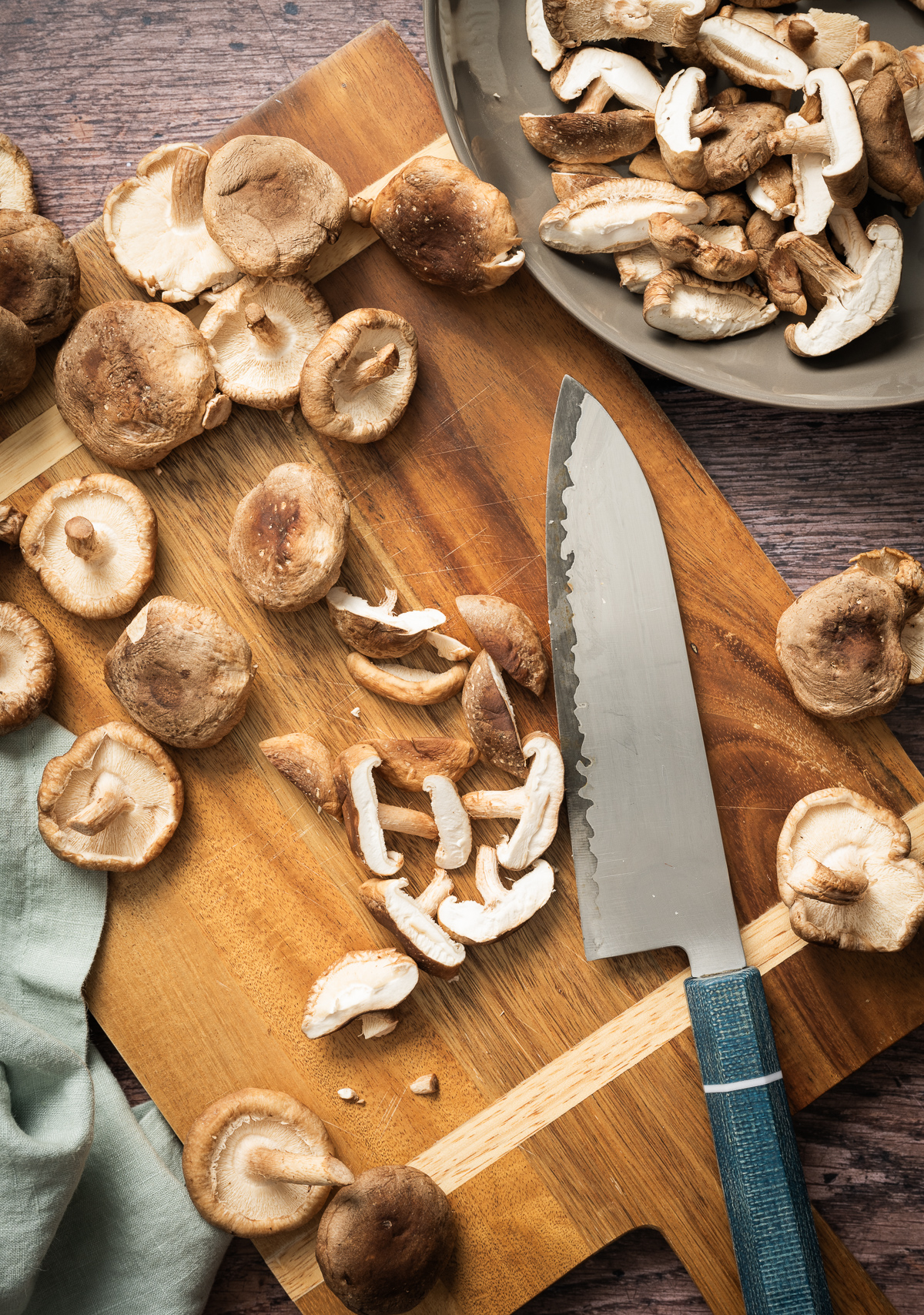 While the rice is cooking prepare the mushrooms.
Finely slice the shallots. This ensures a nice even cook when caramelizing.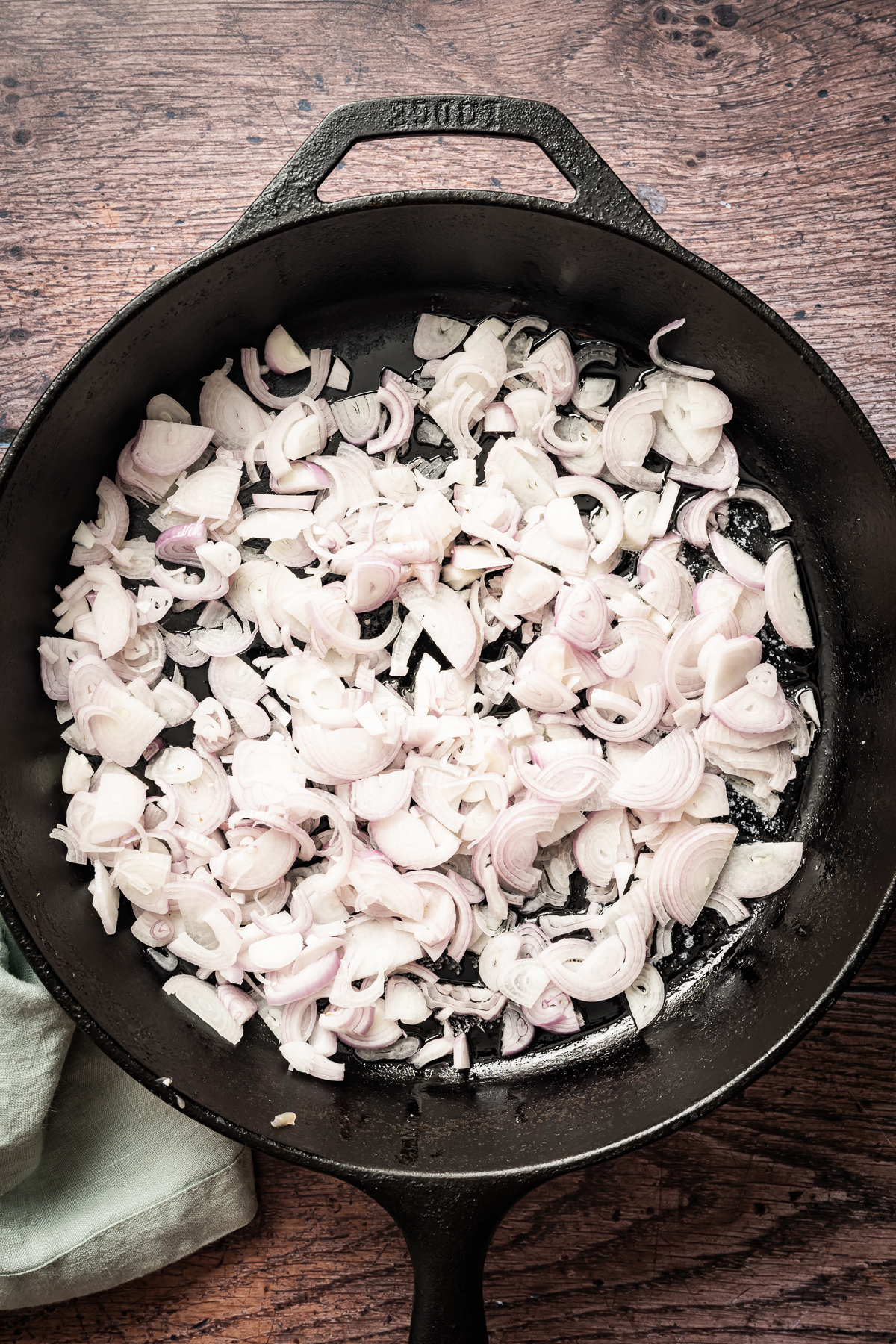 I love using a cast iron pan. Heat up some oil and add the shallots.
Cook low and slow to caramelize the shallots, stirring often. Remove from the pan and set aside.
Add sliced mushrooms to the pan in an even layer. You might have to do this in two batches depending on how many mushrooms you use.
Once the musrooms are caramelized, remove from pan and set aside.
Make the butter sauce:
Add butter to the pan and melt.
Add in the sliced garlic and stir until fragrant, no more than a minute.
Add in the fresh thyme and stir. Add in the lemon zest and lemon juice. Stir.
Once the thyme is fragrant add the caramelized shallots back in with a little more butter.
Finish the mushrooms:
Finally add the mushrooms back in and season with salt and pepper. Taste and season more if you like with salt, pepper and lemon juice. Add in some of the broth and butter if you want a saucier sauce.
Hint: I don't wipe down the pan after each item is cooked then removed such as the shallots and mushrooms, it just adds to the final flavor of the dish.
Finish the dish:
Serve the rice on a platter with the mushrooms spooned down the middle of the rice. Add more fresh time and squeezes of lemon juice.
Equipment:
I always cook wild rice in a heavy bottomed pot or pan such as a cast iron or cast iron enamel dutch oven or braiser. It ensures a nice even cook for the rice since wild rice takes longer to cook than white rice.
Cast iron pan - I love cooking mushrooms in a cast iron pan so this is my go-to. You could use a stainless pan instead if you don't have cast iron.
Storage:
Store the mushroom wild rice in an airtight container up to a week. You can reheat it in a saucepan, microwave or oven. Keep in mind the microwave may make the mushrooms have a more rubbery texture.
Rice doesn't stand up well to freezing then reheating.
Top tip:
I love using salted butter when I make dishes like these. Use less kosher salt if using salted butter.
Pairing:
This mushroom wild rice goes well with proteins such as chicken or salmon.
"Recipe"
Mushroom Wild Rice with Caramelized Shallot Thyme Butter Recipe
A hearty, nutty, wild rice with sautéed mushrooms in a caramelized shallot thyme butter. Easy to make, full of flavor. Goes great as a side dish to chicken or salmon. Serves 8-12 people depending on serving size.
Ingredients
2

tablespoon

high heat oil,

avocado, sunflower, divided

150

g

onion,

peeled and finely diced (yellow or white) (1 medium)

1

teaspoon

Kosher salt

½

teaspoon

ground black pepper

360

g

Lundberg wild rice blend,

or other wild rice blend (2 cups)

828

ml

Chicken or vegetable broth,

could also do half broth half water (3.5 cups)

200

g

shallots,

peeled, quartered and thinly sliced (5-6 shallots)

454

g

Shiitake mushrooms,

use Hedgehog or Chanterelles if available, sliced (1 pound)

113

g

butter,

salted or unsalted (1 stick) (use less kosher salt if using salted butter)

3-4

large garlic cloves,

peeled and thinly sliced

3

tablespoons

fresh thyme,

chopped, divided

2

teaspoons

lemon zest

2-3

tablespoons

lemon juice

1

teaspoon

Kosher salt

(use half if using salted butter)

½

teaspoon

ground black pepper

Lemon slices for garnish

Optional:

50

g

butter

100

ml

broth
Instructions
Rinse the rice under cold water for one minute and let drain.

Bring a large heavy bottomed pan ( such as cast iron or cast iron enamel brasier or dutch oven that has a lid)

Add in one tablespoon of the oil and add the diced onions. Stir until softened, about 5 minutes.

Add in the salt and ground black pepper then the rice. Stir then add in the broth. Bring to a boil then lower to a simmer. Place the lid on the pan and cook for 40-45 minutes. Once done turn off the heat but leave the lid on. Place the pot on a cool surface such as a burner that isn't hot. Let steam for 10 minutes. Fluff the rice with a rice paddle or fork.

While the rice is cooking prepare the mushrooms, shallots and the rest of the sauce.

Heat the remaining oil in a cast iron or large sauce pan and add the shallots. Cook on medium low, stirring often until golden brown and caramelized. About 10 minutes. Remove the shallots from the pan and set aside.

Add the mushrooms to the pan and cook in an even layer until soft and starting to caramelize. About 5-7 minutes. This may need to be done in two batches depending on how large your skillet is. Remove the mushrooms to a bowl when they are all cooked.

With the pan still on, turn heat to medium high and melt the butter. Add the sliced garlic and stir until fragrant. Add in two tablespoons of the chopped fresh thyme and stir. Then add in some salt, pepper, lemon zest and lemon juice and stir again.

Once the thyme is fragrant, about a minute after adding it in, add the shallots back in and stir then the mushrooms. Taste and season with more salt, pepper and lemon juice if you like. If you want a saucier sauce add in the optional butter and broth and cook for another minute or two.

Scoop the rice out of the pot into a large shallow serving platter or bowl and spoon the mushrooms and sauce over the top any way you like. Garnish with the remaining fresh thyme and more lemon slices. Serve immediately
Notes
his rice will keep well up to a week in an airtight container well refrigerated. Reheat either in a pan, oven or microwave. Keep in mind microwaving the mushrooms may result in an rubbery texture to the mushrooms if overcooked.