This amazing cocktail, the Very Pink Raspberry Cosmopolitan, I made in honor of my friend Barb's daughter, who was diagnosed with breast cancer at a very young age, but fought it and won and is thriving cancer free now! I made this cocktail originally for a guest post on Very Culinary.
(update 2022 - I have added the recipe to this post as well. I have had some not so very nice requests for it unfortunately. This is an old post and I hadn't gotten around to updating it yet. There has always been a link to the recipe on Very Culinary that people seem to be unable to click to and would rather leave mean comments instead. So to keep from getting anymore nasty emails calling me names, the recipe is at the bottom of this post).
The cosmopolitan the first  drink I had when I turned 21. My late best friend, Kristin, took me out on the town to see her boyfriend at the bar he bartended at to buy me my first cocktail. Kristin wanted to get me a drink that was sophisticated, so a raspberry cosmopolitan it was. I loved it.
I am not much of a drinker, but I do love making fancy cocktails for my blog to share with you all and I figured I should have this on my site in honor of my first ever fancy cocktail.
Ingredients for this raspberry cosmopolitan:
Frozen raspberries - for the homemade juice
Raspberry liqeuer
high quality vodka - Ketel one, Grey goose etc
lime
Simple syrup (see recipe notes)
Pink sugar crystals ( can be found in any cake decorating section of stores such as Joann's or Michaels or online).
Fresh raspberries for garnish
How to make this cosmpolitan:
First make the raspberry juice from frozen raspberries. You can make this ahead of time, up to a few days, so it is chilled and ready to go.
Make simple syrup
Dip the rims of the martini glasses in simple syrup then the pink crystal sugar to get them to stick to the glasses
Add the cocktail ingredients to a shaker.
Shake it up
Pour in glasses
Garnish with rasperries
I originally made this recipe for my friend Barb of Creative Culinary. Barb is known for her fabulous cocktails on her blog, such as Pumpkin Pie Martini,  Mexican Hot Chocolate with Tequila and Cayenne and this Blood Orange Margarita.   And so many more. I love seeing the fabulous cocktails she comes up with. We got to talking about her daughter and she mentioned making pink cocktails in her honor, since pink is the color of breast cancer awareness.
I was beyond honored to make this cocktail for Barb and her daughter Lauren. So to see the rest of the story behind this drink and to get the recipe head on over to Creative Culinary. (Or scroll down for the recipe as well).

Very Pink Raspberry Cosmopolitan Cocktail Recipe:
"Recipe"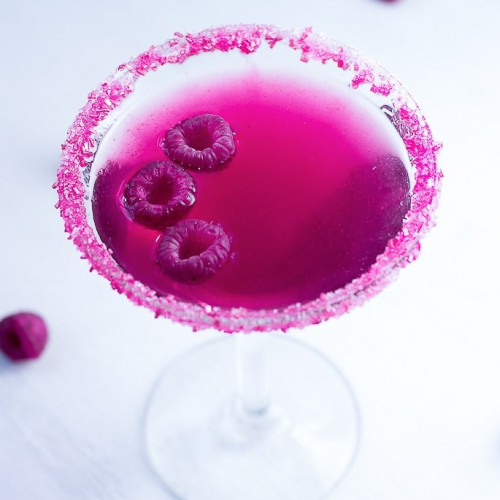 Very Pink Raspberry Cosmopolitan Cocktail
A very pink raspberry cosmopolitan made with homemade raspberry juice and a sparkly pink sugar rim.
Ingredients
For the Cocktail:
2

ounces

Raspberry juice

2

ounces

Raspberry Liqueur

4

oz

good quality vodka Ketel one

Grey Goose

Juice from ½ lime

1

ounce

simple syrup

see notes

Pink sugar crystals

Fresh raspberries for garnish
Instructions
To make the raspberry juice:
Combine 2 cups of frozen raspberries and 1 ½ cups of water and bring to a simmer, mashing the berries against the sides of the pain to release their juices. About 15 minutes. Strain into a cup or bowl scraping the seeds with a spatula along the bottom of the strainer to extract all the juice.Chill before using - about an hour. ( This can be made a day ahead of time).
To make the Cocktails:
Fill two standard size martini glasses with ice and water to chill.

In a shaker combine the Raspberry Juice, raspberry liqueur, vodka and lime juice over ice and shake a few times until ice cold.

Pour out the ice water from the martini glasses and dip the rims of the glasses in simple syrup then into pink sugar crystals. Divide the mixture between the two glasses and garnish with raspberries.
Notes
Bring equal parts water and granulated sugar in a saucepan to a boil and make sure all the sugar is dissolved, let cool. 1 cup water: 1 cup sugar or whatever amount you like. You only need a little bit for this recipe but it is always good to have simple syrup on hand for other recipes.