Salted Caramel Slow Cooker Apple Butter. Everyone needs a good homemade apple butter recipe when apple season rolls around. This one is mine.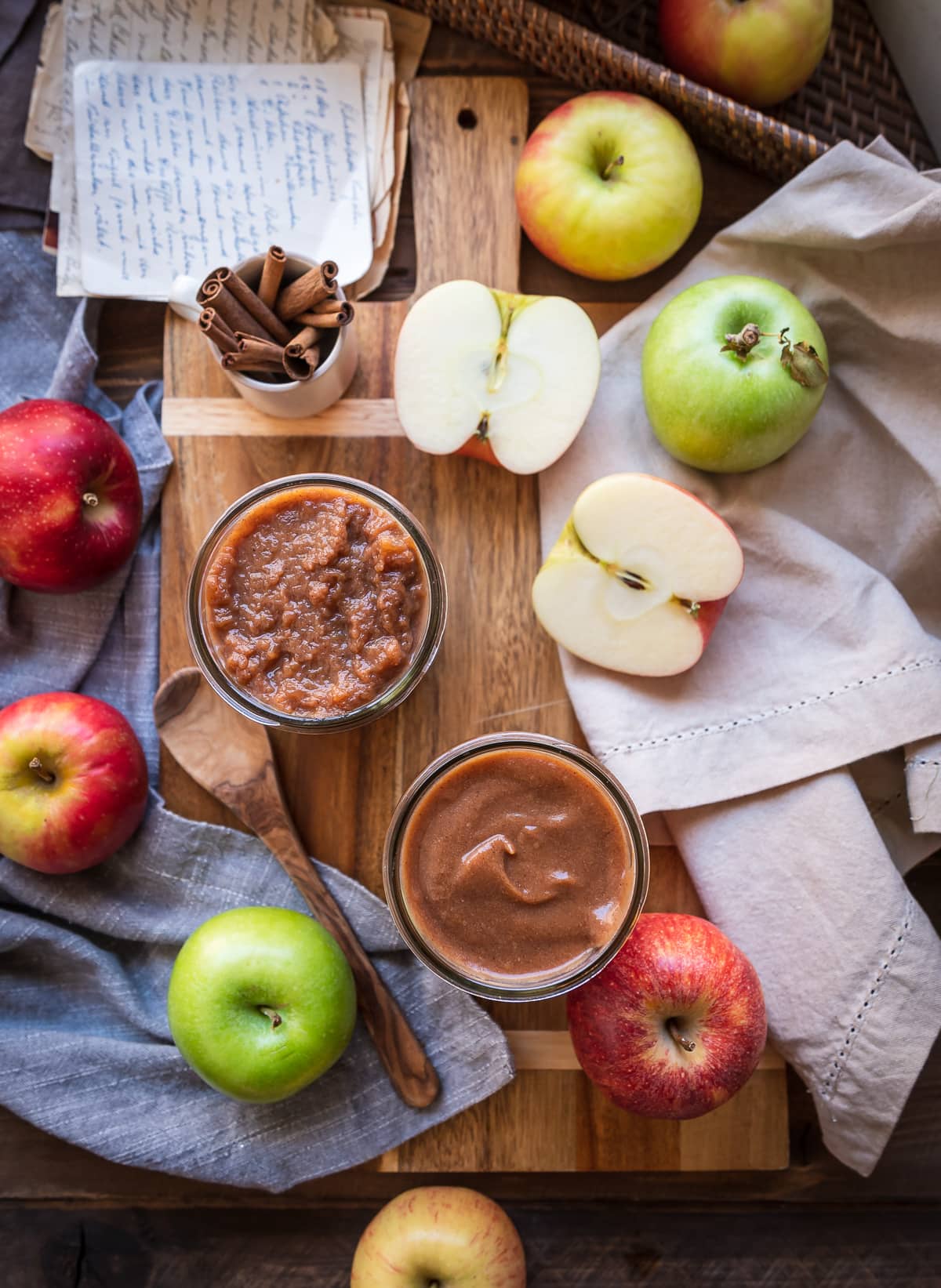 This page contains affiliate links. Affiliate links support Pineapple and Coconut at no additional cost to you. If you choose to make a purchase via these links, I earn a small commission to help keep this blog running and it is much appreciated. I am an Amazon and Adorama affiliate.
Apple butter is a popular recipe during apple season and the cooler, fall months. Easy to make and makes your house smell incredible.
You can make apple butter many different ways, the most common is a slow cooker apple butter since it takes a few hours to make. Might as well let the slow cooker do the bulk of the work.
A sort of set it and forget it recipe. One that smells absolutely incredible while cooking.
Jump to: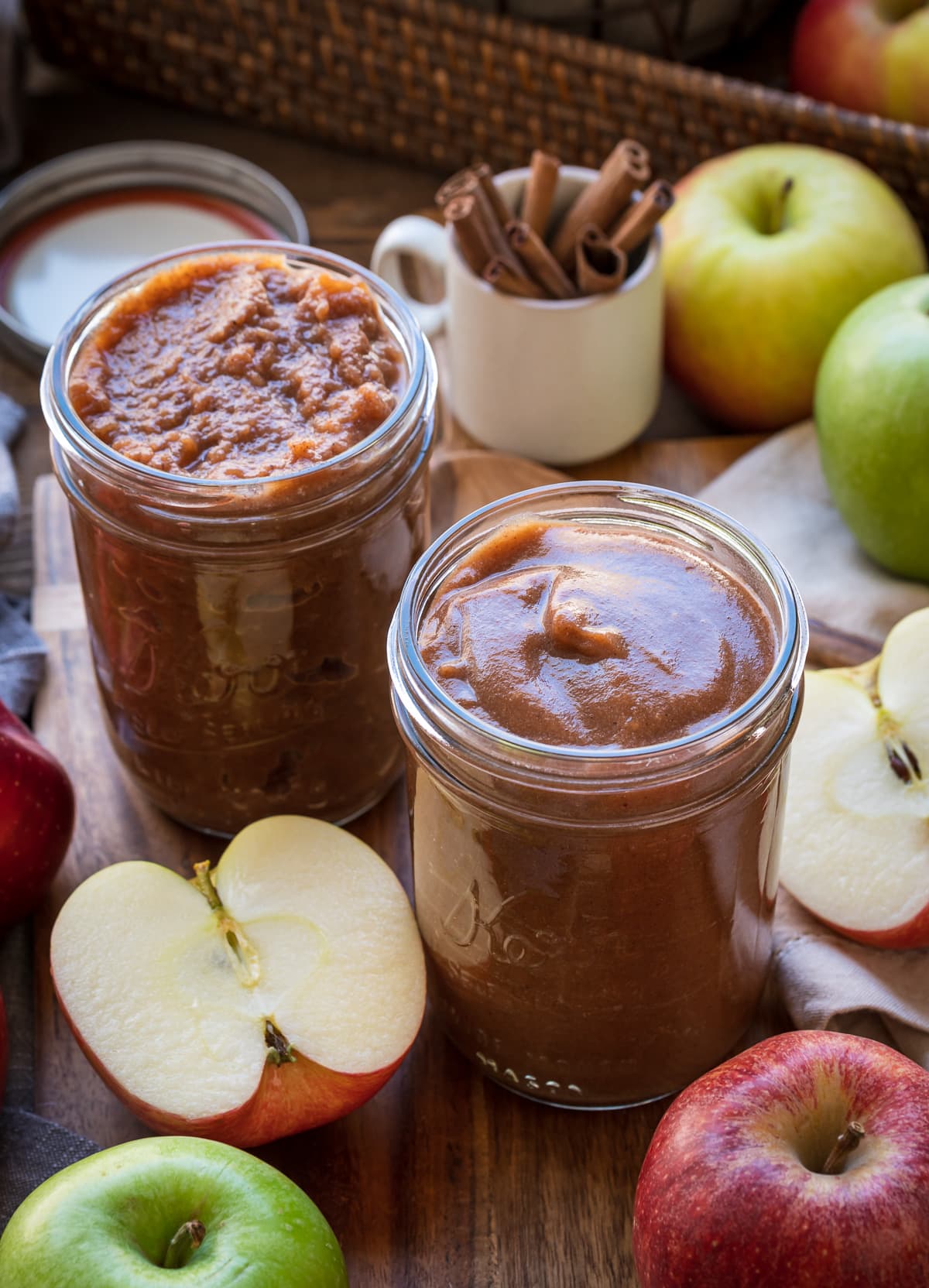 I make my slow cooker apple butter with a twist. I add the spices before cooking and then I stir in a quick homemade salted caramel sauce towards the end. I also blend half the recipe for a super smooth apple butter and keep the other half a little chunkier. Both textures are amazing.
What is apple butter? Is there butter in it?
Apple butter is made of apples slow cooked until concentrated and thick. Spreadable like a very thick applesauce.
There is no actual butter in apple butter, it just has a thicker consistency to it so it spreads with a nice thick layer rather than a thin sauce.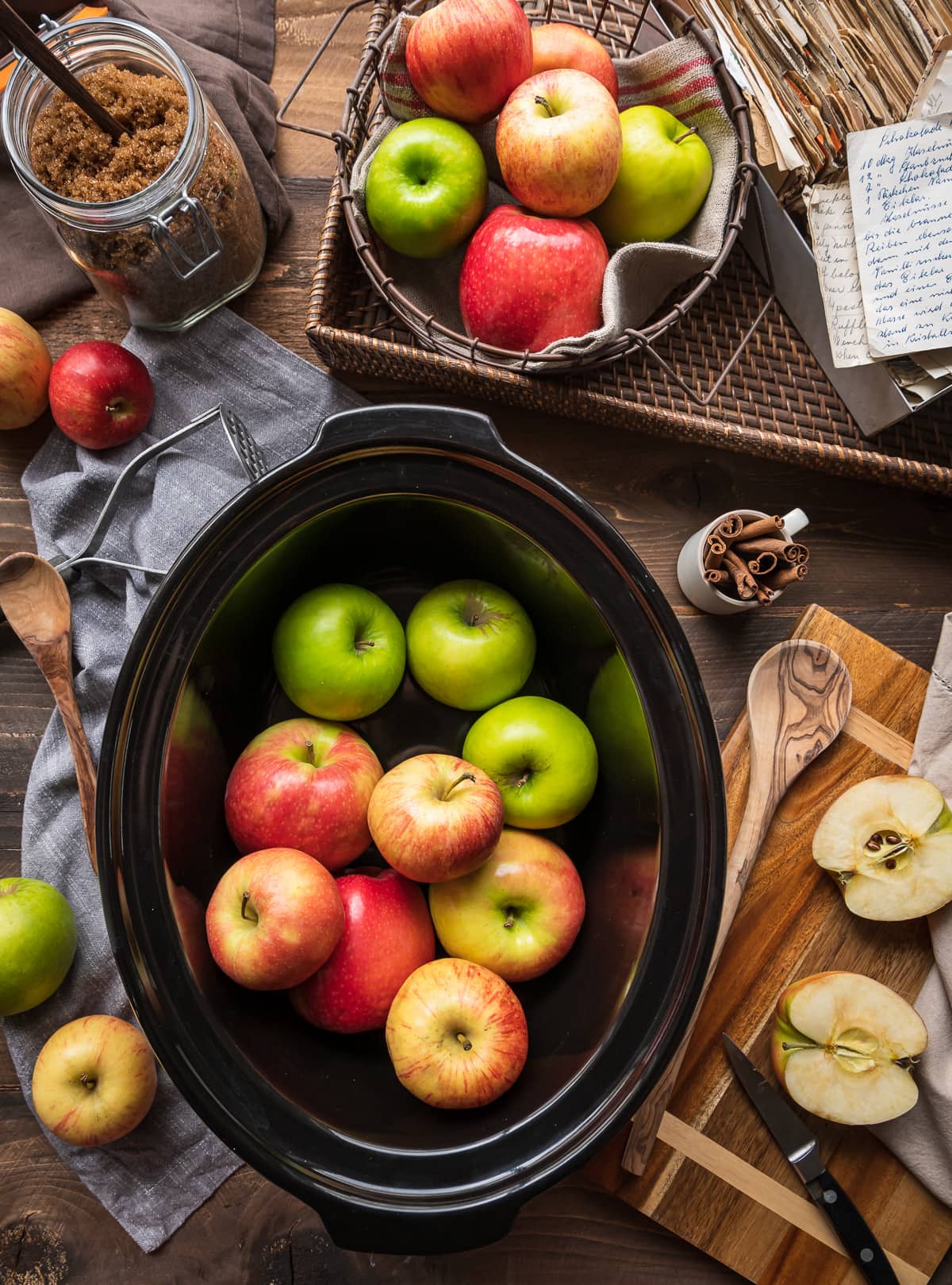 What kind of apples are used for apple butter?
You can use any apples for apple butter, I like to use a variety. Here I used Granny Smith, Honeycrisp, Pink Lady and Gala. I weight them out before peeling and coring then weigh again to see if I need to peel one or two more. Sometimes 5-6 pounds of apples can end up around 4 pounds depending on how you cut the cores out as well as peeling.
This recipe calls for 5 pounds of apples ( pre-peeling/coring) to make 6 cups of apple butter. Depending on the size of your apples you can get 2-3 apples per pound.
You also don't have to peel or remove the core of the apples if you don't want to and are planning on making the entire batch of apple butter super smooth. You can process it through a food mill, chinois or high powered blender. Leaving the peels on can give a more "appley" flavor and add more color. Up to you entirely.
What ingredients are in slow cooker apple butter?
Apples - any kind you like to use
Lemon Juice - to keep the apples from browning and adds some acidity
Brown Sugar - you can use white or brown or both. I like the molasses notes from the brown sugar
Spices -

apple pie spice

or you can make your own apple pie spice blend with cinnamon, ginger, all spice, nutmeg, cardamom and clove. See notes for amounts.
Apple

Cider

- I use unfiltered apple cider. Some recipes call for water but to me water doesn't enhance the flavor at all.
Apple Cider Vinegar - just a little but to add a tanginess and help break down the apples.
Once all the apples are prepared I add them to my slow cooker and sprinkle in the sugar and seasonings and stir well then add the apple cider and apple cider vinegar. Then I set in on high to get it bubbling then on low and check on it every few hours, give it a stir, check for consistency.
I leave the lid of the slow cooker slightly ajar to let steam escape to help the apple butter concentrate and thicken.
I like to start slow cooker apple butter in the evening so the next morning it is ready to be finished with the salted caramel sauce.
This is after about 8 hours of slow cooking on low after the initial few hours on high. Apples are broken down and have a turned a nice amber color, but still some thinner liquid is left. The difference between apple sauce and apple butter is that apple butter is cooked longer to become much thicker.
You can have apple butter at any consistency you like, but it should be thicker than applesauce. This is why when it looks like this here, I keep cooking a few more hours. Once it is a lot closer to the consistency that I like. I make the salted caramel sauce.
Since I am making a small amount of salted caramel sauce for the apple butter, I don't worry about using a candy thermometer. I just time it. I melt the butter with brown sugar and some maple syrup, and once the butter is melted and the sugar is dissolved I bring to a boil for 4 minutes until very foamy and bubbly.
Then I remove the pan from the heat, transfer to a cool burner or trivet, I add in the heavy cream and salt and stir then add back to the heat until bubbling again, only one more minute. Next, I pour the salted caramel sauce straight from the saucepan into the apple butter in the slow cooker.
A note about canning:
If you are planning on preserving the apple butter do not add in the caramel sauce unless you do so without the heavy cream and butter. You can always add in the caramel sauce later after you open the jar of apple butter and keep it in your refrigerator. Dairy products cannot be canned or preserved.
The slow cooker apple butter is now at a nice, thick consistency and after the caramel sauce is stirred in it is ready to be pureed via a food-mill or blender and transferred to jars. Or just transferred into jars if not blending smooth.
If you are using whole apples, puree or pass through the food mill before adding the caramel sauce to remove stems, seeds and peel.
The slow cooker apple butter is made, but now what?
What do I do with apple butter? What is apple butter?
Besides just eating apple butter by the spoonful there are many uses for it:
Spread apple butter on toast
Use in place of apple sauce in any recipe
Spoon some over ice cream or make apple butter milkshakes
Swirl into oatmeal,

overnight oats,

or any hot cereal
It can be used as a topping for pancakes,

waffles

or French toast
Great as a cake or cupcake filling
Up the apple goodness and use as a filling for

apple cinnamon rolls

Make a cozy fall

cocktail

with it
It can be used in savory recipes as well as sweet such as served with pork chops, roast turkey or ham, use as a spread for flatbread or even on burgers.
Apple butter pulled

pork

or pulled chicken would be amazing too, oooh so would apple butter

chicken wings

.
And now I need to make all of these apple butter recipes!
Other recipes to use apples in:
Spiced Apple Streusel Brown Sugar Bundt Cake
Soft Spiced Apple Oatmeal Cookies
Creamy Leek, Apple and Brie Risotto
Maple Apple Cinnamon Cottage Cheese Breakfast Bowls
Apfelkuchen ( Bavarian Apple Cake)
Caramel Apple Butter Cinnamon Rolls
"Recipe"
Slow Cooker Salted Caramel Apple Butter
A thick spiced apple butter made in the slow cooker with salted caramel sauce stirred in at the end of cooking. This apple butter is oh so good.
Ingredients
For the apple butter:
5

pounds

of apples

any kind you like - use a variety, peeled and cored (will be around 4 ½ pounds after peeling and removing cores)

2-3

tablespoons

lemon juice

1

cup

apple cider

unfiltered, unsweetened (250 ml)

½

cup

apple cider vinegar

125 ml

½

cup

brown sugar

104 grams

2

tablespoons

apple pie spice

see notes
For the caramel sauce:
3

tablespoons

butter

3

tablespoons

brown sugar

3

tablespoons

maple syrup

1

teaspoon

kosher salt

3

tablespoons

heavy cream
Instructions
Peel and cut out the cores of the apples then dice into one inch pieces. Place diced apples in a bowl as you work on each apple and add the lemon juice to the diced apple pieces to keep from browning. Once all the apples are diced add to slow cooker with the lemon juice.

Add in the apple cider and apple cider vinegar on top of the apples then add the brown sugar and apple pie spice, or your own spice blend (see notes).  Stir well then set the slow cooker to high. Cook for 2-3 hours until bubbling. Stir again then set the slow cooker to low and prop the lid slightly ajar with a spatula or wooden spoon to allow steam to escape. 

Cook for 6-8 hours until the apple butter has greatly reduced, deepened in color and is easy to mash with a spoon. Check for taste and consistency, if you want thicker bring back to high and get bubbling for another hour or so and stir once an hour, keeping the lid ajar.

Once the apple butter is a thick consistency, make the caramel sauce.

Heat the butter, brown sugar and maple syrup in a saucepan and stir until butter is melted and sugar is completely dissolved. Bring to a boil and boil for 4 minutes, without stirring.  At 4 minutes remove from heat ( take completely off the burner) and stir in the salt and heavy cream, whisking until completely mixed in. Return to heat and cook for one more minute.  Pour the caramel sauce into the apple butter and stir. 

If you want a completely smooth apple butter transfer to a blender to blend smooth or pass through a food mill or chinois. You can do this before adding the caramel sauce if you are blending the entire batch or after if only making half the batch smooth. 

At this point the caramel sauce is ready to be transferred into jars. The sauce will keep well in your refrigerator a few weeks up to 6 months frozen.
Notes
If using individual spices vs apple pie spice combine the following for this apple butter recipe:
1 tablespoon cinnamon
2 teaspoons ground nutmeg
1 teaspoon all spice
1 teaspoon ginger
½ teaspoon cardamom
¼ teaspoon ground cloves
Mix together and add to the apple butter in place of the apple pie spice.
Let me know if you make my salted caramel slow cooker apple butter and what you use it with!