Bride of Frankenstein Cocktail - Vanilla Blackberry Champagne Cocktail.
I just love the color of this vanilla blackberry champagne cocktail. A perfect spooky halloween cocktail.
Out of all the Halloween movies there are, the Frankenstein films are my favorite. From, The 1930's original Frankenstein movies to Mary Shelley's Frankenstein to the oh so cheesy but awesome Young Frankenstein by Mel Brooks. One of my favorites is The Bride of Frankenstein. Her hair alone is just so fantastic.
I highly suggest watching them if you haven't. They really don't make movies like they used to. I love old black and white films from the 30s and 40s.
So fun, so cheesy but so great because they didn't have all the computers that they have today for special effects, editing etc.
It was all props and editing reels of film by hand which is such tedious and time consuming work, and yet, the movies are timeless and incredible.
The Frankenstein movie I have seen way more than any other is Young Frankenstein. And if you are a classic movie buff like I am you will love how much it parodied from the early 30's Frankenstein films. They are so corny and cheesy and full of puns. But I love them and I have to say Young Frankenstein is my favorite movie of his and, sadly, I quote it more often than I should.
Way more often. And if I find it on TV to watch I will always stop and watch it. I would say its a top 5 favorite movie of mine.
Or we will be at a family dinner and say "mmmmmm" while eating and joke about making a yummy sound. In that scene they are eating a dessert that I have made for my blog. Schwarzwalder Kirschtorte) also known as Black Forest Cake.
I wanted to make a cocktail that honored the spooky, yet simple special effects from these early movies, the dry ice swirling reminds me of the gray streaks in the Bride of Frankenstein's hair. Perfect for a halloween cocktail.
What ingredients are in this spooky halloween cocktail?
Blackberry Jam - go with seedless jam. I love using jam in cocktails to add flavor, color and sweetness. Jam is very underrated in cockatils.
Vanilla simple syrup - I love making flavored simple syrups to add a little something extra special to drinks
Vodka - use high quality, smooth vodka. You can go with plain or a flavored if you like. Coconut vodka works really well here. Each cocktail gets a shot (1.5 ounces)
Prosecco - use any kind you like or go with a fancy champagne. Up to you. I prefer something on the dry side to balance out the sweetness of the jam and vanilla syrup.
Fresh blackberries - for garnish. You could also muddle the few at the bottom of the drink if you like.
Dry ice - this is more for special effects than anything else. Dry ice can be very dangerous to work with - wear appropriate gloves, use tongs and remove from glasses before drinking. You could also make a punch bowl of the cocktail and add a large piece of the dry ice, ladle out the drink around the ice to serve. Alternatively, you can have bowls of dry ice places around the table scene like I have to still get that spooky effect, and stay safe.
This is a really simple drink, you can make the simple syrup ahead of time and keep chilled.
When I make a flavored simple syrup I will keep items such as a vanilla bean or cinnamon stick in the syrup to intensify the flavors.
A few notes before the Bride of Frankenstein cocktail (vanilla blackberry champagne cocktail) recipe:
This is a fairly simple recipe. I have update the recipe notes with a vanilla simple syrup recipe as well as notes on making larger quantities ( say for a punch bowl at a party)
If you can't find seedless blackberry jam strain out the seeds before using. You can also sub with marionberry, boysenberry or black currant jam. Strawberry jam would be good as well.
Amount of prosecco/champagne depends on the flutes/glasses you use. I use 4-6 ounces per glass depending if I use larger or smaller champagne flutes. Measure your glasses with water first to see how much bubbly you need

Dry Ice

- great for spooky effect, but not everyone wants to drink it. Nor should you. Make sure you get food grade if using it, don't touch with bare hands, use tongs to drop small pieces into glasses. The ice will sink to the bottom and give off that nice spooky, smoky effect. You can omit the dry ice or remove before drinking.
More Halloween Cocktail ideas:
"Recipe"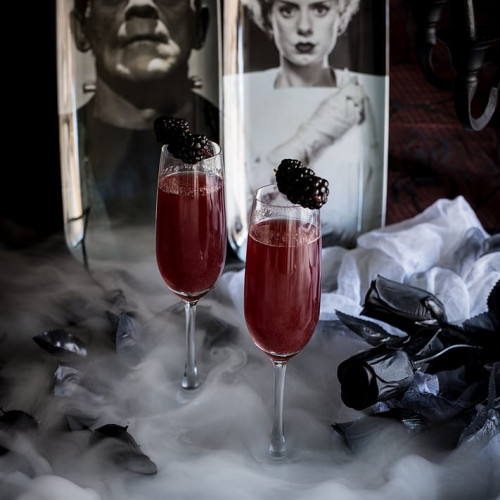 Bride of Frankenstein Cocktail (Vanilla Blackberry Champagne Cocktail)
A spooky yet delicious cocktail for your Halloween festivities. Can be multiplied for more cocktails or a punch bowl.
Ingredients
2

Tablespoons

seedless blackberry jam

strain out seeds if you can't find seedless. Marionberry, boysenberry or black currant jam would work as well

2

teaspoons

vanilla simple syrup**

see notes - cook time is 5 min to make the syrup

2

shots

3 ounces good quality vodka ( I used Ciroc and Ciroc coconut)

Champagne

Sparkling wine or Prosecco (4-6 ounces per flute/glass - depends on size of glasses you use)

Garnish - fresh blackberries
Instructions
In a cocktail shaker stir together the jam and vanilla syrup until well mixed. Add ice and then then vodka and shake well.

Strain the mixture evenly in two champagne flutes. Top with prosecco, amount will depend on size of glasses you use. Garnish with blackberries and serve immediately.

If using dry ice, drop a small piece in the glass before adding the prosecco or champage.
Notes
*For the vanilla simple syrup you can either use store bought ( Such as Torani syrup) or you can make your own. 1 cup sugar to 1 cup water - heat until sugar is dissolved, about 5 minutes, then add in one tablespoon of vanilla extract. Chill completely before using, will last in the refrigerator in an airtight container (I use a mason jar) for two week. If keeping for longer you can add a vanilla bean split open to the jar. It will intensify the vanilla flavors .
If you use dry ice for your cocktails make sure you get food grade dry ice. Never touch with bare hands, use tongs. The dry ice will sink to the bottom of the drink, so it is safe to have in drinks, if you want to be extra cautious omit the dry ice or remove before drinking.
** to make a punch bowls servings worth go with equal amounts of jam and syrup - say a cup of each and use 4-6 bottles of prosecco or champagne. Stir the jam and syrup together well before adding in the bubbly. Add ice to punch bowl to keep chilled. You can also have the syrup-jam mixture in a container or bottle and add that to glasses/flutes then top with prosecco/champagne right before serving.
Pretty sure that Frankenstein's Monster and his Bride would have loved to drink these vanilla blackberry champagne cocktails . They might have even made yummy sounds at them. Mmmmmmmmm
Happy Halloween!!!