Sweet and Spicy Rambutan Cocktail. Rambutans have a similar flavor profile to lychees and both of which are delicious on their own, and excellent in cocktails.
Rambutan. Rambu-what? These fuzzy little fruits were a surprise from Frieda's produce ( remember them from my hash recipe the other day with their AH-mazing Stokes purple sweet potatoes?) that they included in the shipment with them, along with another fun fruit that I will be posting about shortly. I knew immediately I wanted to make a cocktail with these so I give to you the Sweet and Spicy Rambutan Cocktail -
So what is a Rambutan exactly?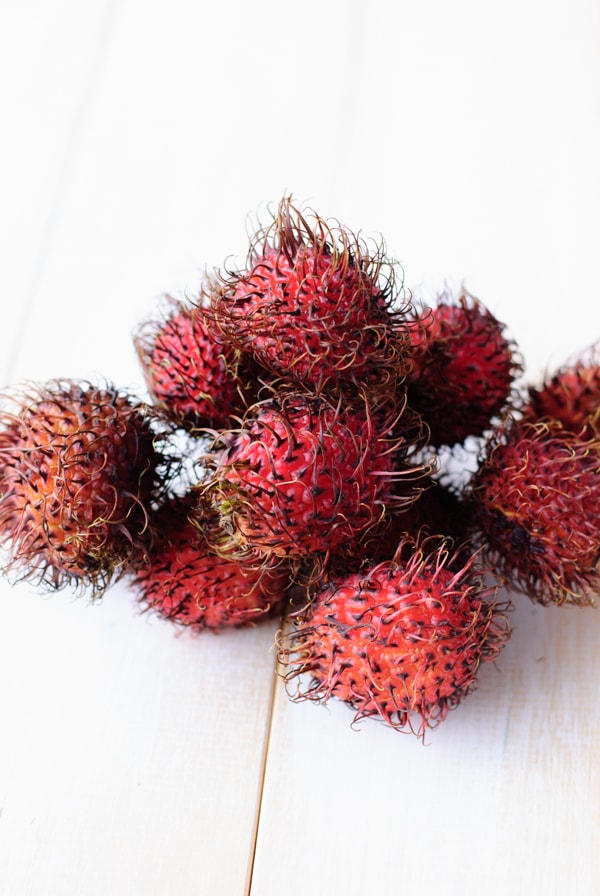 The Rambutan is a sweet and sometimes sour grape-like tropical fruit native to Indonesia and Malaysia. Rambut actually means " hair" in Malay. They are closely related to the lychee. It's like the lychees cousin that never shaves. Or something. Its very mild tasting like the lychee and reminds me most of the taste and texture of red or green grapes. Perfect for fruit salads, tarts or cocktails!
I was talking to a blogging friend a couple weeks ago who said that whenever she sees anything "pineapple" or " coconut" she thinks of me. Whether it is a food with one or a picture or anything. She said she thinks that I am doing a good job with my blog image since I am all about the pineapple and the coconut. Along those lines, whenever I see a new cocktail recipe or think about making one for my blog, I always think of my friend Barb of the awesome blog, Creative Culinary.
She is the cocktail queen and we have become friends via the blogging world. She is the one I made the Very Pink Raspberry Cosmo for in honor of her daughter who is battling ( and quite successfully I might add) breast cancer. She does a new cocktail every Friday on her blog, sometimes a classic, sometimes a twist on a classic or a fun new one she created. All are amazing. So when I made this cocktail I felt like I needed to ask her permission to post on a Friday since that is her "thing". This drink is in honor of Barb an her Friday Cocktail series!!
Now whenever I make a cocktail or have questions about making, photographing or naming them, I go to Barb. She knows her stuff and then some. Speaking of naming cocktails there are many ways to go about it. Like how bars and restaurants will have fun, catchy names for drinks like Fuzzy Navel or Salty Dog, or or they will go with classics like Manhattan or Old Fashioned. I did a little research on how drinks get their names.
Some are named based on what the main liquor that is in the drink, such as vodka or gin are always associated with martinis, tequila to margaritas and rum to daiquiris. Some are based on the the glass they are served in like the hurricane.
Most have a history or story behind them from where the main liquors originated from, if they were a variation of another cocktail, or the bartender made the name up on the spot after creating it. I had a lot of fun researching about how cocktails get their names. Some have really interesting history and some are, well, really out there. Like Skip and Go Naked.
I am naming this rambutan cocktail the "Sweet and Spicy". Sweet from the rambutans and simple syrup ( which isn't sour at all from the lime, just adds a nice brightness to the cocktail) spicy from the jalapeno and ginger. The beauty of a libation such as this one is you can control the amount of heat you like. Want it barely spicy - only have one jalapeno slice in the muddling mix. Bring on the heat? Add a bunch with the seeds!

"Recipe"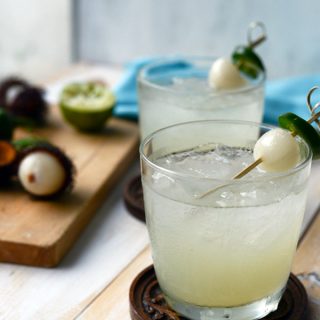 Sweet and Spicy Rambutan Cocktail
Sweet and Spicy Rambutan Cocktail Serves 2 Prep 5 min plus time to cool the simple syrup
Ingredients
For the Cocktail
12

rambutans

peeled and seeds removed

4

jalapeno slices

seeds removed if you don't want super spicy plus extra slices for garnish

½

teaspoon

freshly grated ginger

2-3

tablespoon

Lime simple syrup**

4

ounces

White or Silver Rum

2

ounces

Patron Citronage

or triple sec

1

cup

ice

1 -2

rambutans

cut in half for garnish
For the Lime Simple Syrup
Lime Simple Syrup

3

large limes

1

cup

organic sugar

Water
Instructions
For the Lime Simple Syrup
In a measuring cup juice the two limes and top with water to make a total of 1 cup. Pour into a sauce pan and add the 1 cup of organic sugar. Turn on the heat to medium and stir well until the sugar is dissolved. Bring to a simmer and let sit at a simmer for about 10 minutes to slightly thicken. Cool completely before using. Keep in an airtight jar in refrigerator for up to two weeks
For the Cocktail
Fill two rocks glasses with ice.

In a shaker glass muddle the jalapeños, ginger and rambutans really well to extract as much juice as possible. Add in ice, rum, citronage and 2 tablespoon simple syrup and shake really well. Strain into the two rocks glasses. Garnish with rambutan and jalapeno slices. Taste and add more lime simple syrup for a sweeter drink if desired.
Notes
If you can't find fresh rambutans you can substitute lychee. If you can't find fresh Lychee you can look for canned in any Asian specialty grocery store.
The simple syrup can be made ahead of time to speed up the making of the cocktail
Cheers and Happy Friday!!! Enjoy my Sweet and Spicy Rambutan Cocktail!
Disclosure: Frieda's Produce sent me the rambutans to sample. I was under no obligation to create a recipe or post about it. I did not receive any other compensation. I never work with any brands or companies that I don't believe in. Friedas is a great company to work with and I love the variety of produce, especially the exotic fruits they carry.