Yet another awesomely creepy halloween cocktail, this time its a creepy eyeball martini. Or "eyeball tini" as my kids like to call it since Shrek in one of the gazillion Shrek movie drinks eyeball tinis. You could also just call it a lychee, matcha and blood orange martini if the eyeball part grosses you out. Any way you call it, these are creepy and delicious.
This is my second of three posts for Cost Plus World Market for Halloween and their Book Of Life Sweepstakes. I had so many ideas for creepy Halloween recipes and cocktails that I couldn't decide on which to do. I wanted to do a post on all the awesome wines as well as a couple fun and creepy cocktails so I decided to split this into three posts. And since I love halloween, this month is going to be predominantly halloween recipes!!
I was thinking at first that this creepy eyeball martini might be a little too gross, but I went for it anyway. The "eyeballs" are lychees and blueberries. They lychees have a slippery texture so I think they look pretty realistic. For my Halloween standards that is.
When I first was creating the cocktail I loved the flavor of the lychee juice and the vodka together but I wanted something else. And I wanted the drink to have a greenish-yellow tinge to it without artificial color.  I did several tests with a few different brands of green tea I have as well as pure matcha powder. The best, greenest color I found was from Republic of Tea Double Green Matcha Tea. I wanted to do more than just add green tea to the martini so I had an " ah ha!" moment and made simple syrup with it. Ooh wow. So good!
The eyeballs remind me of "Beetlejuice". That is one of my favorite movies. Its campy, its funny and has a good amount of creep factor to it without being gross. I love Halloween, but I am not a fan of the super duper gross, gory and the whole obsession with super bloody zombie TV shows is beyond me. I like fun Halloween with a little creep factor. Like Eyeballs in martinis.
The martini is watching you. I showed these pics to my friend Sam who's birthday just so happens to be on Halloween and she suggested taking pics with the eyeballs "floating" in the martinis. They are creepy however you decide to garnish the drinks with them. And they also make for tasty snacks. The lychees stuffed with blueberries are going into my daughters' lunches this week. They will be totally creeped out! I also made these non-alcoholic for my kids – I swapped out the vodka for coconut water. SO refreshing and good for everyone, not just kids!
Creepy Eyeball Martini ( Lychee Matcha and Blood Orange Martini)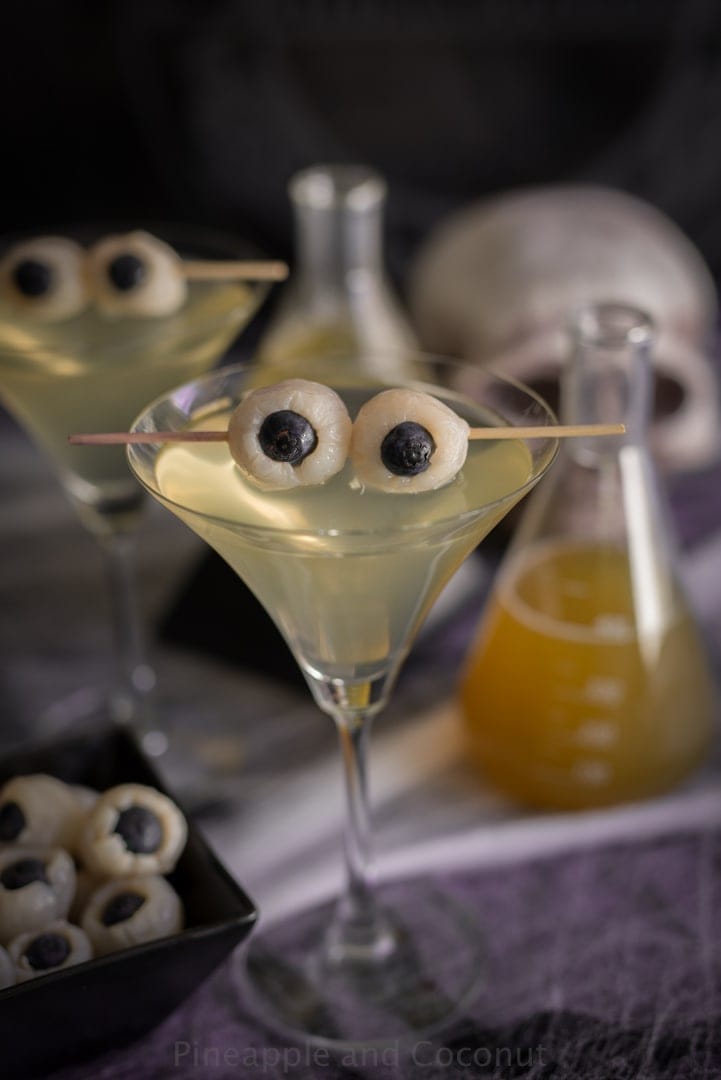 Creepy Eyeball Martini (Lychee, Matcha and Blood Orange Martini) www.pineappleandcoconut.com Makes 2 martinis
Ingredients
4

ounces Vodka ( Ised Ciroc)

3

ounces lychee syrup/juice (canned lychees, drained, reserve syrup/juice and lychees)

2

ounces Solerno Blood Orange Liqueur

1

ounce green tea simple syrup**
For the Simple Syrup
Garnish
Lychees

Blueberries

skewers
Instructions
For the Simple Syrup:
Bring water to a boil and pour into glass measuring cup. Let sit for one minute then add the green tea bag. Let steep 3 minutes. Remove the bag and add in the sugar, stir until dissolved then chill completely before using. This makes more than the drink calls for, store the remaining simply syrup in an airtight container in the refrigerator. Use it to sweeten other cocktails or even just a cup of green tea.
For the Cocktail:
Fill a cocktail shaker with ice, add in all the cocktail ingredients, shake well and divide between two martini glasses. Take a couple of the lychee fruits and put blueberries in them to make the "eyeballs" either sink a couple into the drinks or skewer and rest on top. Serve drinks chilled.
Recipe Notes
You can make the simple syrup ahead of time so its ready to go when making the martinis instead of making it and waiting for it to cool.
To make these non-alcoholic substitute coconut water for the vodka, or any light colored juice that won't overpower the light flavors of the lychee and matcha
This is sponsored by World Market on behalf of their Book Of Life Sweepstakes. I mentioned it in my Halloween Wine post, but I am mentioning it again here. The sweepstakes is awesome! I wish I could win one of these trips!
To celebrate the movie, World Market is giving you the chance a trip to Riviera Maya and free movies for a year! The grand prize is a 5 day/6 night, stay at Grand Velas Riviera May, free movies for a year, a $1,000 World Market gift card and Book of Life Merchandise! Three first prize winners will also receive a $50 World Market gift card. I don't know about you, but I would sure be happy to win!
Be sure to enter the sweepstakes HERE. Ends October 24th.
Don't forget to check out all the Book Of Life merchandise World Market has too!
World Market non food items used in post (Food items are linked in recipe)
Glass Lab Taper Candle Holders ( I used these as potion bottles)
Black Trilogy Small Square Bowls
Thanks to World Market for sponsoring this post. I am a World Market Brand Ambassador and as always all opinions are my own. I never work with brands I don't believe in and you all know how awesome World Market is!