Frozen Pimm's Cup slushies made just in time for Middle Sunday of this year's Wimbledon tennis tournament. It has been especially hot there this year, which is much better than the rainy days in years past during the tournament, so a frozen version of their signature cocktail is much needed for cooling off.
I love Pimm's Cups. Only a few ingredients, a few fun garnishes and oh so refreshing. I have been waking up early to watch the tennis matches live since there is a wee bit of a time difference between Las Vegas and London.
A little too early in the day for a frozen Pimm's Cup, so I have been saving them for later in the day when I watch replays of matches I missed in the middle of the night. And since Wimbledon happens in summertime, it is especially hot here so a frosty drink helps keep me cool.
It has been especially hot in Vegas this month and I am all about the frozen slushy drinks, especially these frozen Pimm's cups slushies.
Wimbledon is perhaps the most famous of all the tennis grand slam tournaments. Known for its immaculately kept green lawn tennis courts, all white tennis clothing and gear, and English traditions such as strawberries and cream, champagne and Pimm's cups.
Today is known as "Middle Sunday" which is the Sunday between the two weeks of the tournament when no matches are played. The players get a day off, the lawns get a day off. Players practice and relax, fans get to go shopping instead of hanging out in the famous Wimbledon queue all day waiting to get seats.
I didn't get a day off though, I was at the tennis courts this weekend for my daughters' tennis tournament. it was blazing hot but they did amazing. And now time for the rest of the day off with a frozen Pimm's Cup slushie for me and frozen lemonade for my girls. And lots of popsicles. Maybe take turns sitting in our freezer.
What is in a Pimm's Cup?
Pimm's Cups are a tasty concoction of Pimm's No 1, a gin based liquor
Lemonade
Ginger ale
A variety of garnishes that include sliced cucumber, oranges, strawberries and mint
The classic Pimm's Cup is served over ice. It is super refreshing, but with the Vegas summer heat I took it one step further and made them into frozen Pimm's Cup slushies.
I love to make frozen, slush cocktails like my frozen Lemongrass Mango daiquiris, frozen Rum Runners or even my cocktail version of the big stick popsicle with my Layered Frozen Pineapple Cherry Cocktail.
The Pimm's Cup originated in the 1850's. The Pimm's No.1, No.2 and No.3 were all developed by a son of a farmer in Kent, England. He offered a gin based tonic, made in his Oyster bar, with secret mixture of herbs and liqueurs as an aid to digestion.
They went on to creating No.4, No.5 and No.6 cups in the 1960's. All having slightly different secret blends of ingredients for their different flavors. It is a popular summertime drink in England, commonly served with carbonated lemonade.
Ginger ale is a common substitute for the lemonade, and some recipes use both lemonade and ginger ale. I like using both.
Garnishes range from apples, lemons, oranges, strawberries, cucumbers and mint. Out of all the Pimm's cup the No.1 cup is the most popular.
How do you make a frozen Pimm's Cup?
I love to combine both lemonade and ginger ale when I make Pimm's cups. For my frozen Pimm's Cup slushie I froze lemonade in ice cube trays.
Instead of pouring lemonade into my blender and adding a ton of ice cubes, which just waters down the drink and weaken's the lemonade flavor, I went with the lemonade ice cubes.
This made for a much thicker, frozen slushy texture, like you would find from a commercial slushy machine.
I blended the lemonade cubes with Pimm's No. 1 Cup until fully blended. A high power blender works great for this.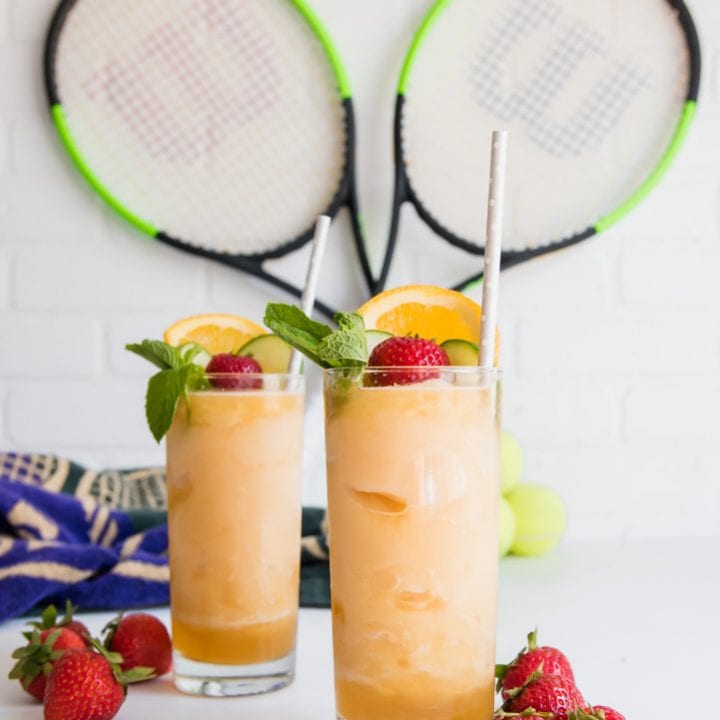 Frozen Pimm's Cup Slush
A frozen slushy version of the famous cocktail served at Wimbledon.
Ingredients
1

liter

bottle of Lemonade

1

C

Pimm's No. 1 Cup Liquor

12

ounces

Ginger Ale

I prefer Bundaberg Gingerale
Garnishes
Orange slices

Cucumber slices

Strawberries

Fresh sprigs of mint
Instructions
Fill ice cube trays with lemonade. Freeze up to 8 hours or overnight.

Once frozen fill blender with the lemonade ice cubes. Add in the cup of Pimm's No.1 Cup liquor. Keep on low then slowly raise the speed until its really thick and fully blended. You can always add in more Pimm's or lemonade if it is too thick.  Pour in glasses about ⅔ full. Pour in ice cold ginger ale and stir, adding more slushy mixture if needed then garnish with traditional Pimm's Cup garnishes!
Notes
The frozen lemonade cubes are the way to go here. Because of the sugar content of the lemonade they wont freeze as hard as water so they will blend up nicely. A higher powered blender is great for this recipe. This makes around 4 large servings.
Cheers and stay cool this summer! Please let me know if you try these frozen Pimm's Cup slushies. I always love hearing from readers who try my recipes.